House of Lies Season 4 Episode 3 Review: Entropy Is Contagious

Ariana Guzman at . Updated at .
On House of Lies Season 4 Episode 3, we saw the return of Larenz Tate as Malcolm Kaan, along with the introduction of Mary McCormack as Denna, a new lady in Marty's life. 
Marty and Jeannie are on opposing sides when trying to woo a new Seattle based skin care line. 
Clyde cozies up to one of the proto-fascist mavericks and is surprised. Doug and Amy still struggle to conceive, when he crosses a line with no turning back. What were the results of all the situations? Let's dive in and find out!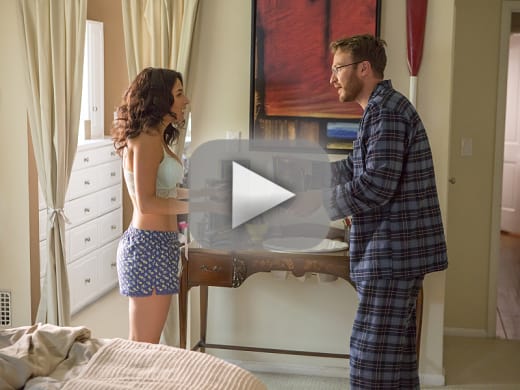 Marty's younger brother Malcolm is back in town. His last visit resulted in him screwing Marty's ex-wife Monica and manipulating Marty into giving him money. This time around, Malcolm has decided to become the voice of the disenfranchised youth of black America. He even appears on TV alongside Meghan McCain to debate the challenges black America. But Marty isn't impressed.
When baby goes poopie, we're supposed to make a big fuss.

Marty
Malcolm makes the mistake of bringing up Marty's federal prison sentence, going as far as to say that he was denied due process. This is most likely untrue and just rhetoric that Malcolm thought would make good TV. Marty sees red and this is only the first bomb that Malcolm drops to an unsuspecting audience.
Clyde is also now going to team up with one of the proto-fascist Mavericks, Kelsey on her idea for a medical app, that's like Uber for doctors. It's obvious that this will be a love connection for Clyde. This will be interesting to see play out, given Clyde's horrible track record with women. Last year, his girlfriend was a millionaire coke addict. But it definitely seems like Kelsey won't take any crap from Clyde, which is exactly the type of woman he needs. Here's hoping the writers handle this relationship well.
Meanwhile, Marty is headed with the pod to Seattle to close a deal with an organic skin care line. The problem is that he and Jeannie have different ideas as to how to land this particular client. This is exactly where the title comes in. Entropy is indeed contagious. Who would want to deal with a company that can't seem to agree upon anything?
This episode makes it disturbingly clear how fractured the relationship between Marty and Jeannie is. It's sad and hard to watch. But Clyde being Clyde decides to make a snide remark about the situation.
Clyde: You know when Mommy and Daddy fight, it hurts me in my no no place.
Doug: Your dick!
Marty also has a new lady love in Denna played by the lovely Mary McCormack. I am a huge fan of this woman so forgive me if I gush. But she adds an edge to whatever character she plays from The West Wing to the unfairly canceled In Plain Sight, Mary McCormack is dynamic. She plays a shark of a business woman who works for a corporation who acquires and essentially dissolves companies. She has some hilarious insight for Marty.
Marty: When are you going to rape and pillage my company?
Denna: I'd rather stick to raping and pillaging you.
Marty: Boo, don't threaten me with a good time.
Doug and Sarah are still at odds because they're unable to conceive. It's fairly obvious at this point that Sarah is nuts, right? She's freely admitted that she conned Doug into marrying her. Doug also admits, while drunk on absinthe (inspired by Oscar Wilde), that Sarah has an extensive psychological past and a history of nude stalking.
Yes, you read that right. NUDE STALKING. Has anyone else ever heard of this before? If so, please feel free to drop some knowledge in the comments section. Sarah is definitely one of the most bizarre and interesting characters on TV right now.
Doug sends a ridiculous, and angry, text to Sarah and to a hilariously horrified Marty and Clyde.
Clyde: Did you mean to say you are a crazy country?
Marty: That's auto correct. But the word's still there. If she read it out loud, she'll get it.
Sarah destroys Doug's prized action figures by taking them out of the packaging. She also maxes out his credit cards and moves all of the furniture and belongings out of the house. Doug is left with his laptop on a bare hardwood floor. Butn there is Sarah, her naked body on display (rear view only) as she watches like a nude stalker from the window.
What about that other bomb that Malcolm drops to an unsuspecting audience? Well it happens at dinner when he accidently reveals to everyone, including Roscoe, that Jeannie is Marty's baby mama. In his anger, Roscoe unleashes a quote that truly explains just who Marty is.
Roscoe: Shut the fuck up Dad!
Marty: Hey.
Rocoe: Stop trying to do damage control. The damage is done. Congratulations. Okay. Your narcissim wins again.
Marty: Okay. Okay.
Roscoe: It's bigger than all of us.
Marty: Listen, I was trying to find the right way to tell you. I didn't want it just blurted out.
Roscoe: You don't get to control how the world happens for me anymore.
Marty is still in shock and he's not handling the news that he's going to be a father again well.
Jeannie: After I told you that I was carrying your baby, I kinda can't believe you have no reaction.
Marty: This is my reaction.
I'm worried. How can two people who barely speak raise a child together? Did you enjoy "Entropy is Contagious"? Leave some love in the comments section. As always, you can watch House of Lies online anytime. Until next time Fanatics!
Ariana Guzman is a staff writer for TV Fanatic. Follow her on Twitter.