Girlfriends' Guide to Divorce Season 1 Episode 8 Review: Rule #17

Carissa Pavlica at . Updated at .
It's not surprising at all after the interview with Alanna Ubach that Jo turned out to be a hoot, but she was a lot more than that.
Watching the dynamic between Abby and Jo unfold on Girlfriends' Guide to Divorce Season 1 Episode 8, especially during their blow out argument about their friendship break up, it became apparent Jo is Abby's female Jake.
Just like Jake will always be in Abby's life because they have shared so much and know each other so deeply, Jo will continue to creep back into Abby's life whether Abby intends for her to do so or not. It's a good thing, too, because it was her old friend's reappearance that snapped Abby out of her slump.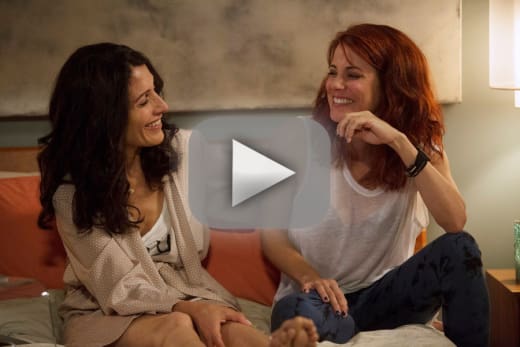 It was a little bit disappointing there was so little of Jake this week, and what we had was a bit rushed on account of his directing an episode of Blood Sisters. Nope, he's not back together with Becca, and Abby was unaware they even broke up. 
While it was awkward when Abby showed up with the hopes she could get Jake to take Charlie off her hands because she was suffering yet another mini-breakdown (mainly thanks to Chad, who I shall commence blaming for all things going forward), she didn't know he lost Becca and was reading the situation without full disclosure. Once he laid it out and told her to be there for him like he was for her, she got her act together.
Earlier on, when they initially had a larger role in the series, I had a weird feeling about Max and Ford because of how judgmental Max was about Abby's separation. Their current marital problems and Ford's desire to step out on Max and sleep around again, even with children? No thank you. Wave goodbye Max. You're better than that. You do not need a man sleeping elsewhere so when your kids wake up you have to explain to them their other daddy needed a piece. I just can't. 
Speaking of I just can't moments; Delia. Well, sideline just a second before I get there. Jo was brought in and she's already easier to like with all of her issues than both Delia and Phoebe. They need work. First up, again, Delia. Gosh, if she was unlikable before, she's bordering on trash at this point. What is there, exactly, to root for where she's concerned? There was a moment in the casino where her relative tossed down some familial message, but that has yet to come to light and until it does, she's nothing but a party girl who uses her job as a way to get sex and drugs.
She's not overly witty, she's not supportive of the other girls and when she's with them she's rather unbearable. What am I missing?
Phoebe has a lot to offer, but cannot break free of the same issue of which she has been worried since the premiere – she's not a strong woman who can stand free on her own. It looked like she might really love Ralf, but she was eyeing the success of Carla instead, and weighing it against Abby and then herself and her infant line of jewelry. Jo did a good job of kicking Abby in the ass, maybe she can do the same for Phoebe once she's been around a while. It could happen.
Jo and Abby loved each other and hated each other's respective spouses so much that it caused continuous arguments until they, essentially, broke up. Or, as Jo said, Abby left her. With the veracity of their argument, however, it's plain how much they care about one another. They laid it out there and bared their souls. 
I was glad Jo was there for the end of the pregnancy because there had to be more to it, but for it to have been with Jake would have been a little over the top. For the discussion about what could have been to be with an old familiar friend felt right, especially after their talk about the way back machine.
It should be fun to see what Jo brings to the table overall; how she'll fit in with the group. She's bringing her daughter out to LA, so she's leaving no time soon. I can't wait to see how her kid turned out after great quotes like this one:
[to Charlie] You can tell your little friend Chad he's a big asshole. You want a beer?

Jo
The pitch Abby gave as a result of Jo calling her on her mommy bullshit was perfect. She just marched in there and essentially read a condensed version of the first seven episodes of Girlfriends' Guide to Divorce Season 1 to the table, told them if she wanted to say she wanted to kill her husband because, dammit, sometimes she feels like she want to kill her husband she wants to know it's OK and it was OK. In fact, they loved it. Let down the facade, and things come together.
Where do things go from here? It looks like a whole new show looms ahead. Abby has a career again and she'll be writing in her own voice. Let's see how her new friends like the old Abby. Have they even met her yet? It should be fun!
If you need to catch up, you can watch Girlfriends' Guide to Divorce online via TV Fanatic. What are you waiting for?
Carissa Pavlica is the managing editor and a staff writer for TV Fanatic. She's a member of the Critic's Choice Association, enjoys mentoring writers, cats, and passionately discussing the nuances of television and film. Follow her on Twitter and email her here at TV Fanatic.