The cul-de-sac crew is back in Cougar Town Season 6 Episode 1.
Picking right back up with the pregnancy storyline we saw in Cougar Town Season 5 Episode 13, Travis and Laurie are expecting. Thankfully, a time skip allowed us to jump forward towards the end of the pregnancy, with only one month to go. Nothing more boring than watching a bun cook for nine months. 
Laurie, pregnant and miserable, was pretty hard to miss with her incredibly large and incredibly fake baby bump. But she managed to take advantage of her circumstances in a hilarious new spin on pregnancy perks. Too bad for her, shoplifting isn't covered on that list.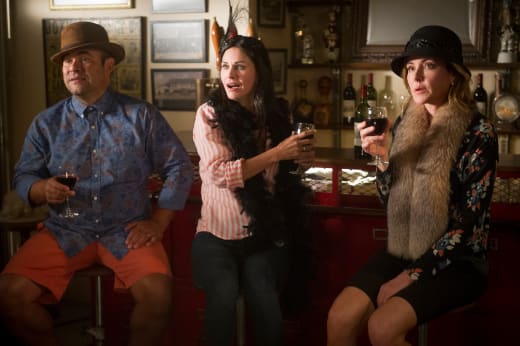 Travis' preparations for daddyhood were slightly less entertaining. Practicing with a teacup pig sounded like a hilarious setup, but it turned out to be kind of a letdown. The most climactic part of the story was losing the poor thing. Grayson's little Matrix monologue didn't exactly help matters, so the subplot just felt kind of distracting on the whole. 
We did get to hear several hilarious allusions to Grayson's off-screen daughter, Tampa. Did anyone else totally forget that she existed? Besides all of the characters that is...
The cheese factor came in when our boozy little gang decided to give up wine to help Laurie cope with her last month of pregnancy. As expected, that pact lasted all of ten minutes before Ellie, Andy, and Tom were returning to their wino ways in a makeshift speakeasy. The whole thing felt a little rushed and silly, resolving itself almost as soon as it started, but Laurie's slow-motion nickle attack was good for a laugh.
Not to worry though, we got our regular helping of life lessons and emotional revelations towards the end. Laurie and Jules' touching speech about their friendship and depending on one another was enough to bring a tear to anyone's eye.
It was Jules' final realization that really sealed the deal and hinted at where the season is headed. In her mind, there is a very real possibility that Travis and Laurie will not be able to handle the stress of being parents. They certainly didn't seem very ready in this episode. If that turns out to be the case, the responsibility will fall to her, and she'll be raising another kid in her 40s. That possibility terrifies her a little bit.
Is this a not so subtle hint that Jules might end up pregnant sometime this season? 
Enjoy all the hilarity again and watch Cougar Town online via TV Fanatic any time to tickle your funny bone.
Do you think that Jules will end up pregnant? Or will Laurie and Travis' baby be the only addition to the family this season?