Castle Season 7 Episode 12 Review: Private Eye Caramba!

Christine Orlando at . Updated at .
Who knew that a missing purse would lead to a case rife with mystery and intrigue on Castle Season 7 Episode 12? Leave it to Richard Castle Investigations to make the mundane look fun.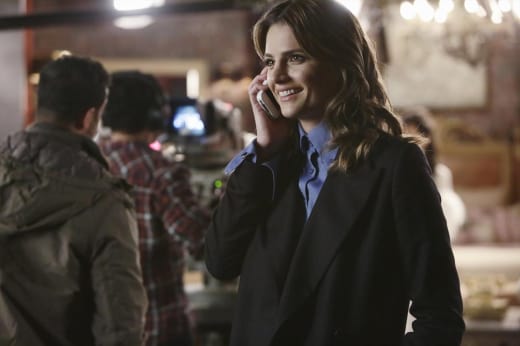 Kate was feeling badly for Castle. His new P.I. business was getting lots of calls…for lost cats or fans with theories on his disappearing act. Speaking of which, I like how the show keeps reminding us of last summer's disappearance. It gives me hope that we'll be getting some answers during the second half of this season.
But even Martha was wondering if her son was sticking with this P.I. thing strictly out of pride. So Kate asked her husband if this was what he really wanted and wasn't that refreshing. After all of those seasons of subtext and never saying what was on their minds, now they can finally be direct with one another no matter what the subject matter. 
If Castle was all in on this private investigator gig, then Kate was there to support him, so much so that she sent business his way. It may have just been a stolen purse but they thought it was worth $500,000 and it ended up being the key to solving their case. 
Esposito being a fan of telenovela actress and murder victim Anahita Menendez was a fun twist and I loved how he knew Sophia's entire career as though he were reading if off an IMDB page. No doubt that Javier is a fanboy. 
I was thrilled that we got to see Castle's P.I. office once again and I'll admit that the pencil falling from the ceiling just when he needed it made me laugh out loud. I don't know why I didn't see that coming but I didn't. Let's hope that the rest of those pencils don't all fall down at once. 
The best scene of the episode was Rick and Kate role playing in his office. I might grow a bit weary of Castle's constant P.I. narration but I'll never get tired of their private P.I. fanatsies...
Kate Beckett: I'll give it to you straight. I'm just a girl, looking for a private dick.
Rick Castle: Whoa, then your search is over, sweetheart.

Of course just when things turned steamy we were hit with a classes case of Caskett Interruptus as Sophia walked in. It was also cute how when Castle finally got home, Kate's smile made it look as though she was ready to continue their little P.I. fantasy but Rick was too focused on tracking down that limo to notice.  
I was a little disappointed in Esposito and Ryan for holding up Castle for floor seats to a Knicks game in return for saving his life. First, you'd think they'd be happy to rescue their friend and second, there has to be better things to ask for than Knicks tickets. 
Then again, even Beckett mentioned Castle's luck at being rescued from the gun for hire in this Castle quote but leave it to Rick to have the perfect comeback…
Kate Beckett: Castle, do you realize how lucky you are?
Rick Castle: Extremely lucky, after all I'm married to you.
And a few final thoughts on "Private Eye Caramba!"
I loved that Castle still got to walk Beckett to her crime scene, even if he didn't get to go under the tape himself.

Kate's new gray jacket. As the show's costume designer Luke

Reichle

tweeted, it's a

moto

jacket from Ito and was picked up at

Barneys

New York. 

Was it just me or was Sophia wearing Beckett's black trench coat with the large buttons from Castle season 1 and 2?
I may not want to watch Castle as a private investigator forever, but for now, it's still a heck of a lot of fun. How many more episodes do you want to see?
If you want to see it again and again, you can watch Castle online here at TV Fanatic. 
C. Orlando is a TV Fanatic Staff Writer. Follow her on Twitter.