Leave it to Richard Castle Investigations to turn the case of the missing purse into something sexy and intriguing. Of course he did have a little help from his wife, especially for the sexy part.
Our TV Fanatics Jim Garner, Stacy Glanzman, Robin Harry, Chandel Charles and Christine Orlando are joined by Jennifer from The 12th a Castle fan forum to debate Rick's P.I. motivation, what's the appropriate reward for "rescue from certain death" and their favorite scenes from Castle Season 7 Episode 12, "Private Eye Caramba!"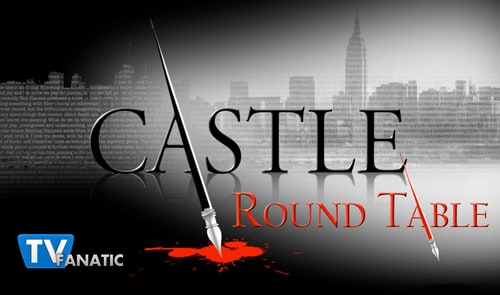 Is Castle sticking with this P.I. thing because of pride or because he's into it?
Jim: Rick mentioned that he would be his own muse, so I'm expecting he is sticking with it for story inspiration thus far. Then again, he is a bit like a puppy, so the next shiny toy may distract him completely. 
Stacy: I think in the beginning of the episode it was pride, but once he got started on the purse case he was definitely into it. Though, pride was still a factor when she fired him. At that point it was a mixture of both. 
Robin:  Ummm...yes. I think he doesn't want to fail, but he also has a perseverance and determination to make things work. It's why he became a famous writer after rejection.  
Chandel: I think it is giving him something to keep him busy, which he desperately needs. He seems to be having fun with it most of the time, and has managed to intersect with Beckett's work more than once.
Jennifer:  To be honest, I would say its pride.
Christine:  A combination of both. He loves the idea of being a P.I. and he's having fun with it but pride won't let him quit even when things don't turn out the way he'd planned.
Is "rescue from certain death" worth Knicks floor seats?
Jim: I guess if it was _certain_ death, then yes... However, I'm not convinced death was on the table, pain and torture, maybe.. 
Stacy: Castle can afford it so sure! Floor seats are the least he can do. 
Robin: I'm with Jim. Was it really certain death? Though that was pretty funny.
Chandel: It's probably worth more than that. Rick's lucky they stopped at floor seats!
Jennifer:  If the person asking deems it so and the person rescued agrees, then I would suppose floor seats would be a fair payment for going out and rescuing someone "from certain death." However, given this particular "rescue from certain death" was a mere right place, right time and not an actual rescue I would say it doesn't quite warrant the price of floor seats unless the rescued party, alone, decides its worth it.
Christine:  If it were actually a rescue from "certain death" I'd hope they could do better than Knicks tickets. They've lost something like 36 games so far this season.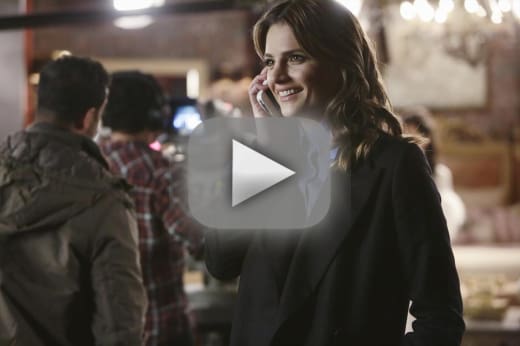 Kate Beckett's new gray jacket. Thumbs up or down?
Jim: Thumbs Up. Though, as a guy I had to go back and look after reading this question.
Stacy: It's so hard to keep track of Beckett's ridiculous amount of jackets. She must have at least two coat closets in Castle's loft. My coworker's eight year old daughter wanted to be Beckett for Halloween and I told her to make sure she brings at least three different jackets and changes them throughout the night. The new one is nice, but she's had better ones. 
Robin: I'm glad I'm not the only one who noticed the jacket. I didn't love it, but I didn't hate it either. Seriously, though, how much outerwear can one woman have?!  I live in Canada and I don't have that many coats!
Jennifer:  I liked it.
Christine: I can't imagine having Beckett's wardrobe but I suppose that's the fun of TV. As for the jacket, costume designer Luke Reichle tweeted that it's from Ito and purchased at Barney's New York. I'll give it a thumbs up. 
Are you enjoying Castle's narration at the office or is it wearing thin?
Jim: I've enjoyed it so far, but it will wear thin very, very quickly if they aren't careful. As mentioned last week, I suspect the writers have had a book of PI/Detective jokes and tropes they've wanted to use and this lets them share them with us. 
Stacy: I'm enjoying it so far, but I agree with Jim that it could get old fast. Sounds like it's already wearing on Beckett. 
Robin: I think it's been fun, but it can stop now. I liked it best when Beckett joined in though, I like the twang she adds to it.
Chandel: It honestly reminds of of "Blue Butterfly" and I swear it's the same background music as well. I think it was okay for this episode, but beyond it, they would be pushing it!
Jennifer:  The narration was fun in last week's episode, as it added a little something. This time around however, it turned from a fun little throw back to if this keeps up it might get a bit old.
Christine:  It's definitely a little goes a long way type of a thing. What saved it this week was Beckett joining in and turning it into some fantasy role play. That was both sexy and funny. 
Looks like we've got at least one more episode in the Castle P.I. story arc. Is that enough for you or would you like to see more?
Jim: I'm a big fan of the "rule of three" when it comes to movie and TV tropes. So, having three episodes with him as a PI would work out nicely. 
Stacy: Last week was funnier than I expected it to be, but now I'm over it. Three is definitely enough for me. 
Robin: Yep, that's enough.  They're gonna run out of ways to make their cases intersect without it seeming terribly contrived.
Chandel: I have enjoyed it thus far, but as far as its impact on character development for Castle, it's starting to wear thin. Unless they can exploit the opportunity to further his development they need to scrap it and move on!
Jennifer:  To be honest, I think three is enough. While giving a fun little kick to the story line, I do think it can only go on for so long before, that fresh kick turns south.
Christine:  I'm hoping that by the end of next week we see Castle headed back to the 12th. This story arc was more fun than I expected but it's going to wear thin in another episode or two. 
What was your favorite scene from Castle Season 7 Episode 12?
Jim: It's a tie. First, I loved Ryan trying to throw out "Castle Theories" for the team. The other was Espo's love of the Tele-novella stories. Jon Huertas (Esposito) did such an amazing job with his facial reactions and expressions while silently watching the filming, I couldn't stop laughing. 
Stacy: I have to go with Beckett and Castle in his office because the role playing was cute and funny. I do hate that they always getting interrupted though. 
Robin: Gotta go with the coitus interruptus. THAT'S the chemistry I've been missing between the two of them. I also loved how Beckett engaged in the P.I. role play. They were having fun with each other, and it was adorable. 
Chandel: I'm siding with Jim on this one and going with Ryan throwing out Castle theories throughout the episode. He always manages to make me laugh and I enjoyed is efforts to fill the obvious void in the team.
Jennifer:  I know I should go for the Caskett scene at Castle's office but, honestly watching Esposito show his fan boy side was too much fun. So I am going to go with the scene at the telenovela set where Esposito is trying to watch the actors perform.
Christine:  I've got to go with the fantasy role play in the office. Castle's reaction when Kate said, "I'm just a girl looking for a private dick" was priceless. Honorable mention to Kate going to Martha with her concerns about Castle's new venture. I thought that scene was very sweet. 
Don't miss out on a minute of the fun. You can watch Castle online here at TV Fanatic. 
C. Orlando is a TV Fanatic Staff Writer. Follow her on Twitter.