Billy Campbell Teases New Virus, A More Disturbing Helix Season 2

Henry A. Otero at .
With Helix Season 2 Episode 1 finally returning to Syfy tonight, we have tons of questions. Well, I decided to go straight to the source and get a few answers from Dr. Alan Farragut himself.

I had a chance to chat with Billy Campbell this week, and he was kind enough to discuss what drew him to Helix, how dark and disturbing Season 2 is, whether the new virus ties in with the Ilaria Corporation and more.
Be warned, there are minor spoilers ahead for Helix Season 2.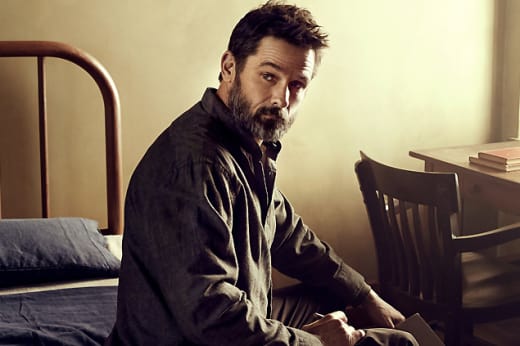 TV Fanatic: What can you tell us about Alan Farragut's arc in Season 2?
Billy Campbell: Well, he's gone to a pretty dark place. Even though he's in a dark place, he has to do some things that maybe he isn't even prepared to do.
TVF: You're obviously a sci-fi fan. Did you read the Helix pilot and think, 'yeah this is gonna be fun.' What hooked you on Helix?
BC: Ron Moore! That is the first and foremost thing that hooked me. After that, it's obviously a genre that I'm partial to and the location doesn't hurt. I love Canada, I love being in Canada. So the whole thing sorta hit 100%. Montreal is one of my favorite cities in the world. So the whole thing made sense to me.  
TVF: Speaking of location, how different was it working on sets like "the cold room" versus the locations of Season 2?
BC: Huge difference and a wonderful difference too. Most of the first season we were on a sound stage and it's not pleasant being on a sound stage all day. We sort of faked being in the arctic. Then we had this other building that everyone hated – the cast, the crew, everyone – that we spent a lot of time in when we go down into the deeper levels of the base. We spent some time in this building and nobody liked going to that location at all.
This location is beautiful, it's out in the open, we're in an actual old abbey and there's apple orchards and forests, national park land and it's just gorgeous. It's wonderful, so everyone was just extremely happy to be at this location.   
TVF: I love how unpredictable the show is. When you signed on, did you have any idea where Alan would end up, or were you surprised when the scripts came in week to week?
BC: No idea and, in fact, that's kind of the way I like it. I'm not one of those that needs to know a great deal about where my character's going or what the heck is going to happen because I like the surprises, to tell you the truth. I like being surprised. I like coming to work and reading the new draft and finding out on the day what the heck is going on.
TVF: Helix has become known for its insane twists and turns. Do you think the writers topped themselves this season?
BC: Oh my God yes. Oh, topped it in a big way. I don't know what kind of drugs they were on in the writers room, but they sure seem like they were having a lot of fun.
TVF: It's also a lot darker, because I remember Helix Season 1 had some elements that were a little campy, a little fun, even the songs...  but from what I've seen so far, this season seems pretty dark. Is it going to maintain that serious tone?
BC: Yes it does, it goes to some pretty dark places. It's probably going to be difficult for some people to watch at certain points. It gets that dark.
TVF: This new virus is definitely nastier than last season's Narvik. Can you talk about whether it's tied in with Ilaria and the immortals at all?
BC: Yes, I believe I'm allowed to talk about that. And I believe the answer is yes. So there is that sort of theme running from the first season into the second season involving those folks. And my quest to eradicate them.
TVF: The time change really surprised me. That's one of those twists I mentioned earlier. I was not expecting that at all.
BC: Pretty fun, huh?
TVF: Yeah, that was awesome! The jar falls on the ground and all of a sudden it's 30 years in the future.
Which reminds me, they've just revealed that Hatake is back in one of the teasers. Fans weren't sure if he was going to return or if he perished in the explosion. Do you get any screen time with Hiroyuki Sanada this season?
BC: No and you know what, he's one of my favorite people that I've worked with. We missed each other in Montreal by a single day. We had no scenes together and we missed each other by a single day. The day he flew out was the day I was flying back in from Norway.

TVF: One last quick question, how would you describe Season 2 in three words?
BC: Three words? Good, Sick, Fun.
Catch the Helix Season 1 finale before the new season kicks in. Watch Helix Online right here via TV Fanatic!
Follow our Helix Twitter account and live-tweet the premiere with us! After the show, come back to the site for our episode review.
Helix Season 2 premieres tonight at 10/9c on Syfy. Get a sneak peek at the upcoming season below!