During Arrow Season 3 a beloved character was lost, several new characters were introduced and Oliver Queen died.
That's one heck of a start for only nine episodes, and we're going to break it down even further. Find out our thoughts on best and worst episodes, character exits and introductions and more with our TV Fanatic report card.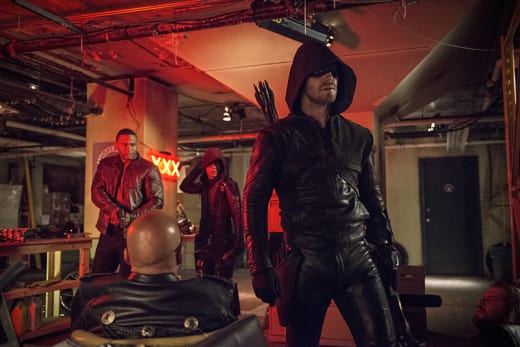 Best Episode: When Arrow Season 3 Episode 6 aired, it felt as if all of the central characters finally had a place on the show. Oliver completely took Roy under his wing and named him Arsenal and Laurel had a meaningful plot involving both Oliver and Ted Grant. But looking further back at Arrow Season 3 Episode 4, especially with the knowledge of what Malcolm Merlyn did to Thea, it's taking the honor. In the aptly named "The Magician," Merlyn had people fooled with his good intentions for his daughter and we got a first, somewhat jaded, glance at Ra's al Ghul. It set up the rest of the season in ways it was almost impossible to imagine at the time.
Worst Episode: Despite Felicity finally getting an hour focusing on her incredible character, we learned next to nothing about "The Secret Origin of Felicity Smoak" in Arrow Season 3 Episode 5. We met her mother (which was wonderful), but the entire story was set up only to introduce us to a lame villain in her ex. Then, one day out of the blue, Felicity changed from goth chick to librarian. It didn't work and the character deserved a much better origin story.
Best New Character: We have barely gotten to know him and he apparently killed Oliver, but Ra's al Ghul swooped in during Arrow Season 3 Episode 9 and stole the title from Ray Palmer, who would have received the distinction up until "The Climb." I know he's a masterful super villain in the DC universe, which is why the rather honorable portrayal made him so utterly compelling.
Worst Visiting Villain: Since so many villains are one and done, it's hard to picture many of them as anything more than visitors. Thank goodness, because another minute with Carrie Cutter as Cupid from Arrow Season 3 Episode 7 would have made me want to gouge my own eyes out.
Most Underutilized Character: Diggle is barely a presence any longer. He's shown when a tender moment is required in his capacity as a father, as a go-between for Oliver and Felicity and as help for Lyla when ARGUS is on screen. He's proven to be worth his weight in gold, so it's time to create a true place for him on Team Arrow other than situational support.
Worst and Best Development: Killing off Sara Lance as Canary was a horrible development, although completely necessary (and expected) because of the need for Laurel to rise up and take her place as Black Canary. The utilization of the sisters together creates both the worst in the death of Sara and the best development, in finally giving Laurel a story worthy of the character.
WTF Moment #2: Malcolm using his daughter to kill Sara was pathetic and shocking, especially for those who thought he had her best intentions in mind when he trained her. 
WTF Moment #1: The previous WTF moment lead directly into this one because Oliver's decision to protect Thea from Ra's al Ghul and the League of Assassins due to the actions of Malcolm Merlyn lead to his apparent death. Oliver Queen is, for all intents and purposes of viewers, dead. If that's not a WTF moment, what is?
Hopes for 2015: Cohesive stories with more determination are required. There have been a lot of loose ends in 2014 and it is because of the tremendous build up to Oliver's death. New heroes will rise up. Here's hoping it doesn't take long and once they're with us, it's a seamless transition between their purpose and Oliver's (and the Arrow's) return. Solve Sara's death, bring back Nyssa for a more permanent story, utilize the hell out of Matt Nable as Ra's al Ghul, drive Malcom to his knees, allow Laurel to fly with strength, create a clear path for Felicity, bring out ATOM and reintroduce Arrow as a true leader in Starling City.
Overall Grade: B-
What Grade Do You Give Arrow Season 3 at Midseason?
Carissa Pavlica is the managing editor and a staff writer for TV Fanatic. She's a member of the Broadcast Television Journalists Association (BTJA), enjoys mentoring writers, wine, and passionately discussing the nuances of television. Follow her on Twitter and email her here at TV Fanatic.