Who knew a cooking competition could be so intense? On The Taste Season 3 Episode 2, there was screaming, cursing, cat-fighting, and oh yeah – cooking!
The challenge this week was "Under the Sea," which meant the cooks prepared some creative, and sometimes terrifying, seafood dishes. Even the dishes with the most exotic ingredients were made to look sexy, and I was convinced I might just be willing to eat things like fish heads and sea urchin.
Merely watching the food being prepared would have been enough for me. One of the ways this show brings its audience in is to show cooks working with new ingredients for the first time or trying techniques they've never tried before. It makes it seem as though cooking with special tools or quail eggs might not be as difficult as it seems. Then to see the food on the plate, all beautifully prepared with special sauces and garnishes – it's simply amazing to watch.
Of course, it wouldn't be reality television without a little drama. Yet again, Nigella found herself trying to mentor a stubborn cook who refused to take her advice. I don't get it. It's Nigella Lawson; why on earth wouldn't you want to listen to her advice?
If I was just like, doing this on my own, I would have been done by now.

Lindsey
The very same thing happened on The Taste Season 2, but this time, Nigella wasn't going to let it go on. Lindsey's bad attitude was too much to handle, and when Nigella was forced to send home another one of her cooks after the team challenge, that's exactly who she chose.
Maybe Lindsey is a fantastic chef, but I can't understand why someone would choose to be on The Taste, which is about being mentored by one of four culinary superstars, and then ignore their advice completely.
Vanessa, on the other hand, just wants to please Anthony. I think that's a pretty good strategy.
I know his palette. I know what he loves. And I know what he's craving. Literally craving. I just want to give it to him every time.

Vanessa
The individual challenges were also intense. Each cook made their own seafood dish, and some of them cracked a bit under the pressure. There were spoons being knocked over, ingredients being left out, and cooks cursing all over the place.
That, kids, is another reason this show is fun to watch. No one wants to sit for two hours and watch the contestants cook perfectly without a bit of sweat on their brow. It's important we see them struggle, and sometimes fail, so we feel as though we could be a part of this ourselves.
Once the contestants finished their dishes, the mentors tasted each dish blind. Then they chose their best and worst bites, which didn't always serve their teams very well.
The best dishes this week were from Natasha, Joe, and Gabe – our resident heartthrob. Gabe is obviously going to make it far in the competition. His dish from the first round was also chosen to represent his team, winning Marcus's kitchen the master class from guest judge and mentor, Eric Ripert.
After the worst bites were chosen, each cook in the bottom had to say who they thought she be in the taste off. This is unnecessarily dramatic, and I wish the mentors would just make their decisions without input from everyone else. In this particular instance, it caused Jen and Mia to get into a nasty argument and throw each other under the bus.
The two cooks in the taste off were Jake and Jen, which brought us to a third, incredibly tense round of the competition. Ludo yelled at Jen from the sidelines and asked if she could speak English, while Marcus jumped up and down taunting Ludo. In the end, though, it was Jake who was sent home, and Jen survived to cook another week.
Aside from her attitude after the individual challenge, I find Jen to be really likeable. She's obviously there to learn from her mentor, and she's not afraid to say it like it is. I'm glad to see that she'll be around again next week.
What did you think of this week's competition, The Taste fans? Did the right cooks go home? Leave your thoughts in the comments below!
Here are the teams as they currently stand:
Anthony's Kitchen: Vanessa, Eric, Tom, Tarik
Marcus's Kitchen: Tristen, Gabe, Joe, Jake
Nigella's Kitchen: Mia, P.K., Renee, Lindsey
Ludo's Kitchen: Jen, Natasha, Ben, Dan
Don't forget you can always watch The Taste online via TV Fanatic!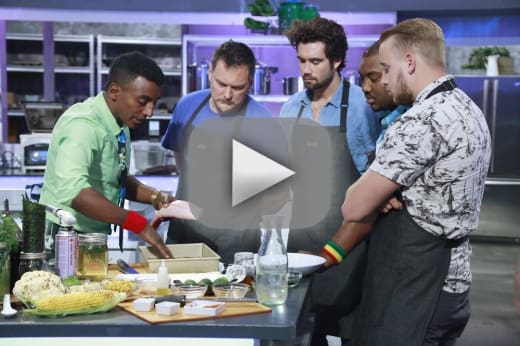 Ashley Bissette Sumerel was a staff writer for TV Fanatic. She retired in September 2017. Follow her on Twitter and on Google+.