When the CIA suspects that Cole, the mastermind behind a high-end car theft ring could lead them to a terrorist plot overseas, the FBI sends Teresa Lisbon on an undercover mission. She becomes the cell mate of Marie Flanagan in the hopes of getting the woman to give up the location of her boyfriend, Cole on The Mentalist Season 7 Episode 2.
But things go horribly wrong when Cole is on the move. So they go to plan B and have Lisbon help Marie break out of jail in the hopes that Cole will pick them up. Cole sends a different driver who loses the FBI tail. Whent hey finally meet up with Cole, he kills a gas station attendant right in front of Lisbon. 
As Jane scramble to find Teresa, he ends up on his own with no backup as he finds Cole holding a gun to Teresa's head. With no other options, Jane walks into the fray but only manages to distract Cole for a moment before both he and Lisbon are both about to be killed. 
Can't get enough of Patrick Jane, Teresa Lisbon and the FBI team? Watch The Mentalist online any time right here at TV Fanatic.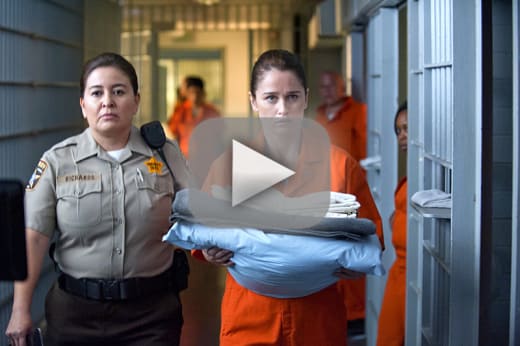 C. Orlando is a TV Fanatic Staff Writer. Follow her on Twitter.