For the most part, the writing on The Affair has been stellar. Until The Affair Season 1 Episode 8.
When I can finish the next lines to come out of character's mouths, then I know a rather lazy route to tell the tale has been taken, and I was able to do it more than once.
Although it was a bit too predictable, especially through Noah's scenes, there was still a decent amount of information to take away from the hour.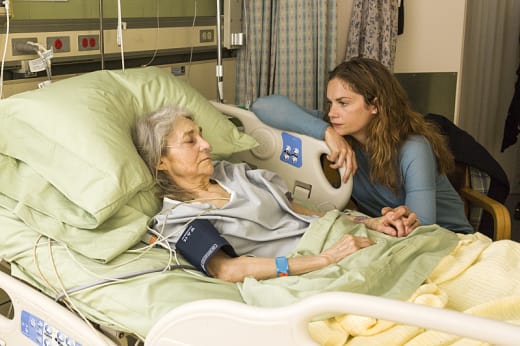 This is the first time Noah and Alison have been painted in a light brighter than their spouses. The lack of empathy for each of them from their partners makes it easier to see why they might have turned to each other in the first place.
Helen turned into a walking cliche. She did all of the things I hate supposedly strong female characters to do, including turning down gift from Noah because they haven't paid off the Amex bill yet. When she told Noah at therapy she married him because he's safe and the kind of loser she thought would never leave her and that's why she chose him out of her heaping helping of suitors, I cringed.
In Alison's world, as she dealt with her mother being far too closely involved with the impending death of her Grams, Cole hardly lent an ear to her after she lost her, immediately immersing himself in affairs of the estate and the problems he was having with the appraiser as they tried to note the value of a 200 year old working ranch (or something). 
Gone was the man who seemed carefully tuned into his wife; even the man earlier in the day Alison recalled making love to her as they tried to start their family over. Whether it was the memory of Noah being there when she needed someone who tarnished what she recalled of Cole, we don't know.
It's difficult to keep everything in perspective right now. When The Affair first started airing, we had a sense of place and time, if only because the story was being told through conversations Noah and Alison had with Det. Jeffries. Now, those conversations are over and trying to determine from what direction we're getting the tale is confusing.
Since the story continues to be told in two parts (perhaps three, if we're to count Jeffries); why are they telling it and to whom? I'd think it was just us viewing what they lived if not for the continued differences in their recollections. Although we are getting fewer scenes done twice, we get enough to know they're memories, such as what Alison was wearing at Bruce's awards dinner and the absence of Athena in Noah's memory of Grams' death.
Whitney continues to be concerning when it comes to Scotty because she's throwing up in the bathroom. From what Helen and Noah heard in the hallway, Whitney was making herself vomit, but if she wasn't, then she could be pregnant. That's probably a long shot.
One thing is certain, Noah's book did him no favors when whatever happened to Scotty came into play. When he told Det. Jeffries he had never been to The End, it might have behooved him to think about what he wrote in his book since it was a detailed description of the boat at the end of the road leading to club.
Snippets to think about:
Det. Jeffries is concerned about a Labor Day weekend reservation at The End and finally learned Noah cancelled one the prior afternoon.
While I didn't think to look too hard, any nearby family at either Noah's book signing or Scotty's Memorial service were absent. Nobody was listening to Noah and Allison sat alone.
Scotty's memorial service was delayed quite a while, according to the preacher. For a murder investigation? Autopsy?
If we continue to learn more about Helen, especially, it will lend credence to Noah's emasculation by being a part of her family. The admittance of love by both Noah and Alison was a surprise. That will likely be the tie that binds them together. It's easy to fall back to the people who show you care during your more difficult times and neither of them seem to be getting it from their spouses.
What are your thoughts on where things are heading from here? Why is Scotty dead and what got Det. Jeffries involved? 
Carissa Pavlica is the managing editor and a staff writer for TV Fanatic. She's a member of the Broadcast Television Journalists Association (BTJA), enjoys mentoring writers, wine, and passionately discussing the nuances of television. Follow her on Twitter and email her here at TV Fanatic.