The Real Housewives of New Jersey Season 6 Episode 18 Review: Reunion Part 3

Christine Orlando at . Updated at .
It was the conclusion of The Real Housewives of New Jersey Season 6 Episode 18 reunion show and that alone earns it a plus 50! We recap both the nonsense and the tearful goodbyes in our +/- review.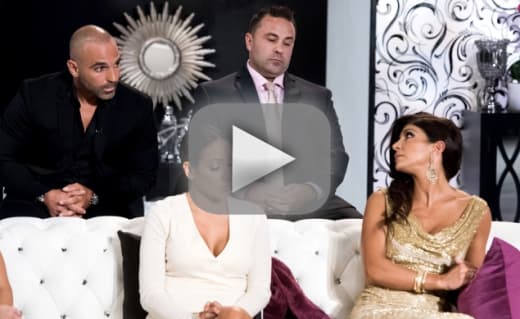 Jim Marchese points out that he's the tallest of all the men on the stage. Minus 20. Look in the dictionary and you'll find a picture of Jim next the definiton of Napoleon Complex. 
Continuing on his little tirade, Jim swears he only took to Twitter because he and Amber received so much hate once the show started (Gee, can't imagine why?) and he wanted to be a lightning rod to take the brunt of it off of Amber?
Does anyone really buy that? No? I didn't think so. Minus 13. 
When Joe Gorga and Giudice admit they barely know how to use Twitter, Dina chimes in with, "Damn you Gorga for not being a lightning rod!"  Plus 37 to Dina for being both comical and the voice of common sense for most of the episode.
Despite spewing nothing but hate, Jim says he's having a blast on Twitter. Minus 18. The guy really is a jackass. He even tries to justify his tweets to Joe Gorga who shoots him down in this The Real Housewives of New Jersey quote...
Jim: Were you called douche bag, dick? Did you get faxes to your work that you should die of cancer?
Joe Gorga: No because I'm not a douche bag.
When Jim's hit parade of hate turns to former bestie Bobby, Bobby says Jim and Amber planned to stir up as much drama as possible around the Gorgas and Giudices to make better TV. He also claims that the woman which Jim accused him of keeping a special apartment for isn't his mistress, she's his tenant!
But enough about the little, arrogant weasel known as Jim Marchese. If the TV gods are kind, the Marcheses won't be back next season. 
Moving on. Teresa Aprea was still furious at Teresa Giudice about allowing Victoria Gotti's rumor to spread. Is it just me or is she harping on this because it's the only story line she has? Minus 27. Because let's face it, if she really wanted to save her family the embarassment she'd just stop talking about it. 
On a side not it was both creepy and funny that all the women get tweets from some guy who is obsessed with their feet! I guess that's the price of fame.
Finally we get to Teresa Giudice's final moments with Andy Cohen. Does she regret being on the show? About 80% of it. She wishes she knew then what she knows now. And Andy and any of the ladies are welcomed to visit her while she's in Federal prison. 
It's been a long road and at the end, Andy really was emotional as he and Teresa clasped hands. Plus 44.
Episode total = +53! Season total = -859!
You can watch The Real Housewives of New Jersey online any time here at TV Fanatic. 
C. Orlando is a TV Fanatic Staff Writer. Follow her on Twitter.