The Real Housewives of New Jersey Season 6 Episode 17 Review: Reunion Part 2

Christine Orlando at . Updated at .
The tears, jeers, and bitchy attitudes continue on The Real Housewives of New Jersey Season 6 Episode 17 and we recap it all in our +/- review.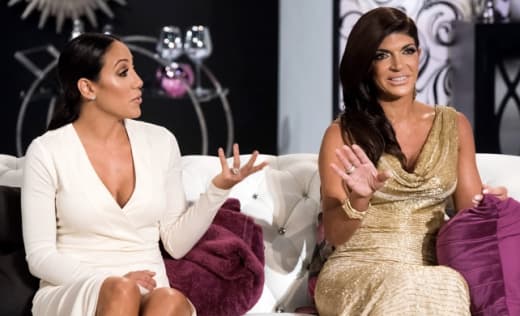 This time around the ladies wait for the husbands and boyfriends to arrive and plus 33. I was grateful they weren't inflicted on us until 40 minutes into the program. 
But first the women continue their own conversations with Andy. Teresa Giudice admits that she's changed quite a bit since we first met her in all of her table flipping glory back in season 1. Plus 12 because to some extent I have to agree with her. She's still Teresa, just not quite as shallow. I suppose staring down a prison term will do that to you. 
Teresa still says she did not completely understand her plea deal when she agreed to it. Minus 50! Talk about a piece of paper you should read thoroughly before you sign!
Teresa Aprea had little sympathy. She's still ticked off about Victoria Gotti spreading rumors about her mother and husband having an affair and she blames it all on Tre. She also explains how Rino never cheated on her while they were married. He only dated young, buxom strippers while they were divorced. 
Plus 5. I know everyone was worried about that one. 
Nicole admits she was a little concerned about Bobby when she saw him kissing Joe Gorga on their vacation. Lucky for her Joe didn't appear to be into it. 
But it's Jim and Amber Marchese who bring out the big guns. Jim has files! 
This leads Dina Manzo to ask Andy in this The Real Housewives of New Jersey quote...
Dina: I thought there were no props allowed Andy?
Andy: It's not a prop. It's evidence.

Plus 22 to Dina for the most appropriate eye roll of the night. 
Jim and Amber accuse Bobby of only dating Nicole so that he could get on the show and they have the evidence to prove it. The file is filled with photos of Bobby posing with other cast mates during events prior to his arrival on the show. Minus 41. As far as evidence goes...that's pretty lame.
Apparently Bobby's other big crime is that his family has money. OMG! Kick him off the show now! Minus 37. Jim and Amber are definitely grasping at straws but perhaps if Jim were a real lawyer, he'd have brought better evidence.
Andy asks Jim about the way he talks to women. His explaination is that he treats women like equals. That must mean he talks to everyone as though they're dirt.
Episode total = -56!  Season total = -912!
Don't forget to tune in next Tuesday for part 3 and watch The Real Housewives of New Jersey online here at TV Fanatic. 
C. Orlando is a TV Fanatic Staff Writer. Follow her on Twitter.