The Affair Season 1 Episode 4 Review: Just Like a Normal Couple
Carissa Pavlica at .
On The Affair Season 1 Episode 4 Noah and Alison got out of town.
There wasn't really a better way for them to go to the next step. Stepping away from their lives into a different setting gave them the confidence to truly get intimate. They have sex, talk about their sexual pasts, share secrets. They act just like a normal couple for one day. 
Their stories differ quite a bit from each other, still, but the longer they talk to Det. Jeffries, the closer their match.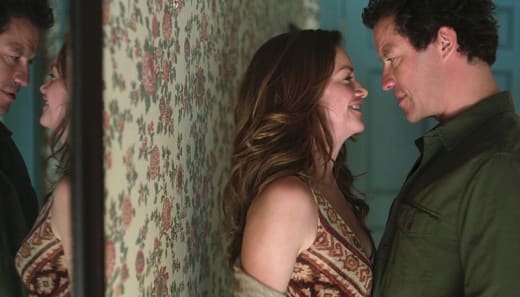 The way this week went from Noah's to Alison's story in one scene, which was very helpful by way of making the connection to their memories. Right in the middle of having sex for the first time, the scene breaks and we're spun from Noah's version to Alison's and the simple details like wallpaper and a bed frame change mid scene.
By only briefly detailing one scene again, I wonder if that means we're getting closer to the truth, the the separation of events is coming together the longer they speak with Det. Jeffries.
Noah's interpretation of events tends to take on a more joyful tone, while Alison's, even in retelling it, leans toward darkness and depression. Their takes on the dock and the tale Alison's grandfather told her about the shipwreck just off Block Island is a great example.
Noah recalled it as a girl talking wistfully about the happy times from her childhood. Alison recalled the shipwreck but in the context of learning to swim and the ghosts that reportedly haunt the area. One thing is certain. Alison is charging toward Noah in an attempt to out run her personal demons.
Alison: I had a son.
Noah: Had?
Alison: He drowned.
We have been wondering what happened to her son, and the scene at the water's edge played on that rather dramatically. Yet she didn't bring it up until they were in the car later. There was also a damn good explanation about why she shuts down with Cole.
Cole has this tattoo on his back of the angel Gabriel and it's the first thing I see every fucking morning and I want to die.

Alison
That also leads me to believe that she hasn't been truthful with Cole. Perhaps she loves him too much to tell him the truth about how the tattoo, Gabriel's death, any of it continues to haunt her every waking moment. It's easier to open up to a stranger about the things that hurt you the most. 
Living in that small town doesn't seem to be beneficial for her at all. She needed someone new in her life to validate that she wasn't a walking harbinger of death. That's unimaginable. 
I cannot wait to find out more about the conversation with Jeffries. They both got called in, separately. Are they aware of it? Are they there together, in different rooms? it's the first time they got a break. Outside Noah was talking to Trevor on the phone about school work. Jeffries mentioned custody and divorce. Noah was calling his son again later in the night. They're not together.
Alison's call on her break took a more desperate tone, as she wondered where in the hell whoever it was she was calling was because she was being grilled at the police station. The station is Suffolk County, so they're still both on Long Island. It was that call that made me question whether the two were still together, or even if they're in separate rooms. 
There isn't a lot to discuss on this hour, but it was pivotal. Truths about Alison's life were revealed and the affair began in earnest. It's where it goes from here that will be the most interesting part of the story, don't you think? Let me know if you're enjoying the series, the reviews, whatever you like. 
Carissa Pavlica is the managing editor and a staff writer for TV Fanatic. She's a member of the Broadcast Television Journalists Association (BTJA), enjoys mentoring writers, wine, and passionately discussing the nuances of television. Follow her on Twitter and email her here at TV Fanatic.