Homeland Season 4 Episode 9 Review: There's Something Else Going On

Carissa Pavlica at . Updated at .
Another tense hour on Homeland Season 4 Episode 9 proves we ain't seen nothin' yet.
It was apparently right up front that something wasn't right about the trade-off of Haqqani's top prisoners and Saul, but nothing quite prepared anyone for the final five minutes.
Nobody said it better than Lockhart in this Homeland quote:
What the fuck? What the fucking fuck?!

Lockhart
While it would be nice to clean it up and take the grit out of that exclamation, it can't be done. Not under the circumstances that are found on Homeland. This is reality. This how the CIA and the FBI really talk. There isn't any beating around the bush when things go up in smoke.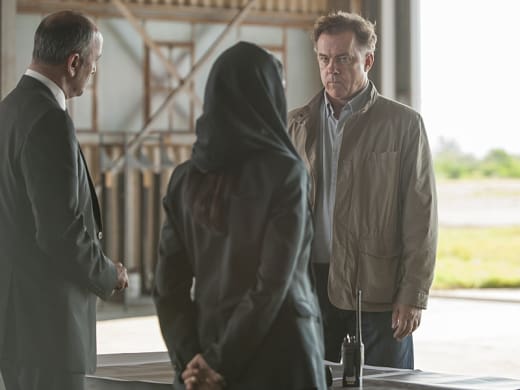 Dennis Boyd is a real piece of work. Even when he's caught red handed, he still tries to hide behind whatever he finds (including his wife's skirt) to free himself of the hell he walked into. It's impossible to know why someone heads face first into enemy territory offering themselves as a pawn.
You see it every day in the news – people who think joining America's enemies is somehow a noble cause. It rarely ends up well for them. Dennis Boyd waits until he realizes the very people he jumped into bed with are on their way to him and he's locked up to share what he knows. Talk about a lily-livered reaction. We don't see it, but I expect Martha had the door slammed on him.
Not that it's going to make much of a difference. There is so much up in the air. But let's run through the moment between Carrie and Saul.
The two of them have come so far and have held each other up mission after mission in their darkest hours. Claire Danes and Mandy Patinkin are at their best playing against each other and their scenes are heart wrenching.
Carrie understands Saul's willingness to let the hostage exchange end by allowing a boy blow himself to bits isn't the fault of the man she respects. It's the weakest part of him that doesn't want to be reminded of his ordeal or held responsible for the release of terrorists. His entire life's work is to put an end to terrorism. To be associated with its continuation must be utter hell.
This is not who we are. This is not who you are. Please. Please. Please, Saul. Get up. Get up. God dammit. Get up, get up. Please, please. No more dying. I wanna go home.

Carrie
Carrie gets through to him, but he doesn't want his glasses. He doesn't want to see any of what's happening. They hold great significance for him, so when he decides to put them on and come back into the world to talk to Mira, it's telling. Even the cadence of his voice changes when he says, "It's me."
Thank God for that, because the people in the Embassy are going to need Carrie, Saul, Redmond, Quinn and the entirety of the marines to help them. 
It seems strange the missiles didn't target the van with the four of them in it. Lockhart makes the right call deploying the marines to the blast site, but not not hitting the most important car in the convoy is either an oversight or courtesy of Aasar Khan. 
Just when Lockhart becomes one of the best characters on Homeland, his life is in jeopardy inside the Embassy. I'm imagining Dennis being tortured for all of his hard work, and seeing Martha tortured as part of his prize. He's going to find out why working with the devil isn't wise. He's going to get an up front and personal viewing of how those he assisted treats the enemy. Do you think he'll like what he sees?
I'm writing this without the benefit of a preview into next week, but it cannot get here soon enough. I'm feeling an Argo vibe. Who will be trying to break in or out of the Embassy while Haqqani is charge? What will be the role of the newly released terrorists as they run the terrorist network from the outside? 
Thankfully, with the four who are injured but not yet blown up, they stand a chance. After what Saul has been through, it's going to be hard to keep him back from acting exactly as Carrie when she could have taken out Haqqani when she had the chance.
The one question I have is – did anyone else feel as though an opportunity was missed for the US not blowing up that hangar with the terrorists and top ISI members inside? I'm sure the ramifications would have been to too much, but oh how I imagined it in my mind.
What did you think? What's next? Has Homeland Season 4 finally hit its mark?
Carissa Pavlica is the managing editor and a staff writer and critic for TV Fanatic. She's a member of the Critic's Choice Association, enjoys mentoring writers, cats, and passionately discussing the nuances of television and film. Follow her on Twitter and email her here at TV Fanatic.