Homeland Season 4 Episode 7 Review: Redux

Carissa Pavlica at . Updated at .
It's a damn good thing Carrie has someone in the ISI on her side.
Honestly, watching Homeland Season 4 Episode 7 felt more like torture than entertainment. What Nasneem and Dennis Boyd are doing to Carrie (with whose blessing is unknown) is painful and terrible to witness.
Haqqani treated Saul with more respect than Boyd is treating Carrie.
Does anyone else hope like hell that our real international relations come nowhere near to this level of sabotage and incompetence?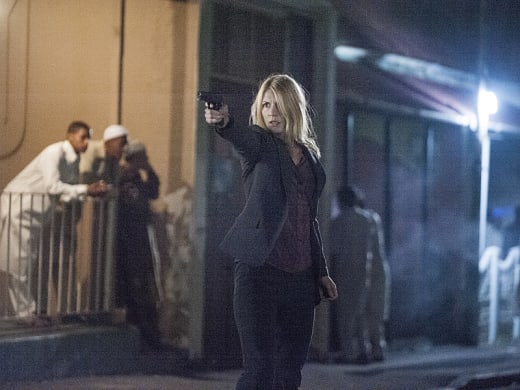 We knew it was going to happen and it did. Nasneem switched out one of Carrie's drugs, Boyd replaced it and they drove her crazy in a very short period of time. If she hadn't been under so much pressure would it have taken a bit longer? Perhaps.
As Carrie fell apart, her senses were on hyperdrive. People around her noticed and several commented, wondering if she was OK. I can only guess about what happened, because the second half of the hour from her viewpoint was played out in her head. 
Aasar isn't corrupt, but probably also doesn't believe that his government is free and clear. His relationship with Nasneem is murky and when Carrie was talking really fast and they decided to meet at the airport shortly, he must have put a tail on her for her protection. 
When she was at the hospital questioning Kiran, I don't think Quinn was more more real than Brody was when she curled up into Aasar's arms and wailed. The poor guy was wondering who Brody was as she just melted with relief at learning he was(n't) alive. I don't know much about her illness, but can only hope she won't remember much of what happened. Not only would it be humiliating, but she would have to lose Brody all over again.
Most of this story with Carrie has felt like a deliberate attempt to wreck her while using her mental health to do it. Since we've already been down that road both for real and as she and Saul tried to manipulate the system, haven't we seen enough of it?
On the other hand, Saul having the opportunity to chat with Haqqani was the best part of the hour. Even though he would rather be dead then used as either a human shield or a pawn, Saul is always brilliant when talking about the war with a very rational standpoint.
Haqqani: Only Islam offers a formula for creating a just Godly society.
Saul: Your version of Islam is regressive and backward.
Haqqani: Whatever the prophet did, we must follow.
Saul: Subjugate women? Slaughter the non-believers? Strap on suicide bombs? I hardly remember reading that in the Hadith.
Haqqani: Be careful my friend.
Saul: You have taught an entire generation to live with one foot in the afterlife.
Haqqani got angrier at his son for throwing a show than he did at Saul for sharing his point of view about the war and Islam. Saul's continued conversation gave the impression he figured he was going to die anyway, so if he has the chance, why not take it?
Saul: You just executed your nephew and before that you sacrificed his family in an air strike. How is that nessary?
Haqqani: You point your finger at Islam, but if Christianity is to be judged by the misery it has caused mankind, who would ever be a Christian?
Saul: I'm a Jew.
Haqqani: Yeah, well...
That was a giggle worthy moment. Don't bring up Christianity as your point of contention if it has no bearing on the results! 
Every year, I come up with a kill list for characters who can be taken down by the end, and for Homeland Season 4 I'm looking forward to the downfall first of Dennis Boyd (even though Martha will be disgraced with him). He's a despicable man. Nasneem is next up on the list, and if Lockhart doesn't start towing Martha's line, he might make the cut, as well. 
Odd that Haqqani isn't on it, right? It's not that he's a good man, but as a character he still has something to offer. Having a big bad foe with a face is better than trying to fight on the larger scale. It's not as easy to follow along or to know where to throw your loyalties without that face and I don't need my entertainment bleeding too closely into real life.
It's starting to feel as if Homeland is using cheap shots to capture our attention instead of compelling storylines. While the occasional banter between characters wakes me up, I'd prefer the thrills to be plot driven and not to wind me up as a viewer. Did anyone really think Carrie was seeing Brody?
Where do you stand on how things are going? Now we have more hands in the pie than ever before and Saul is being used as a high-profile trade. How humiliating. As much as death might become him personally, it would greatly reduce the more intelligent discussions about terrorism and state affairs should he disappear. Hit the comments with your thoughts.
Carissa Pavlica is the managing editor and a staff writer and critic for TV Fanatic. She's a member of the Critic's Choice Association, enjoys mentoring writers, cats, and passionately discussing the nuances of television and film. Follow her on Twitter and email her here at TV Fanatic.