Homeland Season 4 Episode 6 Review: From A to B and Back Again

Carissa Pavlica at .
That was an unexpected turn of events. 
It wasn't so much that Aayan went to Haqqani or that Haqqani had Saul, it was that Carrie was willing to blow Saul off the face of the earth without hesitation. What has happened to her?
On Homeland Season 4 Episode 6 we were forced to suffer through a little bit more of Carrie and Aayan "in love," before the lad's life took a turn for the worst.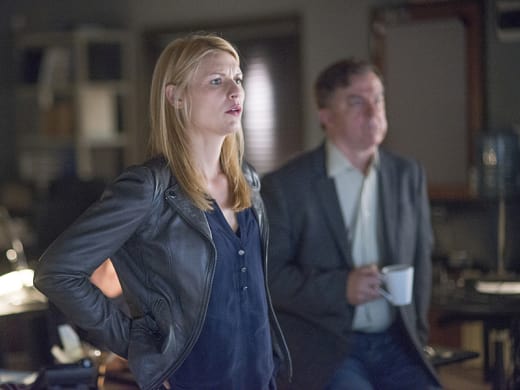 It was a fairly fast and furious hour. Carrie was all business (after the disgusting kisses) with Aayan as she was ready to get him to "London.'"
Even though Carrie went to Quinn looking for five men to help her on a mission, I didn't put two and two together when Aayan started being followed at his college dorm. It was the lone man that threw me. Kudos to Carrie on that whole setup, because I bought it until she was kidnapped. 
Once she was taken, it was easier to add things up because Carrie wouldn't be kidnapped. It was really a brilliant plan. My question is why, knowing fully well that he had betrayed his uncle, Aayan went directly to him? 
All of the thoughts about Aayan perhaps putting one over on Carrie were gone as a young man declared his love for his handler and then spent the day as a boy, wading through water and lounging in the sun. He had a nice, if long, day that included making love -- that's not too bad of a way for a young Muslim boy to spend his last day on earth.
Carrie's decision to lob fire on Haqqani even with Aayan right beside him is exactly what bothered Fara. She's wondering about Carrie's morals. Carrie only saw a boy who was aiding and abetting terrorists, no matter that one was a blood relative. People make decisions and they must pay for their actions.
How would Carrie have lived with herself if Quinn hadn't stepped in and stopped her from killing Saul? Saul had no fight in him. He was either drugged or realistically resigned to death. He saw what Haqqani did to Aayan. There's nothing to stop him from killing Saul -- it would be an incredible notch on a terrorist's belt to kill a former director of the CIA.
One drone isn't enough for three cars and Saul is out there somewhere, again, unaided. At least Quinn is on it now.
John Redmond really came through for Carrie this week. His droll sense of humor is amusing and he becomes more intriguing each week. Carrie counted on him when Quinn let her down.
Carrie: What do you think?
John: I don't think you care what anyone thinks.
Carrie: Say I do.
John: When you came back from DC, we all thought Haqqani was dead. We were ready to let him rest in peace while he prepared to do God knows what. Now we're ready to get him for real. You made that happen. I guess that's what I think. Mostly anyway.
His opinion is of Carrie is a lot better than Dennis Boyd's. It's hard to understand what angle Boyd and the ISI woman are playing. It's highly doubtful the CIA doesn't know about Carrie's medications, so that could be an empty threat unless they are going to try to switch out her medications and drive her right onto the crazy train.
Despite almost giving up when Saul was first reported to him as missing, Quinn stepped up his game and made sure Carrie didn't create the PR nightmare of the world by allowing Saul to be killed in a drone strike. Whether she was angry that she couldn't count on Aayan any longer or upset that he had been killed doesn't matter.
She was using her emotions to make a decision and that cannot happen. That's when mistakes are made. Quinn knows that better than anyone. 
What's next? They're obviously going to be fully focused on finding Haqqani. He has Saul. It will be interesting to find out what the US Government has to say about that. It's not very often a man of Saul's ilk gets snatched by terrorists. I'd imagine it's all hands on deck and expect to see Carrie kissing the ground Quinn walks on for not letting her kill one of the most important men in her life
What did you think? What surprised you? What do you think happens next? Hit the comments on this crazy season.
Carissa Pavlica is the managing editor and a staff writer and critic for TV Fanatic. She's a member of the Critic's Choice Association, enjoys mentoring writers, cats, and passionately discussing the nuances of television and film. Follow her on Twitter and email her here at TV Fanatic.