Emotions ran high this week on Dancing With the Stars Season 19 Episode 12, the Semifinals! With just 5 couples left, the competition is definitely getting fierce.
The concept of the competition tonight was fascinating. The couples danced two completely different dances to two versions of the same song, which showed a versatility in the contestants that we haven't seen before.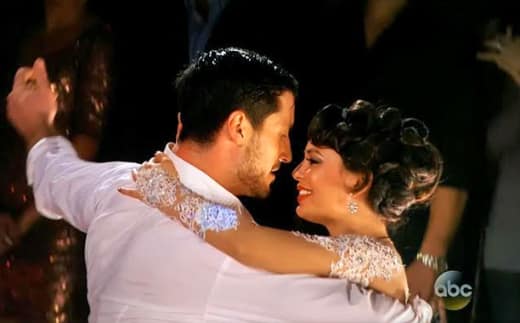 The first couple to dance this week was Sadie and Mark, with a fun quickstep that brought in a few modern twists. It was a great dance that showcased Sadie's spunky side. But their second routine was the one that was absolutely amazing. It was an Argentine Tango that incorporated a guitar in a beautiful way. It was definitely on my list of favorites for the season.
Okay. Be honest. Did you think Tommy Chong would make it to the semifinals?
He is officially the oldest contestant to make it this far, and even though his dances haven't always been perfect, there's no denying that he's doing really well. Of course it is his likability and his fan base that has pushed him this far, but he is truly a joy to watch. He's the perfect example that including votes instead of relying on judges' scores alone makes this show so special.
As for his dances, Tommy and Peta danced a a fun Jazz for the first round, but the second round was the most memorable, with a Rumba that Julianne called "magical" and that brought tears to Carrie Ann's eyes.
Apparently, Derek had some trouble coming up with choreography this week, but both of Bethany and Derek's dances were well-done. Their Samba was cute and fun but not entirely memorable.
But their contemporary routine? I couldn't stop watching. I couldn't even stop to tweet about it. And that's not just because Derek was shirtless (okay, that was part of it). Contemporary routines are among my favorite dances to watch on this show, and their routine was flawless. It earned rave reviews from the judges, with Bruno calling the dance a "modern masterpiece."
If there were still encores, I'd hope we could see that one again. But the encore performances are just another fatality now that Dancing with the Stars is only one night a week.
Janel and Val also did well this week. Their dances are always strong, and they earned a perfect score for their Paso Doble. But my favorite part of the night for Janel and Val was the special appearance by Val's older brother and last season's winner, Maxsim Chmerkovskiy. I didn't realized how much I missed Max until he came back for those few minutes tonight, especially since we got to see interaction between the Chmerkovskiy brothers.
I was so worried that Alfonso wasn't going to be able to dance this week. He hurt himself pretty badly in rehearsal, and that's after getting beaten up pretty badly throughout the whole competition. But like Julianne said, he's a fighter!
Pain or no pain, Alfonso Ribeiro is an amazing dancer. He and Witney even managed a score of 39 with their Contemporary routine. It was obvious that he was hurting pretty badly tonight, but he still smiled. Even through some tears. If he can make it to next week, I'd love nothing more than to see him win it all.
Alright, so the hard part. I guess the good news is that this week the results were not surprising in the least. But still, it's a little emotional when anyone goes home in the semifinals, and this week's elimination was no exception. Tommy and Peta were sent home, just one week shy of the finals.
What do you think, Dancing Fanatics? Who's dance was your favorite this week, and which couple do you think will win the Mirror Ball Trophy? Tell us your thoughts in the comments below!
And here are the scores from the Semifinals:
Janel and Val: Paso Doble - 40 and Argentine Tango - 38 (total 78)
Bethany and Derek: Samba - 36 and Contemporary - 40 (total 76)
Alfonso and Witney: Argentine Tango - 36 and Contemporary - 39 (total 75)
Sadie and Mark: Quickstep - 37 and Argentine Tango - 37 (total 74)
Tommy and Peta: Jazz - 28 and Rumba - 34 (total 62) - ELIMINATED
Ashley Bissette Sumerel was a staff writer for TV Fanatic. She retired in September 2017. Follow her on Twitter and on Google+.