The competition is getting serious, you guys! Dancing With the Stars Season 19 Episode 10 was probably my favorite week of this competition so far.
Dynamic Duo night is a fun concept, and it made for some really fantastic routines.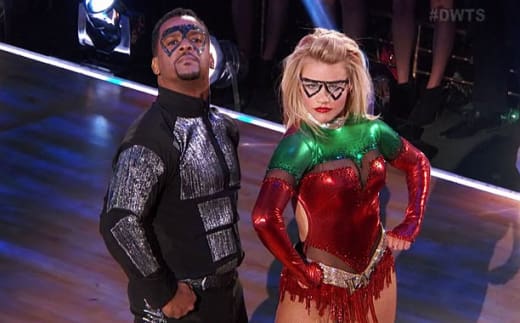 Lea and Artem started off the night with a Bonnie and Clyde dance routine. I thought their dance was great, but it got some mixed reviews from the judges -- with Julianne calling the choreography "dated." Even still, Lea is a real contender in this competition. And even though Artem is a new pro on the show, he's grown on me quickly.
Michael and Emma were Tarzan and Jane for their Foxtrot. I've been hard on Michael all season, but he is a likeable guy, and it's clear that he is trying hard. His dance wasn't up to par with the others, but the judges were still impressed with his steady improvement. Len even said it was the best he'd seen him dance.
Janel and Val's Contemporary routine channeled Romeo and Juliette, and it was absolutely beautiful to watch. Carrie Ann called it Val's "finest choreography." This dance earned the couple perfect scores and immunity from the dance-off!
Oh, and Val shaved his face! I barely recognized him!
Johnny Cash and June Carter were reincarnated in Tommy and Peta for a Paso Doble this week. It was a perfectly okay dance, but it certainly wasn't one of Tommy's best. What I really appreciate, though, is what we saw in the rehearsal footage this week. Peta said it was time to start pushing Tommy more, despite his age and his bad knees. She did.
Hold on to your hats, because Mark Ballas was pissed after last week's show. The package this week showed his comments about the judges' scores last week, saying that Len clearly doesn't like dances that are "creative" or "artistic."
Maybe Mark needs to get angry more often, because boy did he channel those feelings into an amazing dance. Sadie and Mark were Adam and Eve in a Contemporary routine that I couldn't take my eyes off of. Truly. It was stunning. Absolutely stunning.
In Len's comments, he tried to patch things over a bit with Mark, saying, "I love your creativity. I love your passion. I love your commitment to this show."
I never have a bad thing to say about Alfonso and Witney. I will be very surprised if they don't make it into the finals. Alfonso is always energetic and sharp, and he keeps a positive attitude. Heck, he was literally left hanging during rehearsals this week, but instead of panicking, he just made some jokes. This week, Alfonso and Witney were Batman and Robin in a sharp, upbeat Cha Cha that earned the second highest score of the night.
Bethany and Derek's Salsa as Lucy and Ricky Ricardo was fabulous. It was super fun to watch and completely captivating. But what I loved even more was the package beforehand, in which Bethany and Derek did a short Lucy and Ricky bit that showed off Derek's acting skills. He even did the accent!
At the end of the that round, Janel and Val had the highest score and earned immunity from the next round of the competition - the dance offs!
The dance offs are a great idea. For starters, they are fun to watch. They also add a little more fairness to the scoring. What I liked better, though, was a few years ago when the bottom two couples danced off against each other, keeping strong dancers from going home based on viewer votes alone.
Alfonso and Witney won their round against Lea and Artem. It was a fairly close race, but their dance was better.
It was fitting that Sadie and Mark chose to dance off against Bethany and Derek! The judges struggled in their choices and, because they tied, Len's vote was the deciding factor. That meant Bethany and Derek barely won their dance off.
That left Tommy and Peta to dance off against Michael and Emma. This one was unanimous, as Tommy's Rumba was definitely better.
That's an awful lot of dancing, but still, someone had to go home. So which couple was eliminated this week?
It's not entirely surprising that Michael and Emma were sent home.
I'll say it again -- he's a really likeable guy who has been trying his very best the whole time. But it was time for him to go, no matter how much I was starting to root for him.
What do you think, Dancing Fanatics? Was it the right choice? And which dance did you love the most this week? Leave us a comment -- we want to hear your thoughts!
Here are the scores from this week's dances! The winners of the dance offs also earned bonus points.
Janel and Val (Contemporary): 40
Alfonso and Witney (Cha Cha): 38
Sadie and Mark (Contemporary): 38
Bethany and Derek (Salsa): 37
Lea and Artem (Jazz): 32
Tommy and Peta (Paso Doble): 26
Michael and Emma (Foxtrot): 25 - ELIMINATED
Ashley Bissette Sumerel was a staff writer for TV Fanatic. She retired in September 2017. Follow her on Twitter and on Google+.