There's only one week until the semifinals on Dancing With the Stars Season 19 Episode 11 and the competition is heating up with two rounds of competition this week.
The first round included dances and music chosen by fans for some interesting combinations.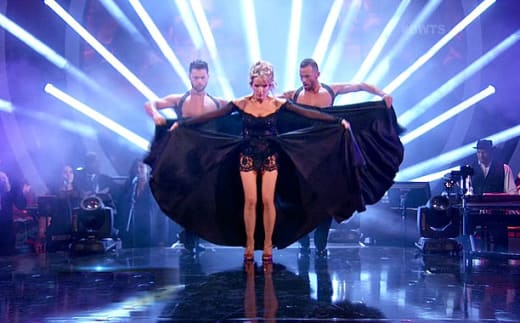 I loved Alfonso and Witney's Foxtrot to "Ain't That a Kick in the Head" and the judges did too, awarding it a score of 37.
And Tommy Chong is hanging in there, despite low scoring dances. Regardless of technique, he's always fun to watch, and I'm happy that he's still around. He and Peta danced a Viennese Waltz this week that Carrie Ann said showed everyone why "less is more."
I also continue to be impressed by Lea Thompson. She and Artem had a bit of an emotional week, but still offered a wild and sexy Samba that was fun to watch.
The Jive is probably one of my favorite dances to watch regardless of who does it, but I really enjoyed Sadie and Mark's routine tonight. Their scores weren't as high as they might have hoped, though. Julianne said the dance "wasn't her favorite" and Bruno said Sadie "did a good job with a difficult dance."
Of course, on America's list of suggestions for Janel and Val this week was a kiss. Plain and simple. Well, they delivered.
But first they danced an awesome Quickstep that impressed the judges. Honestly, Janel isn't my favorite. I don't find her very likeable. Still, she deserves to make it into the semifinals (and probably the finals) based on her skill.
Round two of the competition this week were the trio dances, where each couple brings in another professional dancer for a routine. These dances are among my favorites because they add a new challenge and new dynamics.
Alfonso and Witney brought in Lindsey for an intense Paso Doble that got rave reviews from the judges, and a well-deserved perfect score.
Tommy and Peta were joined by Sharna for a Samba that literally left Julianne speechless. It wasn't the best dance in terms of technique, but like Carrie Ann said, it was great entertainment.
Henry joined Lea and Artem for their Paso Doble, offering yet another sexy and confident routine from lea this week.
But I think my favorite trio dance came from Bethany and Derek this week. They brought in Tony for their Argentine Tango, and everything about the dance was amazing. I couldn't take my eyes off it. It was sexy and sharp, and Bethany was showing off her powerful side. The judges didn't quite agree on this dance, but it still earned high scores overall.
Sadie and Mark included Emma in their dance, which was a risky move since it would leave Sadie compared with a professional female dancer. By the way, this was also the first time a Foxtrot has been done as a trio dance on this show.
Well, even though Sadie apparently forgot part of the dance (she covered this well) they earned a perfect 40 for this routine.
Janel and Val finished off the night by including Keo, one of the newest pros, in their tribal themed Salsa. I was glad to see Keo dance since he and his partner were eliminated first this season. Carrie Ann called Janel a "freakin' formidable opponent," and this dance was one point away from a perfect score.
Results were a bit rushed this week, but I can't say I was surprised by the results. Before any of the dances, it was announced Tommy and Peta were safe this week. So when it came down to the last two couples (though not necessarily the remaining two, according to the hosts), it made sense that Lea and Artem were eliminated this week.
Lea did an amazing job with this competition, and I'm sad to see her go. I still think it was the right choice.
What about you, Dancing Fanatics? Were you surprised by this week's elimination? Leave us a comment -- we want to hear your thoughts!
Here are this week's scores!
Janel and Val: Quickstep - 38 and Salsa - 39 (total of 77)
Alfonso and Witney: Foxtrot - 37 and Paso Doble - 40 (total of 77)
Bethany and Derek: Viennese Waltz - 36 and Argentine Tango - 38 (total of 74)
Sadie and Mark: Jive - 33 and Foxtrot - 40 (total of 73)
Lea and Artem: Samba - 34 and Paso Doble - 36 (total of 70) ELIMINATED
Tommy and Peta: Viennese Waltz - 29 and Samba - 28 (total of 57)
Ashley Bissette Sumerel was a staff writer for TV Fanatic. She retired in September 2017. Follow her on Twitter and on Google+.