Chicago Fire Set Scoop: Monica Raymund on Missing Shay, Dawson-Casey Drama & More
Jim Halterman at .
Have you recovered from last week's intense Chicago Fire/Chicago PD/SVU crossover?
Too bad if you haven't because things are not slowing down one bit on Chicago Fire Season 3 Episode 8, as a massive helicopter explosion puts the team in jeopardy in different ways - and it's Dawson who'll uncover why the chopper went down in the first place.
But we know Chicago Fire Season 3 is also about the relationships, and one of the key romances on the show is between Dawson and Casey. Will that union survive when Dawson is working under Casey? Has the rest of the house accepted it or are there more issues to come? And is the team still hurting from losing one of its own, Shay?
To get some answers, I was on the Chicago Fire set last month, sitting down with Monica Raymund, who gave me the lowdown on what we'll see with Dawson and how she's dealing with working on the fire fighter side of things.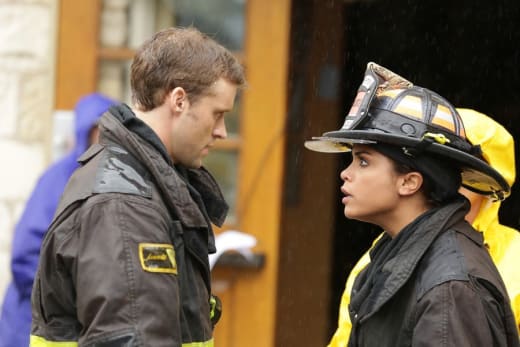 TV Fanatic: You're deep into shooting this season but going back to the start of the season, how was it having Shay die and Lauren leave the show?
Monica Raymund: It was pretty rough for both of us. Both Dawson and Monica. It took some getting used to. It was a big transition period for all of us. It was hard. We grieved. I think a lot of what we were feeling was bleeding into what you saw on screen. So, yeah, it was not easy.
TVF: Dawson and Casey are going strong. Talk about that relationship and what we're going to see in the coming episodes.
MR: She's still rogue. She was a rogue paramedic. She's going to be a rouge firefighter. She's not going to follow all the rules because she's got cojones. So we get to see what that obstacle does. You'll find her not listening to her lieutenant who's also her fiancé. So there's a lot of good juicy conflict stuff that gets between them. You'll start to see them possibly teeter.
TVF: Relationships come and go on this show. Why do you think they work together?
MR: I think they are supposed to be together. I think they're always going to be. You ever have a love in your life where you're like that was the unrequited one, or the one that got away, or something happened-the timing wasn't right, and it just sort of turns into this long-term wish I could've, should've, would've, could've? He's the one, no matter whatever happens and I really believe that for Dawson. Even if they do break up, he's that one person who you have that unique specific connection with that you would die for. So that's why I think they've been lasting so long. We really love each other. He's like my best friend here.
TVF: What have you been challenged by most in this season as an actor?
MR: Besides the physically kicking my ass part? I feel like the death of Shay was the hardest. That's the most challenging thing I think I've ever worked on in my entire career because she was my best friend. She is still my best friend, my sister and she's the only other girl. It was pretty hard to let it go.
TVF: Did you hear there was a little stir when the Shay character died because it was killing the only gay character on the show and then Arrow killed off their bisexual character the week after.
MR: Little do they know that has absolutely nothing to do with the reasons people leave. I was aware of it. I was aware. I mean what are you going to do? It's futile, that kind of response.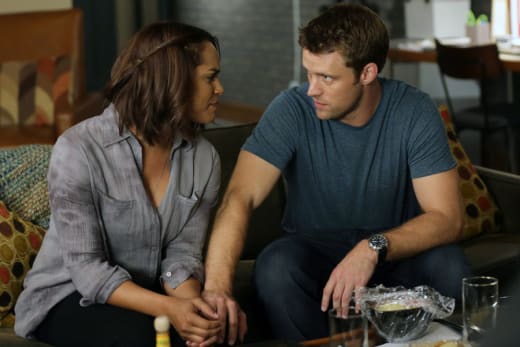 TVF: Tell me about the physical challenges especially now that you're doing different things on the show. I'm guessing it's a whole different thing.
MR: It's so hard to keep up with the boys. I've been working out like crazy trying to get lean. And be able to, they call them the tools of ignorance, which is the tools that you see us walk out of the truck with. Those things are heavy.
TVF: They look heavy.
MR: And then you wear the SCBA tanks. That's another 30 pounds. The helmets about 5-1/2, 6-1/2 pounds all resting on you. The bunker gear is another 8 pounds. It's been cool because I've been getting in great shape but I also feel like I've got to keep up with the boys in a way. I really want to prove that women can do this job just as well as men. It's a really huge honor for me and I'm very excited to have that responsibility.
TVF: So when we see Dawson climbing a ladder with all that gear, that's you?
MR: Yeah. That's me with the gear on. You got to do a lot of core strength.
TVF: What do you hear from female paramedics or firefighters, either social media or on the street maybe they come up to you, what do you hear from them?
MR: Whatever you imagine I hear is what I hear. They are so, so amazing and so incredibly supportive. They're thankful that there's a character that's a woman who's representing what they do. I mean these are like the real heroes of our city. I get to pretend to be one but they really have to live through this stuff and to have their support is a pretty big honor.
TVF: How do you feel just where you're at career wise?
MR: I feel good. I feel lucky. I miss theater a lot. I think when this chapter of my life is over I'm going to probably do a few plays. Get my chops. Cut my teeth again. I feel good. I've been producing a lot so my production company is taking off. I've been learning a lot about film making in general and surrounding myself with people who know a lot more than I do about the business and picking their brains. I feel confident I guess. I don't know. I don't really think about my career too much to be honest. I sort of just take it one day at a time and roll with the punches. Hope you get a job and if you don't its all right. Figure it out the next day.
Chicago Fire Season 3 airs Tuesdays at 10/9c on NBC.
Jim Halterman is the West Coast Editor of TV Fanatic and the owner of JimHalterman.com. Follow him on Twitter.