Castle Season 7 Episode 7 Review: Once Upon A Time in the West

Christine Orlando at . Updated at .
This is so not their honeymoon…and yet it is on Castle Season 7 Episode 7. It may not be the tropical island getaway they had hoped for but it's definitely a trip they'll never forget.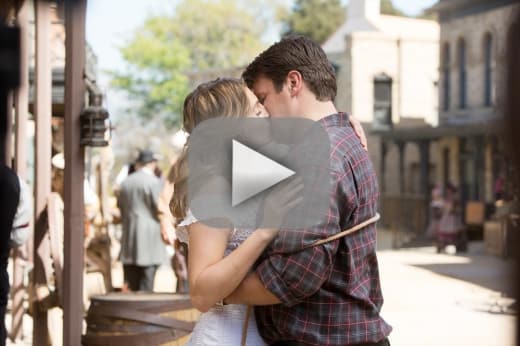 But let's start with the Champagne toast where Rick and Kate couldn't look happier to tell their friends they ran off and tied the knot. The expressions on their friends' faces? Not quite so happy. As a matter of fact, they're closer to furious as Lanie told off Kate in this Castle quote…
Lanie: I am your maid of honor. I haven't had a carb in months just in case I had to put that damn dress back on.
Kate: And you look great.
Lanie: Kate, save the flattery. You owe me dinner. I'm picking the restaurant and we're ordering all the desserts.
And with that and a punch to Castle, Lanie was happy. Esposito and Ryan were a much different story and their pouting was hilarious. 
The boys had planned a speech and a song! When Rick explained that they were planning a small reception and they could do the song there, Ryan's "No song for you," was perfect. The boys weren't letting this one go. 
Back to the impromptu honeymoon/murder investigation because what would Castle be without a murder to solve? 
Castle looked positively giddy at the prospect of honeymooning in the wild west. It was like all of his little boy fantasies come to life and if Kate used all of her vacation time up searching for him, causing their tropical island getaway to be postponed, well this was an appealing second choice…
Saddle up, honey, because we are honeymooning out west. Hee Haw.

Castle
As far as Kate was concerned, this was so not their honeymoon. 
The murder mystery turned treasure hunt had just enough twists and turns to keep me interested, but the fun was watching Kate and Rick immerse themselves in the wild west. 
Rick's ennunciation of pea-cock when he first saw Kate in the above black outfit was priceless as was his deadpan response when he opened up their bathroom door to find a surprise on the other side…
I don't know if it comes with the room but there's a naked cowboy shaving in our bathroom.

Castle
Tobias was a hoot and I love how he bonded with Kate and was willing to share all the good gossip. I only wish we had gotten to see their hog tying class.
In true Castle fashion, their romantic night under the stars was interrupted, this time by a rattlesnake and a couple of runaway horses. 
My one small complaint was that Castle needed Kate to rescue him from Grady during the gunfight. I was hoping to see a throwback to Castle season 1 where we learned what a great shot Castle was. Of course this was a showdown with six shooters not a target range but I would have enjoyed seeing Rick be the hero on this one. Then again, Rick and Kate are partners so they always back one another up. Perhaps was this just Kate's turn. 
But that's a small nit in the midst of what was a fantastically fun episode. Even Gates had the happy couples back as she finally put Esposito and Ryan in their place…
I think the two of you should stop whining like two little school girls who weren't invited to the dance and be happy that your friends, your very dear friends have found a way to make it work, especially after all the hell those two have been through.

Capt. Gates
She's absolutely right and pushing them to donate a couple of vacation days to the happy couple was the perfect wedding gift. 
All of the costumes during the hour were wonderful but Kate's white outfit at the end was a favorite. Partly for the romantic old west feel of it and partly because it showed her scar. We don't see it very often and I like the nod to consistency and to the difficult past both of these characters have had to over come to get here. 
Kate eventually got to put her hog tying skills to good use wrangling her husband. "Once Upon a Time in the West" was filled with wild west fun and Caskett goodness. It's definitely one of my favorites for Castle Season 7.
There's not need to miss a minute of the fun. You can watch Castle online any time here at TV Fanatic.
And take a look below at the ABC teaser for Castle Season 7 Episode 8, "Kill Switch."
C. Orlando is a TV Fanatic Staff Writer. Follow her on Twitter.