There was danger on a train on Castle Season 7 Episode 8, as Detective Esposito ended up in the middle of a hostage situation on the subway.
Below, TV Fanatics Jim Garner, Chandel Charles, Robin Harry and Christine Orlando are joined by Erin from The 12th a Castle Fan Forum to discuss Esposito and Lanie's future, favorite pizzas and their most disappointing and favorite scenes from "Kill Switch."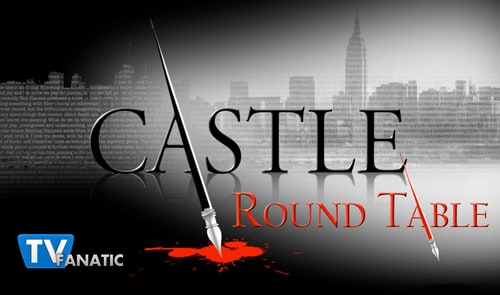 Would you like to see Esposito and Lanie move forward in their relationship or move on to other people?
Jim: Yes, one or the other. Either move forward in their relationship or let them start finding other people to be close too. 
Chandel: I am with Espo's new friend, Marissa, "Don't trade something that's real for something that isn't." I think Espo would be doing himself a disservice to break up with Lanie for a fantasy that he has. Granted, his desire for more is warranted, but he and Lanie have been through a lot together and when love is allowed to grow, anything can happen.
Robin: I would be okay with either. For whatever reason, I find myself ambivalent about Lanie's and Esposito's relationship, and I would have been okay if Javier decided to move forward without her.
Erin:  I believe that I'd want to see Lanie and Esposito move forward in their relationship. I would love to see something more serious for Esplanie (love that term still) and for their future than what might be implied off screen. (ie Deepening of the relationship during Castle's missing two months)
Christine: I've been an EspLanie fan since the Castle Season 2 premiere so I'm rooting that these two move forward in their relationship. Hopefully we'll get some insights into why Lanie is so hesitant to deepen this relationship. 
Which did you find more interesting: hostages on a subway or how they planned to spread the virus?
Jim: Sadly - as I have a cold right now for which I'm using an inhaler - I knew he was using it way too often, so I had guessed that it and the fact he was getting sicker and sicker was playing into the waiting game. That being said, it was still a very clever trope to use as "subway hostage" and it did come across very interesting. 
Chandel: I saw the virus spreading thing on an episode of Psych that was eerily similar, so the hostages on a train thing was probably more interesting to me.
Robin: Neither really. The subway train as method of destruction has been done before (Sherlock!!), and I preferred Castle's hostage situation two seasons ago.  That being said, the story was interesting enough, made better by Marissa's presence.
Erin:  Hostage scenarios are a common enough occurrence.   I found myself more interested in how Latham Pharmaceuticals was planning on spreading the virus by using one person as ground zero and working from there.
Christine:  I'm a sucker for hostage scenarios and as a fan of the movie The Taking of Pelham 123, I'm going to have to go with the the subway scenario.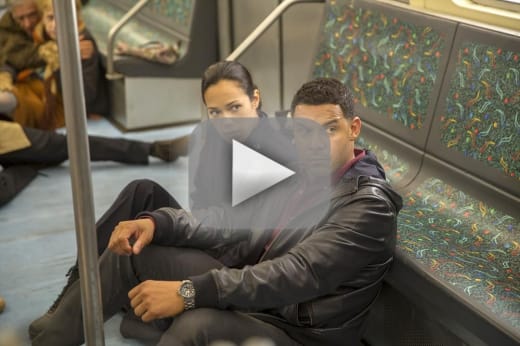 If Esposito and Lanie were to break up, would you like to see him with Tory the tech analyst or Marissa the Transit Officer?
Jim: I really liked Jessica Camacho as Cortez on the short-lived Last Resort, so having her back here as Marissa the Transit Officer was great. While I think Tory is nice, Marissa has way more in common with Javi, after all, they are both ex-military. 
Chandel: If I absolutely had to pick, I would probably go with Marissa because they have a lot of things in common and she has a son, and Javi is clearly interested in children.
Robin: I quite liked Marissa. She and Javier had some very fundamental things in common, and they had really interesting chemistry that I don't see between him and Lanie.
Erin:  If Esposito were to break up with Lanie I would prefer to see him with Tory. In my opinion Marissa was an interesting enough character but I just can't see Espo hooking up with her because of a high-stress incident. 
Christine: I like both characters. Espo is definitely attracted to Tory but I liked his interaction with Marissa. Plus the shared military background and the fact that she has a son are two things that would work for them. But all that said, I'm still an EspLanie fan.
Javi's favorite pizza is pineapple, olives, and jalapenos. What's yours?
Jim: First, wasn't it "double jalapenos?" Second, mine is ham, mushroom and extra cheese. Yummmm!
Chandel: I'm going to stick with tried and true pepperoni. Though I am partial to Donatos' Founder's pizza, which has pepperoni, ham, banana peppers, sausage, onion and green pepper on it. DELICIOUS!
Robin: One of our pizza chains here in Canada has a Sweet Chili Chicken Thai pizza, with a sweet chili sauce instead of tomato, topped with goat cheese, chicken, sun-dried tomatoes, and - believe it or not - broccoli sprouts. It is a DREAM.
Erin:  I'm rather simple when it comes to pizza. It is either a regular Cheese Pizza or Pepperoni. Those are my two favorites with Pepperoni having an edge over plain cheese.
Christine: I always order one of two things. Pepperoni and mushroom or ham and pineapple. If you wanted to throw bacon on either one of those I wouldn't complain. 
Was there anything that disappointed you about the episode?
Jim: Yeah, having to watch the last 15 minutes online THE NEXT DAY because ABC decided to run everything late and my DVR didn't know it. I understand there will occasional be "breaking news" but given that they went over the whole news story right after Castle finished AND we live in the age of the internet, couldn't they just put up a "for more information got to (website)" and not ruined what I actually wanted to watch? 
Chandel: I think a little bit more time between and Javi and Lanie at the end would have been nice, since that got emphasized throughout the episode. Other than that, I wasn't really disappointed.
Robin: Not that I can think of.  It was a decent episode.
Erin:  If anything disappointed me about the episode it would have been the premise that a pharmaceutical company would stoop so low as to stage an outbreak of such massive and lethal proportions all for the sake of looking to earn a bigger cash flow. Especially with what is going on right now with Ebola. To me that seems just a little bit insensitive.
Christine:  Hey Jim, where I live they both cut off the beginning for the Presidential address and then if you dvr'd it you would have missed the end as well. Ugh! But what disappointed me about the episode was the plot about the releasing the virus so that stockholders would make millions with the vaccine. I've seen a similar plot played out on at least 3 or 4 other shows in the last year. Yawn…
What was your favorite scene in this episode?
Jim: I adored Castle's subway jokes at the very end. It was clear that he wasn't going to be derailed from the jokes he had. 
Chandel:  Again, I'm going to have to go with that moment between Epso and Marissa where she reminded him of what's important and to look at what's right in front of him and focus on that, rather than all he doesn't have, but wants.
Robin: I'm with Jim - Castle's subway jokes at the end had me rolling. Nice way to end the episode.
Erin: There were two scenes actually: The first was the Castle/Beckett banter at the beginning with the throwback to the episode "Deep in Death" with Beckett playfully reminding Castle that "he still reminds her of Hooch". The second scene was the car conversation between Ryan and Esposito - until Espo ruined the moment.
Christine  I loved how calm and in control Esposito was on that train. It spoke to his experience and his military background and why he's a go-to guy when things go bad. 
And if you missed a minute, watch Castle online here at TV Fanatic. 
And here is your first look at Castle Season 7 Episode 8:
C. Orlando is a TV Fanatic Staff Writer. Follow her on Twitter.