The Real Housewives of New Jersey Season 6 Episode 15 Review: Secrets Revealed

Christine Orlando at . Updated at .
The ladies head to Atlantic City on The Real Housewives of New Jersey Season 6 Episode 15 with the hopes of getting in some quality bonding time. We recap all the secrets revealed and mean girl moments in our +/- review.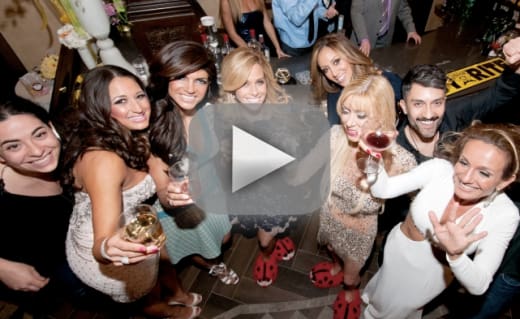 Just an FYI, the Revel Hotel and Casino is no more. It's one of the many that closed down recently in Atlantic City but I have to say the place looked very nice while it lasted. Plus 10.
Did we really have to hear how everyone was having their period for this trip? From bloating, to tampons, to bathroom emergencies...if there was ever such a thing as TMI, this was it. Minus 25.
And what type of bachelorette parties does Melissa Gorga attend was all I could think after this The Real Housewives of New Jersey quote...
Why did Nicole get us a bus like I feel like we're going to a bachelorette party and it's like we're going to suck penis or something.

Melissa
And yes, she said like that many times in that sentence. Minus 11.
But Melissa was hardly the only one who was sharing her more colorful side. Amber Marchese was happy to explain all of the role playing that she and Jim do in the bedroom. From student / professor to massage therapist to her alter ego Alana, the Russian hooker. It sounded like she and Jim have some kinky times in the bedroom and more power to them but Minus 18 because I really don't want to picture any of that. Especially where Jim is concerned. 
Back home, Joe Giudice was spending some quality time with the kids. Plus 33 because it really did look as though he and his girls were having fun, 
However, I did find it amusing that despite having this incredibly ornate, high end home they still had little dog poops hiding behind the sofa. 
In Atlantic City, the twins were proving themselves to be the mean girls of the group. First they lit into everyone for not waiting for them before heading down to the casino. Perhaps leaving them behind as they primped was rude but the twins comments at the table were far worse. Minus 27.
Then they decided to play the fun game of tell everyone about your first impressions of one another in which they called Dina Manzo a boring ice princess and made Amber so uncomfortable she decided it was time to head for bed. Minus 23. 
The funniest part of the entire trip may have been Teresa Giudice and her Medusa hair as she sprawled it all over the pillow so it would look nice the next day. Plus 13 for making me laugh. 
Things weren't quite so funny when they headed back home and Teresa and Dina had lunch with Kathy. Turns out Kathy wants Tre to write a blurb for the back of her book but Teresa's having none of it. Between Kathy's gag gift of the dictionary for Christmas or the fact that they haven't spoken in months, Teresa feels as though Kathy is always putting her down. To which Kathy responded...
Teresa, if I said there was a full moon outside you would look at me and say what are you saying about my ass. That's the way it is between you and I.

Kathy
There's certainly no love lost between these cousins right now and Kathy's tone made Teresa's spelling sound perfect this time...
How do you spell bitch? K.A.T.H.Y.

Teresa Giudice
Episode total = -48! Season total = -790!
Don't miss a minute of the drama, watch The Real Housewives of New Jersey online here at TV Fanatic. 
C. Orlando is a TV Fanatic Staff Writer. Follow her on Twitter.