Stalker Season 1 Episode 3 Review: Manhunt
Paul Dailly at . Updated at .
Your wedding day is meant to be one of the best days of your life, but for one unlucky couple on Stalker Season 1 Episode 3, it was most certainly the worst.
The opening scene of the episode that featured the wedding seemed like it was going to be a calmer opening than the past two installments. All it took was a gunshot to prove otherwise!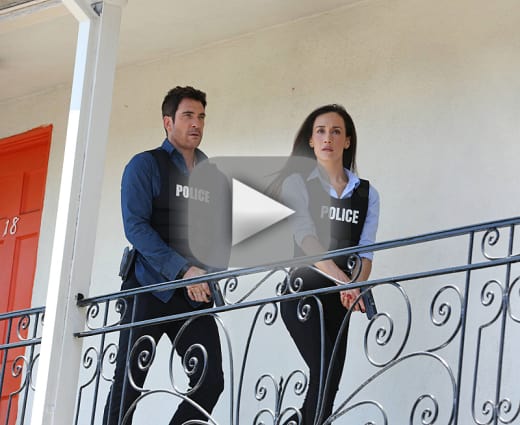 Paul was one crazy, messed up individual. After all he put the victim through a few years back, he still thought it was okay for him to show up at her wedding. The man needs a reality check and to be dragged, kicking and screaming into the 21st Century.
He seemed so smug in the videos in which he was boasting about how Karen couldn't be gay because they had good sex. Obviously he wasn't the stalker, even though he was running away from the TAU. The bad guy is never revealed in the first 15 minutes of an episode!
There's a gun aimed at your back. Turn around and put your hands up.

Jack
Enter Silas, another crazy. His motive was plausible, but I'm sure he wasn't the only one who's sat across from Jimmy in his office on bad terms. I'm not buying how quickly Jimmy stated that it was him.
Given how annoying Jack has been the last few weeks, I was somewhat happy that he got attacked. The way he is stalking Amanda is downright wrong. He needs to grow up and move on. It sounds like he burnt his final bridge with Amanda after not taking an interest in his son's seven year life, until now. 
Resentful stalkers rarely turn to violence.

Jack
We've witnessed the way Jack speaks to women and we know of course that he is a stalker himself. This clearly helped when he was in Jimmy's office with Beth and concluded that it was one of his employees.
I absolutely loved the fact that Trent is now with Amanda! I wonder if Jack will take action against him. I doubt he'll be looking in their window any time soon after the shock Trent gave him tonight. 
Being a stalker is obviously a good trait to have in his line of work. I think Beth may be onto him though. She's already noticed the tension between him and Amanda. 
Beth: Why are you running?
Jack: Let's stop running.
It was excellent to find out that there were over 300 applications for the job and that Beth was kind of put in an awkward position to employ Jack. Not so special after all, are you, Jack?
The episode got progressively darker as it went on. The whole scene in the hospital when Silas attacked a surgeon and stole his attire was produced really well. i actually thought Jimmy was dead when he was grabbed in the church. 
This was a really nail biting episode, full of twists and turns. It's been refreshing how different the cases have been through the first three episodes. I expected there to be a lot of repetition. Thankfully, there hasn't been. 
Remember you can watch Stalker online right here on TV Fanatic if you missed anything.
What did you think of the episode? Do you like Jack? Sound off below.
Paul Dailly is the Associate Editor for TV Fanatic. Follow him on Twitter.