Stalker Season 1 Episode 2 Review: What Ever Happened to Baby James?
Paul Dailly at . Updated at .
I must admit. Stalker is one creepy thrill ride of a series.
On Stalker Season 1 Episode 2 a teenage girl named Hannah believes she is being stalked. The opening scene in which she is on the phone to her friend while attempting to find out what is going on was scary.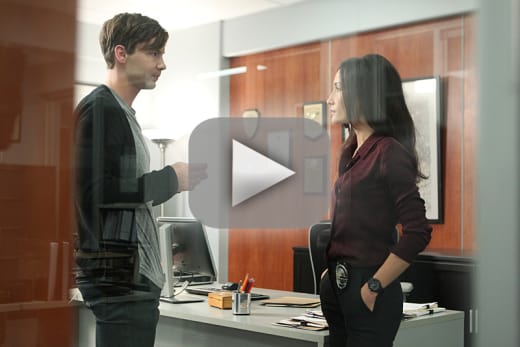 I genuinely thought she was killed when she escaped the house with her little brother. The story of the episode was full of twists and turns. I never once thought that the stalker was after Hannah's younger brother, James.
Drinking leads to other things.

Janice
How much of a shock was it when Judith walked into the house and claimed to the owner it was hers before striking her over the head?
I am loving the character of Beth. The acting from Maggie Q is excellent. Beth handles cases quite differently from normal agents. She is very persistent and always gets results.
Poor Judith! Her son passed away and she understandably went a bit off the rails. She then became fixated on James and thought he was her son.
I can't believe Perry showed up to Beth's work. After her threatening him in last week I expected him to seek revenge. Especially after seeing him looking in her window.
I'll be at my desk. I do have a desk?

Jack
Wrong! He apologizes to her for stalking. He then admitted he becomes fixated when someone gives him attention and he wanted help.
I don't think Beth fully bought this, but she gave him details of a a therapist who could help. In the closing moments of the episode he went to a bar and began to hit on Beth's friend who had had a stalker in the past. This made it obvious he is fixated on Beth and wants to make her and her friends pay.
Jack continued to be a weird character. Beth really doesn't like him. The whole scene in which he bought coffee was funny but really awkward for him. I think this weeks episode confirmed that he is a stalker.
He was watching Amanda and his son out of his car. I don't think it is a coincidence that Amanda is covering for someone in the TAU. I think Jack has thought this all through really well.
Don't buy me coffee.

Beth
Janice has taken a shine to Jack. She seems to think he can do no wrong. She is flattered when he buys her coffee even though it isn't her poison. Some people are easily pleased!
Amanda has given Jack an ultimatum that if he doesn't leave LA within two weeks she will go to Beth and let her know exactly what he has done. I don't think he will leave, but I think we may see some bitter run-ins between these two in the coming weeks.
Is the show employing Pretty Little Liars' alum in the off season? Last week it was Melissa Hastings and this week it was her mom, Veronica Hastings. Someone associated with this show sure hates the Hastings!
This was an excellent episode and I was shocked when it ended. It went by so fast! Remember you can watch Stalker online right here on TV Fanatic. Get stalking! What did you think of this episode? What do you think Jack did to Amanda?
Paul Dailly is the Associate Editor for TV Fanatic. Follow him on Twitter.