The Diosa massacre has ripple effects throughout Sons of Anarchy Season 7 Episode 5 as Sheriff Jarry begs Jax to give her something to go on so that the Feds don't get called in and then no one makes it out whole. 
But Jax is hell bent on getting his revenge by killing Lin and his crew. Once Lin threatens Nero and his son, Nero and Jax set Lin up. When Lin shows up, SAMCRO ambushes him and his crew but when the real cops show up, Jax and the boys flee leaving Lin and his crew to be arrested.
When Juice gets paranoid after hearing about the shooting at Diosa, he thinks that the motel manager is one of Lin's men and kills him. Unser stays behind to clean up the mess and dispose of the body while Gemma takes Juice out of town. But when Juice realizes that Gemma is lying to him, the scramble for the gun. Will either one of them make it out alive?
Don't miss a moment of the drama. Watch Sons of Anarchy online right here at TV Fanatic.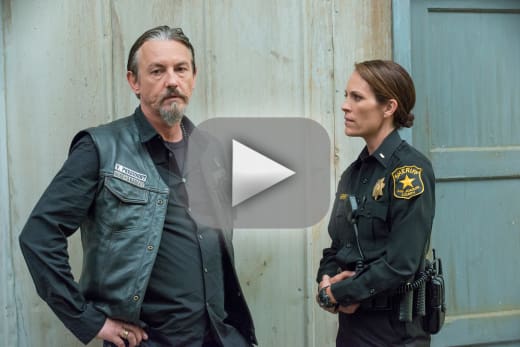 Meanwhile, here's your first look at Sons of Anarchy Season 7 Episode 6:
C. Orlando is a TV Fanatic Staff Writer. Follow her on Twitter.