Revenge Season 4 Episode 4 Review: He's Alive!
Miranda Wicker at . Updated at .
The moment we never saw coming is here and, you guys, it was spectacular. Maybe my favorite moment on this series yet.
On Revenge Season 4 Episode 4, Emily Thorne came face to two-way mirror with David Clarke and sobbed into her sweater, ran out heaving, and later watched in shock as Victoria took David's hand on the courthouse steps.
Emily Thorne won AND lost all in one 45 minute episode of Revenge.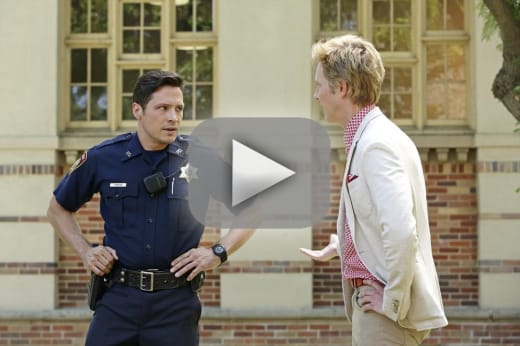 I've been trying to get this review started for 40 minutes now and I just keep going in eight different directions at the same time. So let's just bullet out some things and see where we land.
David Clarke is a man with a plan. (We think.)
David Clarke does not seem to trust Victoria. (We think.)
David Clarke does not know Emily is Amanda. (We think.)
Clearly, we need to just discuss David Clarke and what he may or may not be up to. The man might be a genius, even if his genius is slightly psychotic and terrifying.
All it took was Victoria uttering one simple phrase, "let me take care of things," and David Clarke snapped right back to reality. He saw Victoria for what she is: a manipulative, self-serving, lying woman who really doesn't care about anyone except herself.
We DO have to give Victoria props for telling Charlotte like it is. Stop being a victim. Start being a fighter. Please, Charlotte. Listen to your mother. (But that doesn't mean try to burn more people alive.)
When Victoria left to go into the city, David took his re-entry into his own hands, flogged himself (AAAAAHHH! CAN'T UNSEE THAT DaVinci Code scene!), and wandered into a convenience store to "steal" something so he'd be arrested and taken to jail.
At first he seemed disoriented, but later it all became clear that his arrest was a setup to alert the public to the fact that he's alive. He played along so brilliantly in the interrogation room that it wasn't until he revealed to Victoria that he would never be anyone's captive again that I realized his story about Conrad keeping him prisoner for 10 years and torturing him and the flogging were all part of his plan. A plan which, judging by the look on her face, Victoria held in the highest admiration. It was a page right out of her very own book.
With his amazing capacity for dealing in half-truths, one thing is clear: Emily Thorne really IS his daughter.
The question now becomes whether he trusts Victoria like he wants her/people to believe. Standing on the steps outside the police department certainly made them look like the happy, albeit confusing, family. Had Charlotte been standing next to him, I wouldn't have thought twice, but Victoria's addition to their family portrait made things harder to figure out.
Emily Thorne is really, really pissed at Victoria for that maneuver and Victoria better watch out. Emily can't cause bodily harm to Ol' Queen V for all the reasons Jack pointed out, but she can find new ways to make Victoria's life miserable, which she's certain to do as soon as she gets her game-face hoodie on again.
Might we see a Red Sharpie soon, even just for old time's sake?
If I were Emily, my plan would be to reveal myself as Amanda Clarke publicly, once and for all, to force David to take me seriously. There's absolutely no way she'll do that, though, because where would be the fun in winning her father back to her if she were able to dispatch Victoria from his side so easily?
He'll likely do away with Victoria soon enough and Charlotte might be the one to push him over the edge. She hates her mother almost as much as Emily does, and having David try to help his daughters make peace could make for an interesting direction for the show.
We still don't know if Nolan knew that David was alive this whole time. His reaction outside the jail didn't really give us any definitive answers, but if you ask me, it's definitely possible that he knew.
If we thought Emily was emotional about learning that her dad is still alive, can we even begin to guess how overwhelmed and heartbroken and angry she'll be if he has known and let her go on believing he was dead? Emotional Emily scenes are always some of my favorites. 
I'm not sure why Jack wouldn't want David to know he's on the police force unless he wants to confer with Emily before that information is revealed. Things will certainly get weird when David comes by and wants to meet his grandson who isn't actually his grandson at all, but we'll see Carl, who'll probably be the size of a 5 year old.
In Margaux-Daniel news, I really, really like them together. I've said it in the Revenge Round Table for two weeks now (maybe one?) but I really like Daniel when he's not influenced by his parents and their evil ways. Daniel is best when the most difficult challenge in front of him is not sleeping with the hot red head clearly trying to seduce him.
Hopefully he can see through her womanly wiles and be as faithful to Margaux as he was to Emily once upon a time. Let him make Louise a lot of money and thereby reinvent himself while being happily committed to Margaux.
It might be a little boring, but let's just let him grow up and away from the Grayson baggage.
What did you think of Revenge Season 4 Episode 4? Was the reveal that David Clarke is alive everything you expected? What do you wish had been different? Jump into the comments and let's talk about this episode and Revenge Season 4 so far.
Remember, you never have to miss an episode! You can always watch Revenge online right here at TV Fanatic.
Here is a look ahead to Revenge Season 4 Episode 5, "Repercussions."
Miranda Wicker is a Staff Writer for TV Fanatic. Follow her on Twitter.