Person of Interest Season 4 Episode 6 Review: Pretenders

Sean McKenna at . Updated at .
John Reese and the POI team may not have capes and colorful tights, but they are pretty much superheroes with their secret identities and desire to save the day.
And even with the super threat of Samaritan looming in every camera or piece of technology around them, the team continues to put their lives on the line for others.
So to see a character trying to follow in those footsteps in Person of Interest Season 4 Episode 6?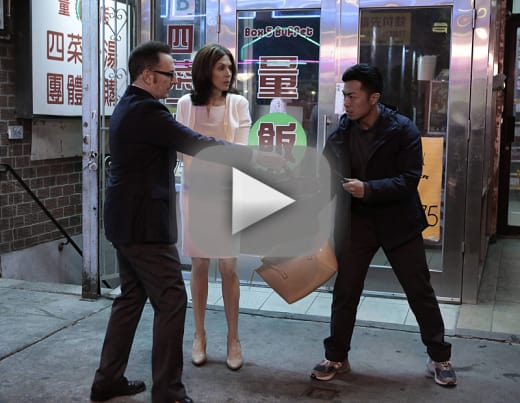 Sure, Walter wasn't the next version of Reese, but there's something to be said for inspiring others to do good, especially since the POI team has been feeling the pressure from all the bad.
Walter was simply trying to fill a void after the "Man in the Suit" had disappeared, trying to find a way to make a difference, even if he got caught up in something even bigger than he might have expected.
As a character, Walter could have easily been over-exaggerated, but there was an endearing quality in his desires to be Detective Forge or his excitement at getting to suddenly be with the person he'd idolized. I loved listening to him point out Reese's whisper voice or exclaim how it was awesome after an intense gunfight.
Plus, I shouldn't have been surprised that the number of the week would have turned out to be just a piece of the finely crafted story that always goes beyond the standard.
Because the hour had plenty of those regular things we enjoy about the show from the humor (Shaw eating at Finch's computer) to the action (gunfights galore) to the characters all having a part to play.
But there was also a nice change of pace by giving Shaw a chance to take a backseat and cover the computer side of things while Finch got much more into the action (what a knockout umbrella swing!).
And who knew that Finch's excursion to Hong Kong would turn out to be a much more integral part in battling Samaritan.
I really just assumed it was going to give him a chance at a possible new love interest. But clearly, he's got far more intentions that that. Finch is not messing around.
So just what did he insert into her computer? And why is Samaritan so interested in her algorithms?
But if that wasn't enough to whet your appetite for the hour, Elias returned to discuss his resurgence and importance in the city. It also further sparked a confrontation between Elias and his crew and Dominic and the Brotherhood.
I haven't been blown away by this particular group of baddies, but I am interested to see just how they will play out in regard to Elias.
While the case of the week did take a more front seat, Person of Interest never fails to kick it up a notch and incorporate the larger story as well. And it continues to be obvious that this series is not going to let up in providing that entertaining hour of television.
This was definitely another fun episode for sure.
What did you think? Did you like Walter? Will Elias take down the Brotherhood? And if you haven't caught up on all the action of the POI team, now is the perfect time to watch Person of Interest online.
Sean McKenna was a TV Fanatic Staff Writer. He retired in May of 2017. Follow him on Twitter.