Nashville Season 3 Episode 3 Review: I Can't Get Over You to Save My Life

Amanda Steinmetz at . Updated at .
Weddings are supposed to be a happy time, right?
Apparently Nashville Season 3 Episode 3 didn't get the memo, because Rayna was dealing with a whole lot of tension this week.
It's amazing how quickly they're making me dislike Luke, but if that's the goal, then good job!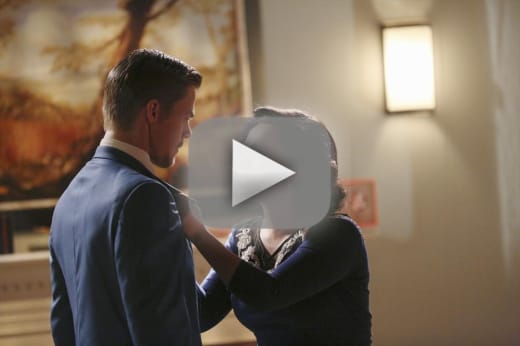 Does anyone else find it absurd that Rayna would allow a team of people to make a decision about her wedding date? I couldn't help but find this storyline silly compared to the rest of the episode. They are country superstars and should have no trouble moving around tour dates if that's what they demanded.
Luke seems more focused on their brand as a married couple rather than getting to know Rayna's children. Deacon is Maddie's father, so he shouldn't expect loyalty from her just because he's marrying her mother. There's something not sitting right with me about Luke. I can't put my finger on it, but it's definitely not good.
This isn't some publicity thing, it's our wedding.

Rayna
Deacon certainly didn't earn any points this episode. I knew the second we were introduced to Pam that he would sleep with her by the end of the episode. Although, I guess it's better than Deacon turning to the bottle. I understand he's in pain, but sleeping with someone else isn't going to solve his problems.
Speaking of problems, Juliette was isolating herself from those closest to her. I understand she's nervous about revealing her pregnancy, but the longer she waits, the worse the fallout will be. Will she even go through with the pregnancy now that she's seen Avery with another woman?
I loved that she turned to Rayna at the end of the episode. I've been waiting for the two of them to be in a scene. Juliette feels stuck and I'm all for her going to Rayna for advice. I enjoy their scenes more when they're working together and not at each others' throats. Juliette is going to have to choose soon whether or not she wants to keep the baby. Maybe Rayna will help her reach a decision.
The only good thing to happen to Juliette was her screen test. She absolutely nailed the scene and impressed everyone, including her potential costar, Noah West (aka Dancing with the Stars' Derek Hough). If she decides to keep the baby and the part is taken away from her, I don't want her to lash out in classic Juliette fashion.
Too often she reverts to her diva self instead of asking others for help. Watching her team question her about her behavior was infuriating. They are her family, and she shouldn't be scared of telling them something this important. Juliette has a lot of pride, but it too often gets in the way of her happiness.
I was thrilled to see Maddie and Scarlett bond in this episode. Maddie has been acting like such a brat. She's completely disrespectful to her parents, is dressing too mature, participating in activities she's far too young for, and oh good lord I sound like my parents! Moving on... 
Maddie needs some guidance right now, and Scarlett needs some purpose. Instead of coming up with a "fun" song, she decided to write a song teenage girls need to hear. It may be a little cheesy, but the sentiment is nice. At least it gives her something else to do besides act weird around Gunner.
The best way for people like us to deal with all them feelings is to write them down.

Scarlett
Speaking of Gunner, I can already see where this story is going with the ex girlfriend. He's already involved in a barely formed love-triangle with Zoey and Scarlett. We don't need a love-square. Kiley probably knows Gunner better than Zoey or Scarlett, so maybe he'll be drawn to her and their history. However, there better not be a secret love child Kiley's hiding from Gunner because let's face it, there probably is.
I'm sick of the Will-Layla storyline. She's threatened him with his secret before, and if she doesn't get what she wants from Jeff, she'll make sure the world knows. Was anyone surprised Will hooked up with the trainer? Show of hands... No. Yeah that was inevitable from their first scene together. It would be more interesting for this storyline if someone else, not Layla, "outs" Will. Perhaps someone will catch him in the act, or maybe the trainer will sell his story to the tabloids.
My favorite performance this week was Avery's stripped down version of "The Most Beautiful Girl in the World". We don't get to hear him perform that often, but I really like his voice. I'd like to see him pull himself together and perform more with Gunner and Zoey.
So over to you guys. What did you think of the episode? Do you think Rayna and Luke will even make it down the aisle? Do you think Juliette is handling this whole pregnancy situation wrong? Who else thinks Gunner is going to have a love child? Sound off in the comments below, and don't forget you can always catch up on episodes when you watch Nashville online.
Amanda Steinmetz was a staff writer for TV Fanatic. She went into retirement in June of 2027. Follow her on Twitter.