Jane the Virgin Season 1 Episode 1 Review: Chapter One
Maggie Fremont at . Updated at .
Meet Jane Gloriana Villanueva. She's a smart, pretty, hardworking young woman. She's also a virgin.
After her abuela put the fear of God into her as a child, Jane promised to remain a virgin until marriage. So no one is more surprised than Jane when, after a series of misunderstandings, she ends up artificially inseminated with her teenage crush-turned-current employer's sperm in Jane the Virgin Season 1 Episode 1. 
And that's not the only thing that's complicated in Jane's world. Much like the telenovelas Jane, Xiomara, and Alba watch, everyone on Jane the Virgin is connected and up to something, which can only mean one thing for the future: DRAMA.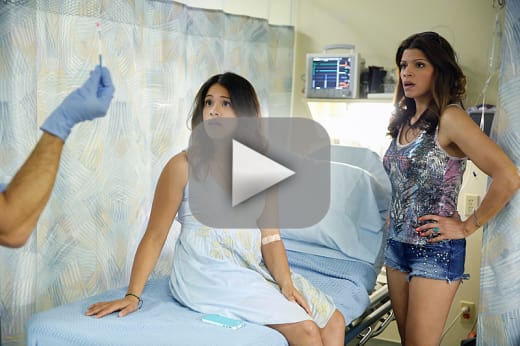 Here's my plan for recommending Jane the Virgin to friends (which I will be doing, a lot): You need to get over the crazy premise and just go with it. The show is well aware that its premise is ridiculous - that's part of the charm.
When you watch Jane the Virgin, you are entering a world in which young women are accidentally inseminated with their teenage crush's sperm because their doctor got distracted after catching her wife cheating the night before. It happens, get over it. 
When you have a show based on that kind of premise, you need a strong tone, and Jane the Virgin nails the tone. It's fun, charming, has a dash of whimsy, and a lot of heart. It lives in an endearing hyper-realism, much like a telenovela. 
One of the reasons this tone is so consistent is the narrator. I was surprised how much I enjoyed having a narrator - I mean, this guy is up with the Ron Howard's of show narrators. It adds a fun twist to each scene as well as helps the audience figure out how everyone is related to one another (which can get a little complicated). 
The other element a show with this kind of premise needs: a strong protagonist the audience will want to follow. Um, YES. Gina Rodriguez as Jane is a REVELATION. Seriously, I want to be best friends with this girl. One episode in and she's already so layered.
From the get go Jane is cute and a little dorky, but she's also tough and not afraid to speak her mind. 
Rafael: No, I really think we've met.
Jane: I don't usually wear clam shells.
Rafael: Oh, the strip club on Piscayne?
Jane: Jerk.
Most importantly, she has heart for days. What I'm most looking forward to based on the few scenes we got in the pilot, is the watching what happens to the relationship between Jane and Xiomara.
On the bus, they spoke like girlfriends. But throughout the hour, we learn that there is some tension between the two of them; specifically, over the guilt Jane feels for "derailing" her mom's life by just being born.
I think things will only get more complicated between them once Jane meets her father.
How great was that reveal, by the way? The entire hour, we're led to believe Rogelio is simply a funny throw away; someone who Jane will only interact with in her head. Turns out all of that set up wasn't simply for a joke, but for a much bigger pay off. 
It's just another example of this growing web in the Jane the Virgin world. Everyone is connected and everyone has a secret. I think I'm most interested to delve in Michael's secrets. His brother was mucho shady at the engagement party and even the narrator felt it important enough to end the episode on emphasizing that Michael is not at all what he seems.
Well, I guess that'll make it easier when Jane eventually ends up with Rafe, right? Come on, I know we're all thinking it. That flashback to their kiss at the yacht club could not have been cuter. I mean, "Be brave"?! Any man who tells me that and then plants one on me has my heart forever. 
It's hard to root against Jane and Michael at the moment though because, hello, that proposal was everything. Jane, propose to me! Also, let me know where you got that yellow dress, girl. 
Jane: Oh, I'm no good at this stuff. So, instead of telling you the reasons that I love you, I'm going to tell you the reasons that I don't. I don't love you because you're smart and kind. I don't love you because you're hardworking and competitive and way too defensive.
Michael: I'm not defensive.
Jane: I don't love you because you're incredibly sexy. I love you because you're my best friend and I want to grow old with you. And right now, I am confused about every single thing in my life, except you.
I'm excited about this show. It packed a lot into the pilot, but every storyline has me interested. I hope people give it a chance because it's seriously unlike any show that's on television right now; it's refreshing to watch.
Oh, I almost forgot:
Jane mermaiding out of the pool and hopping around in her fins was a great gag. 
It's not like we need another relationship to follow but, I'm hoping Lu and her ex-lover/college roommate lawyer lady hook up real soon. Poor Lu, she was just having a bad day! 
I'm already counting down to the day when Petra gets her comeuppance. Sister needs to go! 
Xiomara's love for Paulina Rubio is almost as strong as my love for Xio.
I'm ready and willing to follow Jane anywhere on this crazy story, but will you tune in for Chapter 2? Who do you want Jane to end up with - Rafe or Michael? Have you ever seen a cuter proposal than Jane's in the police station? When will Xio introduce Rogelio to the family? 
Hit the comments, let's talk and go watch Jane the Virgin online if you need to catch up!
Here's a look ahead at Jane the Virgin Season 1 Episode 2:
Maggie Fremont is a staff writer for TV Fanatic. Follow her on Twitter and her personal blog at I DON'T FEEL BAD ABOUT IT.