How to Get Away with Murder Season 1 Episode 3 Review: Smile or Go to Jail

Whitney Evans at . Updated at .
Can we trust anyone on this show?
First, we find out lovable Wes is a liar. Now we find out hot detective Nate is a liar, too. Seriously, though, who are we supposed to trust?
This may sound like a complaint, but I kind of love it. Each week I look forward to peeling back everyone's layers and learning something new. In How to Get Away with Murder Season 1 Episode 3, we learned that Michaela's perfect facade may be cracking, Rebecca is one complicated girl and Wes knows how to make a fake ID relatively quickly.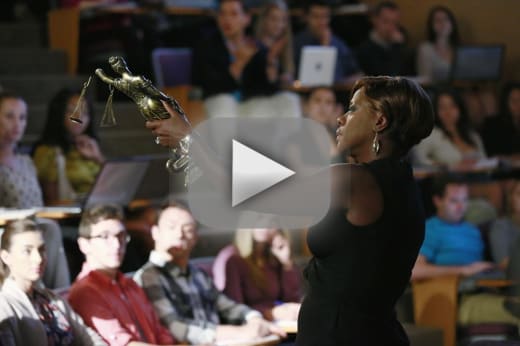 This week's case of the week involved soccer mom Paula on trial for taking part in a murder that happened 20 years ago. Ana Ortiz, of Ugly Betty and Devious Maids fame, was the mom in question and she was great as a woman completely blinded by her love for one smooth talking, mysterious man. This show is really killing it with the guest stars! And it's only going to get better!
Mama Paula was completely unhinged when she went to the prison to see her old leader Gabriel. As soon as she looked at him, I knew she was going to crumble. Hell, I don't blame her, those sultry looks were swaying me!
In the end, Gabriel gets on the stand and goes back on his word, telling the court that Paula was the one who set up the bombing of The World Financial Institute that killed one man. Annalise, in her kick ass way, was able to get Gabriel to admit that the prosecution promised him an early release in exchange for his testimony. But while she and the team looked for a new strategy, Paula runs away. 
I shouldn't have been surprised that she ran, since she'd already done it once. But the woman had a husband and kids now. How does she just up and leave them? I guess Gabriel's influence was really that strong.
I wanted to give her husband a hug as hes sat there in the courtroom just completely gutted. But the sight did put things into perspective for Michaela, who was having some boy troubles of her own. 
Choose your husband carefully, Ms. Pratt. You'll only have yourself to blame if it ends badly.

Annalise
We got to meet Michaela's future hubby, Aiden, early on and he was as bland as I expected. What I wasn't expecting was his relationship with Connor. That's right, Michaela's arch nemesis and her fiance were old friends. And a little more than that, wink wink. 
If Michaela wasn't the worst all the time, I would have felt bad for her. But in the past, she just comes across so tough and entitled it's hard to like. 
On the flip side, the flash forwards show a vulnerable Michaela. A girl that is literally paralyzed by fear at one point. So, it's clear that the tough girl thing is a bit of an act, but I just still can't bring myself to like her. Maybe she'll grow on me?
A few of the people who are growing on me are the ones we still don't know that much about. Frank, for starters, has definitely piqued my curiosity. If he's not a lawyer, what is he? And we already know something will go down between he and Laurel, as we saw in How To Get Away With Murder Season 1 Episode 1, but what will it be?
Ah, I need to know!
I also need to know what is going on with Rebecca. According to Griffin, aka Lila's bf, she is a drug dealing, sociopath who was looking to ruin their lives. Yeah, I'm not buying it. 
But why did she have Lila's phone? And why did she hide it in Wes's apartment? My guess is...I have no idea. She knew Wes would find it, so I would think her plan was for him to use the phone to find her real killer. Right!?!?
I guess we will find out soon enough, as Annalise has decided to take Rebecca, not Griffin, on as her client. This will no doubt be the start of the Wes/Rebecca love affair and it also sheds some light as to why Rebecca would be even remotely involved in the murder cover up. 
While woman were running away with sexy convicts and finding out their fiances used to be romantically involved with people they hate, hot Nate was off trying to figure out where Sam was the night of Lila's murder. 
BREAKING NEWS, PEOPLE, Sam was not where he said he was that night. I don't think anyone was shocked by this, but what was shocking was that Nate lied to Annalise. My first thought was he did it to protect her. I think he wants to gather as much information as he can before he destroys Annalise's life. 
But could he have ulterior motives? Duh. Everyone on this show has ulterior motives!
Another week, 100 more questions that need to be asked. What is Nate up to? Is Rebecca innocent? Am I being too hard on Michaela? Asher is absurd but super funny, right? And where the hell did Michaela lose that gigantic engagement ring? Your comments give me life, so please continue to share your theories/complaints/general commentary with me!!!
And remember to watch How To Get Away With Murder online so you don't get left behind!
Meanwhile, here's your first look at How To Get Away with Murder Season 1 Episode 4, "Let's Get to Scooping."
Whitney Evans is a staff writer for TV Fanatic. Follow her on Twitter.