How to Get Away with Murder Season 1 Episode 2 Review: It's All Her Fault

Whitney Evans at . Updated at .
After a stellar pilot, I was a little worried that things were going to slow down this week. But I'm happy to report, How to Get Away with Murder Season 1 Episode 2 was far from a let down. 
It may not have packed the punch of the first one, but it moved the murder mystery plot along nicely and gave us a case of the week that I found to be a lot more interesting than the great aspirin switch. And that had everything to do with how well Steven Weber plays an absolute creep. 
Weber's character, Max St. Vincent, is an extremely odd millionaire accused of butchering his wife while she laid in bed. Annalise, her 5 students, 2 associates and the partridge in the pear tree band together to prove his innocence, which is no easy feat considering what a sleaze he is. 
While introducing the case to her class, it's pretty clear to see what the theme of this episode is going to be: Everyone lies. Some people take it to an obscene level, but most people will occasionally tell the little white lie to avoid hurting someone. Or maybe they want to get out of jury duty.
But sometimes the lies we tell have devastating consequences and they cause people to question everything they knew about us. And then we have to ask ourselves...
.
Do you know who anyone really is?

Annalise
Well, we certainly don't know much about Mr. St. Vincent, other than the fact that he hunts, claims to have loved his wife and likes to recreate murder scenes. Similar to How To Get Away With Murder Season 1 Episode 1, things don't look good for Annalise until her students are able to get some pertinent information to help her case. 
Wes uses his adorably innocent face to get a report that proves the police were covering for one of their own, while Connor continues his seduction of Oliver, the IT guy from the bar, to get some information that will discredit a witness. Asher, the student not involved in the murder cover up, even gets his time to shine by finding a receipt that is used to blackmail Max's neighbor into confirming his alibi. 
It seems like Annalise is going to cruise to another victory, when things go downhill. While daughter Eloise is on the stand, it's revealed that her birth mother and Max's first wife was also murdered back in the day. And this is a fact that Max has failed to tell anyone. 
See, you don't really know anyone, guys!
After being blindsided, the logical conclusion is to prove that Max killed his first wife but didn't kill his second wife. Okay, sure! If Steven Weber gets to go free, then I'm on board. 
Laurel gets to be useful this week by coming up with the strategy that since Max is a hunter and the second murder was a bloodbath, he can't possibly be the killer. Couple that with the information we learn later about daughter Eloise already knowing that her father lied to her and it turns out Max didn't actually do it. 
So, Max is found not guilty. But, he might kill his daughter. Yikes. 
Annalise can't be bothered with that though, because she's afraid she doesn't know her husband. And she has good reason to be suspicious. 
It seems Sam has had at least one affair in the past with a student, so Annalise's concern about his connection to Lila Stangard is completely understandable. 
Annalise: Were you screwing her?
Sam: No.
Annalise: You sure about that?
Annalise doesn't push it much further but it's clear Sam is a big old liar. And after erasing all his messages from "L", Annalise can see it too. 
She even goes to her hot ex-boyfriend Nate and asks him to look into where Sam really was the night of Lila's murder. Nate reluctantly agrees after seeing how much pain Annalise is in. And I felt for her too, until she went home and jumped into bed with Sam. Um, yeah, okay then. 
As if all this wasn't enough, we jump into the flash forwards a few times and see a whole new side of Wes. And guess what, WE DON'T KNOW HIM EITHER!
Turns out when they flipped that coin in the air, the result should have been that they kept the body where it was. But Wes lied and so they went to retrieve the body. And when Wes was inside that convenience store, he bought a prepaid phone and called a motel to speak to someone. 
We all thought is was Annalise, right? No, just me? I honestly didn't think it was Rebecca but I should have known better. Turns out in the near future, Rebecca and Wes are an item and she definitely plays a role in Sam's murder. 
Oh, and we end with Rebecca and Lila's boyfriend being arrested for Lila's murder in the past. But it can't be them. That's way too obvious. Right?!?!
Another episode down and many more questions. So lets talk this out in the comments, shall we?
What is the connection between Rebecca, Sam and Lila? Did Lila kill Sam? Is anyone else getting a creepy vibe from Bonnie? When will Nate take his shirt off again?
Be sure to visit the How to Get Away with Murder quotes section to relive all the best lines and watch How To Get Away With Murder online so you don't miss a minute of the action.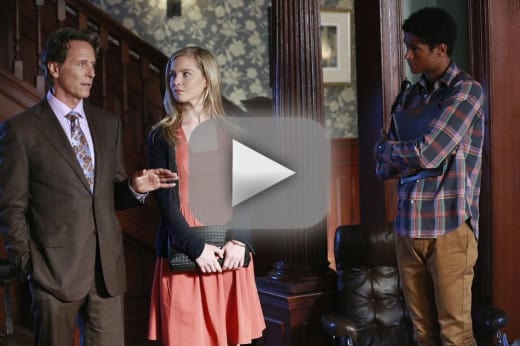 Whitney Evans is a staff writer for TV Fanatic. Follow her on Twitter.