Haven Season 5 Episode 5 Review: The Old Switcheroo: Part 1

Tanya Moat at . Updated at .
People are switching bodies in Haven Season 5 Episode 5 which has both hilarious and deadly results. Hey, this is Haven. Nothing is ever simple.
This has been the best episode of Haven Season 5. Sadly, that isn't a huge compliment as it doesn't take much to be an improvement over the previous four episodes. It is my sincerest hope that they can keep improving and bring back that show I once loved.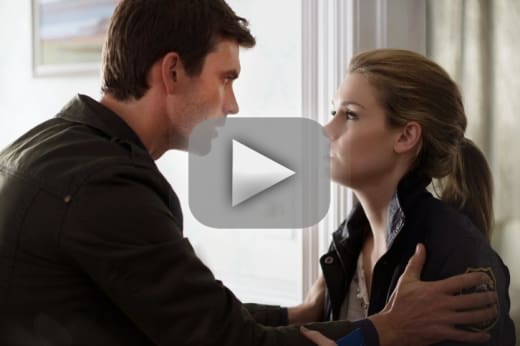 So let's start with the bad news: Mara is still here and annoying as ever. The good news? There were glimmers of the old Haven again. One that had an interesting story with compelling characters. I've been groaning my way through the past episodes as I know many of you have as well.
This episode had some much needed forward movement. Plus, it brought back some of the original charm, humor and heart that I had sorely missed. Body swapping isn't a particularly original idea, but it is a fun one.
It gave us some great moments, like Dave not being used to Vince's significant height and constantly hitting his head. Sure, it's a familiar gag, but I still laughed!
Or Gloria as Dwight enjoying doughnuts and milkshakes. Something I'm guessing is a no-no in Dwight's world.
Dwight: I try to eat healthy.
Gloria: You're like a moose. A milkshake won't hurt.
While we don't know what triggered the new trouble, we do who caused it and that keeping secrets is what forces people to switch bodies, thanks to Audrey's insight. Nathan thought bringing Mara on a case would allow Audrey to reappear, which I thought was pretty clever of him. Something he really hasn't been since his lady love morphed into psycho Mara.
Nathan refuses to give up on Audrey, which is both incredibly enduring and oddly annoying at times. He's right not to give up on her, but I wish he just seemed more with it. I understand he is traumatized and scared, but up until now, he also hasn't been much of a leader or help.
Honestly, there were a couple times in the past where I was rooting for Mara to shoot him.
Mara supposedly made good on her promise to kill Audrey, now that she knows a piece of her remained inside. Duke said it best.
I have gone as far as I can treating that B I T C H like Audrey.

Duke
Mara is still a huge annoyance in my book and has slowed down the action to a crawl. If you're going to split up the team, so to speak, then make it interesting. And I can see on paper how they thought Mara would shake things up, but that hasn't been the case.
Keeping her chained has turned Mara into a boring villain. Lots of threats and no bite. And as much as I love Emily Rose's normal portrayal of Audrey Parker, she hasn't been able to make Mara into a distinctive person in the way that Tatiana Maslany does in Orphan Black with the various clones. 
This is an unfortunate weakness, and makes Emily look like a poor actress; which isn't true. It has also made Mara thus far to be a fairly ineffective villainess, too.
She finally used some of her wiles to trick Duke and Nathan into believing she was Audrey. I have been waiting for her to do this since Nathan caught her. It seems odd that she waited so long to try it. 
Nathan is so desperate to get Audrey back that it wouldn't take much to fool him, but she overplayed her hand with Duke. I hope they can figure out an interesting way for Nathan and Duke to use that against her.
Beyond the laughs that Vince and Dave gave us, I am very intrigued by Dave's past and looking forward to what it all means. I wish they would have come up with a better name then "thinnie" for the portal to other side, but if a thinnie can help reinvigorate Haven, I will happily zip my lip.
This trouble is far from over and I'm eager to see how they resolve it in part 2. More importantly, if it can propel the story to interesting places.
Did you find this episode an improvement? Or more of the same old, same old? Are you loving Mara or eagerly waiting for Audrey to return? Tell me your thoughts in the comments below. And don't forget, you can watch Haven online via TV Fanatic and get caught up at your convenience.