It's hard to know what to expect from the switch up.
On Dancing With the Stars Season 19 Episode 7, the celebrities switch professional dance partners for one night. The results? Not exactly incredible.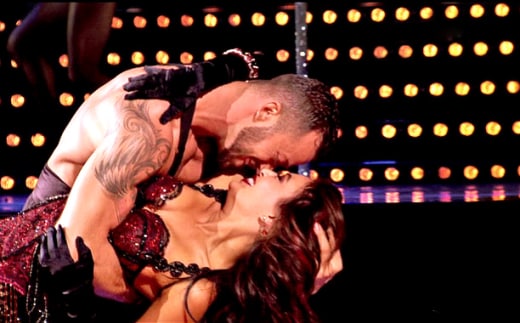 Mostly, this is about chemistry. For many of the dancers, it was like starting over to learn from a new pro that they aren't comfortable with. The chemistry was lacking for many of the couples, and the judges noticed, awarding some shockingly low scores.
They got a lot of flack for it, too, with Erin Andrews saying, "We need to get some happy pills out there or something." Even pro dancer Emma said, "They are so mean today!" And that's guest judge, Jessie J. included. 
Now I don't know if the judges were collectively having a bad night, but it did seem to be a lot of the dances left something to be desired.
But many of the couples had some fun with the switch-up, especially behind the scenes. Most Dancing with the Stars fans are well aware of the "bromantic" rivalry between Derek Hough and Mark Ballas. So how fitting that they switched partners for a week? In rehearsals, the new couples took selfies and talked smack in an effort to make each other jealous.
Granted, that's not real jealousy -- this is all fun and games. Mostly, anyway. But Derek sure acted jealous when a kiss between Mark and Bethany during their routine left lipstick on Mark's face. "You guys actually touched lips?!"
As for their routines, Mark and Bethany offered a Hip-Hop routine that blatantly alluded to infidelity, and which even featured Sadie and Derek briefly at the beginning and the end. This was a really nice touch, and even if the dance itself hadn't been well-done, those are the kinds of details that make Dancing with the Stars fun to watch.
Sadie and Derek's dance was my favorite of the night, and I almost wish these two would remain paired together for the rest of the season. Their Charleston was sharp, quirky, and fun -- even though the music they danced to felt a little strange for such a dance.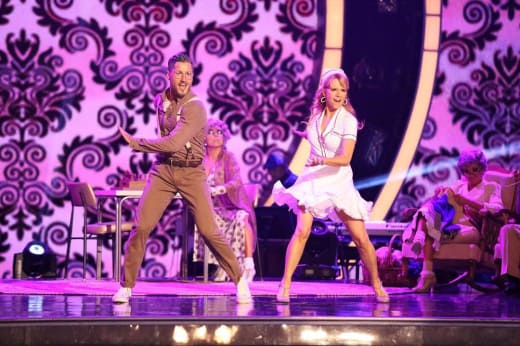 And another rivalry ensued between Val Chmerkovskiy and new pro, Artem Chigvintsev. They also switched partners and feigned jealousy. And its a night of kissing, too! Val included a kiss in his "way wackadoodle" Broadway routine with Lea, but it was nothing like Janel and Val's  super-sexy Burlesque. I have to agree with Julianne's evaluation. I may not be an expert in dance, but that routine was "raunchy," just as she described.
Of course, Bruno made everyone a little uncomfortable with his reaction: "Never to sexy for me! There is not a person in the country that will need Viagra tonight!
Alfonso set high standards for himself with his "Carlton Dance" in Week 4, and even though he didn't earn a perfect score like he did last week, he did well with a score of 34. Even still, I didn't love the dance. In fact, I think some of these new dance styles can be hard to watch altogether. Flamenco wasn't a fitting choice for him, and even the judges agreed he was almost a little too serious.
Antonio and Allison's Bollywood routine, on the other hand, was among my favorite dances. It was fun a flashy, and Allison even stood strait up on Antonio's shoulders at one point. Their scores were okay, but this began the downward spiral of harsh criticism from the judges, Jessie J. included. Julianne said the two of them "lacked chemistry," and for a change, the guest judge gave a lower score than the others.
Jonathan is so darn enthusiastic, I'm just dying for him to do well. But there were some obvious slip-ups with his Jitterbug routine this week. Jessie J. said it made her feel "uncomfortable," and likened the performance to going down on a rollercoaster. Yikes. But honestly, I felt the same way. I was just holding my breath waiting for Jonathan to drop Peta squarely on her head. 
Now, I've been rooting for Tommy Chong all season, but he was just somewhere else tonight. The music choice was bad for this particular style of dance, but he was also missing his enthusiasm. Maybe he was missing his partner?
There was no elimination this week; instead, scores and votes will be combined for next week's show. My prediction of who will go home? Michael Waltrip. I'm sorry, but it's time. He's been a great sport and he's had some fun moments, but he really isn't doing well at all. Rightfully, he landed at the bottom of the leader board this week.
Here's the list of this week's scores:
Sadie and Derek (Charleston): 36
Alfonso and Cheryl (Flamenco): 34
Lea and Val (Broadway): 34
Janel and Artem (Burlesque): 33
Bethany and Mark (Hip-Hop): 32
Antonio and Allison (Bollywood): 28
Jonathan and Peta (Jitterbug): 24
Tommy and Emma (Mambo): 23
Michael and Witney (Disco): 20
What did you think, Dancing Fanatics? Whose dance was your favorite, and who should be eliminated next week? Leave a comment below with your thoughts!
Ashley Bissette Sumerel was a staff writer for TV Fanatic. She retired in September 2017. Follow her on Twitter and on Google+.