Dancing With the Stars Results: Pitbull, Leah Remini and Another Elimination

Ashley Bissette Sumerel at . Updated at .
This week, Dancing With the Stars Season 19 Episode 8 featured Pitbull at the judges' table in place of Len Goodman, Leah Remini filling in for Erin Andrews as co-host, and of course, plenty of fun dances from the celebrity contestants.
Pitbull's opening performance was certainly entertaining, but I have to say I'm getting exhausted by the guest judges. The good news? Len Goodman is back next week.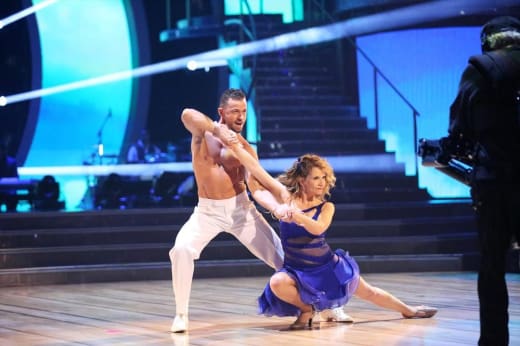 Leah Remini did an amazing job as co-host. Her dry humor and relaxed nature made her the perfect choice to fill in for Erin. She added something very special to the show with comments like, "The least you coulda' done is take off your shirt!" and "I'm actually not gonna ask you how you feel. Because I'm just gonna say it. It sucked. The scoring I mean."
The couples were happy to be reunited with their original partners this week for dances including Salsa, Foxtrot, and Jazz.
Jonathan Bennett made the most improved list with his sharp moves in a Jazz dance. And when he got praise from Julianne, he literally jumped across the table to hug her he was so excited. Honestly, if anyone should get extra points for enthusiasm, it's this guy.
Janel and Val might have been the happiest couple to be reunited with each other, but some nondescript "feelings" also managed to cause some tension. Was Val jealous of Artem last week during the switch-up? It sure seems that way. And Val did allude to some feelings for Janel this week, but as is always the case in Dancing with the Stars, these things remain a bit of mystery to viewers.
Ironically, their Samba this week was criticized for a lack of passion. Hard to imagine since Val danced shirtless. Heck, he even said he waxed his stomach in preparation for tonight!
Tommy and Peta's Foxtrot was entertaining to watch despite a few missteps. Still, Tommy remains one of my favorites to watch.
Antonio and Cheryl's Salsa failed to please the judges this week. He is improving, but maybe not quickly enough. I keep hoping to see him bust out of his shell and surprise everyone. Maybe next week?
Sadie was uncomfortable with this week's dance, worried about "sexy choreography" in the Rumba. Rehearsals were awkward for her, and even her mother weighed in asking Mark to change some "intimate" moments. But Sadie and Mark have a good chance of making it to the finals, and this week's Rumba was called "tasteful," "beautiful," and "elegant."
Lea and Artem got criticism this week for their Salsa, with the judges saying that Lea lacked confidence and was trying to be someone she wasn't. I couldn't tell, honestly, because Artem took his shirt off.
Michael also made the most improved list this week, getting strong praise from the judges for "daring to dance," with his Tango. It certainly was his best dance; he earned his highest scores yet from the judges. He's a likeable guy and extremely positive, but I remain surprised that he has made it this far.
Bethany and Derek had limited rehearsal time this week thanks to a trip to Australia, yet they still managed to pull off a Tango that was nearly flawless. It even inspired a Len Goodman impression from Julianne. And leave it to Leah Remini to say what everyone is thinking when it comes to scoring. After their dance, Leah asked Derek, "You don't know what it feels like to get a 5 or a 7! Do you?" and then beat him in the face with her microphone.
I'll say it again, Leah as co-host was amazing. I wish she would come back every week!
Alfonso and Witney's Salsa may have caused pain to Alfonso's groin, but it was by far the best dance of the night. It was fast, sharp, and energetic, earning a score of 39.
Alright, kids. Here's the bad news. Another couple was sent packing this week, and it may not be who you would expect. In jeopardy were Janel and Val, Jonathan and Allison, and Michael and Emma. So which of these three went home?
Personally, I'm a little outraged that Jonathan and Allison were eliminated this week. Yes, Jonathan has been struggling. And he certainly wasn't the best dancer. But I don't think this week should have been his week to go. I'm going to miss his enthusiasm.
What about you, Dancing Fanatics? Do you think it was the right choice, or should someone else have gone home? And what was your favorite dance of the night? Leave us a comment -- we want to hear your thoughts!
Here are the scores from Week 6. But remember, viewer votes are part of this equation too.
Alfonso and Witney (Salsa): 39
Bethany and Derek (Tango): 36
Sadie and Mark (Rumba): 35
Janel and Val (Samba):33
Jonathan and Allison (Jazz): 32  - ELIMINATED
Lea and Artem (Salsa): 32
Michael and Emma (Argentine Tango): 30
Tommy and Peta (Foxtrot): 28
Antonio and Cheryl (Salsa): 28
Ashley Bissette Sumerel was a staff writer for TV Fanatic. She retired in September 2017. Follow her on Twitter and on Google+.