Chicago PD Season 2 Episode 4 Review: Chicken, Dynamite, Chainsaw

Carissa Pavlica at . Updated at .
This felt like a "very special episode" of Chicago PD. 
Without much going on in the personal lives of the characters, it was all case tonight and a lot of Erin Lindsay sitting in front of scared parents and teenage girls looking concerned while they freaked out to varying degrees.
That's the easy wasy of saying Chicago PD Season 2 Episode 4 was a run of the mill procedural with very little to discuss. So what was there? Let's check it out.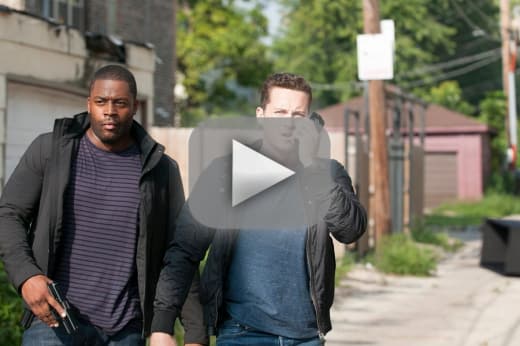 I wish I could tell you that the case of the week was interesting enough to understand why any family man in his right mind would put his kid into jeopardy for something an average viewer didn't find alarming, but that was the case. 
A father put his daughter and her best friend into the hands of a kidnapper. There was a happy ending, but we can probably assume his marriage is over.
Burgess and Sean were on gun buy-back duty and while giving out (very few) grocery store gift cards in a deserted parking lot, Sean recognized a gun as one that might have been sought in a triple homicide from his old precinct.
Platt always plays the hard ass, and sometimes it makes sense and pays off. Tonight it didn't make sense. Yes, Burgess and Platt were told straight out not to abandon post and question the woman who dropped off the gun (no questions asked has a definition) but they solved a triple homicide. Even if she was peeved, I would have liked to have seen her give a little smile behind their backs. No such luck.
We finally learned what has happened to Antonio since his family left him in Chicago PD Season 1. He hasn't been seeing his kids and his eldest child, daughter Eva, took a train into the city to see him. He was always a father first and learning he hasn't been seeing his kids to give his wife space was disheartening. 
What was worse was learning that Sean has a company he runs in the evening using off-duty police officers. It's a personal security company and while Burgess didn't make the cut, Antonio did. Something about Sean just feels off and the security job even more.
When Antonio showed up, the guy he was protecting was super wealthy and he was tasked with watching the back of the man, his stuff and his wife. The wife visually seduced Antonio as she brushed by him and it seems nothing good is going to come of it.
Finally, Voight got a special visitor at the precinct (it was like old home week) -- Justin's old girlfriend, Olive. She's pregnant and Justin confirmed it. Voight's big heart kicked in and he treated her to a rare steak and fresh veggies for dinner while she talked about her life.
She has plans. She's going to to school and living with her aunt for free while she works a makeup counter. Voight hit his safe (the cash looks like it's dwindling quite a bit) and gave her some money to tide her over. Justin will be on leave in a couple weeks.
The previews show that hitting that safe will likely come back to bite Voight in the ass. What else might bite people? If you're in the dark about who Justin is or need to catch up in any way, you can watch Chicago PD online to sort it out. 
Did this installment hit any high notes with you? Let me know in the comments.
Carissa Pavlica is the managing editor and a staff writer and critic for TV Fanatic. She's a member of the Critic's Choice Association, enjoys mentoring writers, cats, and passionately discussing the nuances of television and film. Follow her on Twitter and email her here at TV Fanatic.