Chicago PD Season 2 Episode 3 Review: The Weigh Station

Carissa Pavlica at . Updated at .
It has always been about family with Chicago PD, and tonight it took center stage in a different way.
On Chicago PD Season 2 Episode 3 the hit on Halstead scares the pants off of not only Halstead, but Voight. He wants Halstead quarantined and away from any possible attempts on his life.
But would Halstead really be able to live with that? Not when the friends and relatives of other people who affected the life (and prison term) of Oskar Benenbek start dying.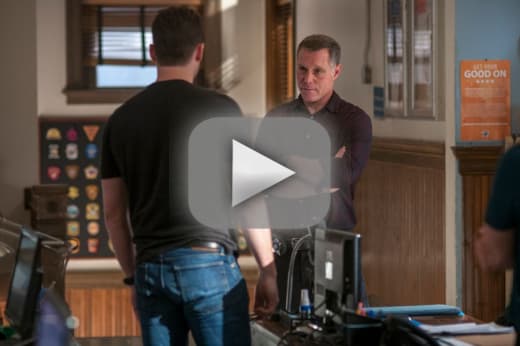 Halstead is probably the hero of Chicago PD. He's good looking and passionate and refuses to give up. Those are all pretty heroic qualities. Voight has that slightly darker edge that leaves the title to Halstead, but any number of CPD officers and detectives could qualify.
When Maddie was shot at the bar, Halstead had never seen anyone else take a bullet that was meant for him. Thankfully Maddie survived, because I'd hate to see him if she hadn't. He might have gotten himself imprisoned to take out Benenbek himself. 
When some initials pop up, Olinsky is reminded of an older hitman he knew, JP. JP did get the call to participate, but he didn't have the stomach for the business anymore. Hitmen he knew used to have honor. The modern hitman will take out a whole city block just to get one mark. 
There was always the possibility that making a deal with JP would go bad, but what surprised me was that it didn't have to. The assassins were killing friends and family of the marks, and CPD knew JP had a son that he loved very much. Why in the hell wasn't he given any protection? Did Voight think that there was some kind of hitman code that they wouldn't take out the loved one of a fellow hitman? 
That was my biggest problem with the hour. It made no sense to me. It's a shame, because the guy was free until he helped CPD. He did the right thing (after many wrong things) and it was the right thing that got him taken in. I hope he doesn't talk, because it could mean a lot of other reformed baddies won't want to work with CPD.
I was also wondering about the list and how they knew nobody else would act on it, but Olinsky sent Oskar to gen-pop and he'll be killed by the brother of his slain mistress. It reminded me of how Mary took care of Narcisse when she put him in a room full of Plague victims on Reign. Hands free killing!
The best part of the hour? Burzek. The whole bit with the corn dog and Ruzek asking if Burgess liked corn dogs to try to get her to understand the conversation was hilarious. Then later on they got a little fresh and it makes me wish we can have a full episode of their personal lives.
Ruzek: I want you so bad right now.
Burgess: My place. One hour.
Ruzek: Hell yes!
Burgess: You have been a bad boy.
Ruzek: Don't talk to me like that right now... come here.
Am I the only one who watches for the relationships and not the cases? I really don't care about the cases. I like seeing everyone work together, treat each other like family and get overly involved with each others lives.
Lindsay and Voight finally made up after her mother treated her like a leper at her wedding. Bless the poor guy who's marrying bunny, because he seems genuinely interested in getting to know Lindsay but Bunny just wants to use Erin as a family ornament to make her look good.
Lindsay: Anyway, I just want to say thanks for taking me in. You're my family.
Voight: You're about the best thing that every happened to me. I mean that.
I was wondering where Lindsay's horrific story about going to school covered in drug and booze tinged vomit was leading, but I should have known. She had enough of Bunny to allow her to put aside her anger at Voight for the IA business. 
Now I know why Nadia was brought in -- to become the new plaything for Platt. But that didn't last long. Even they get along now. The final piece of the CPD puzzle that needs answered is why is Sean so angry Olinsky doesn't remember him? What do you think it is?
Hit the comments and chat about it. Let me know if you like the personal side of the show or the procedural better. Remember, you can watch Chicago PD online right here on TV Fanatic!
Carissa Pavlica is the managing editor and a staff writer and critic for TV Fanatic. She's a member of the Critic's Choice Association, enjoys mentoring writers, cats, and passionately discussing the nuances of television and film. Follow her on Twitter and email her here at TV Fanatic.