A deal with the devil, an invisible attacker, Ryan with body glitter and Rick and Kate finally getting their groove back all made for a classic hour of Castle.
Below, TV Fanatics Chandel Charles, Stacy Glanzman, Robin Harry, Michelle Carlbert and Christine Orlando are joined by Jennifer from The 12th a Castle Fan Forum to discuss what they'd do with a cloaking suit, who they'd rather see in that Speedo and what was the funniest scene in Castle Season 7 Episode 3.
Ready to join in the debate?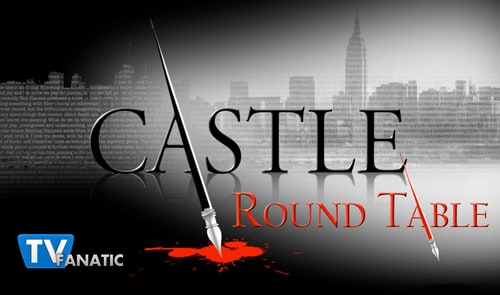 What would you do with your own cloaking suit?
Chandel: I would probably use it to sneak onto planes and travel to exclusive events, onto the sets of my favorite television shows. I would probably use it to bypass security to soak up experiences I might not have otherwise had the opportunity to partake in if I was able to be seen or had to pay an exorbitant amount to get into.
Stacy: That's tough. If I could have one super power, it would be to teleport, so I like Chandel's idea of sneaking onto planes to travel to exotic places for free. You'd have to board last though and hope for an empty seat. 
Robin: Chandel, I'm not even kidding, that's the first thought I had!! I'd get on planes and sneak off to different countries to see all my favourite shows and performers. All the shows they shoot in the US and in Vancouver, Sherlock in England, Ylvis in Norway...I'd be all over that. 
Michelle: It probably sounds boring, but I'd just go to a public place, find a cozy bench and people-watch. It would be interesting to see what people do when they think no one is watching them. 
Jennifer:  If I had my own cloaking suit, I'm not really sure. I suppose I could use it to scare all those cousins of mine who scared the daylights out of me when I was little, a bit of, all in good fun, payback.
Christine: Honestly, I'd sneak into agencies and production companies throughout Hollywood and leave my scripts in their to be read folders.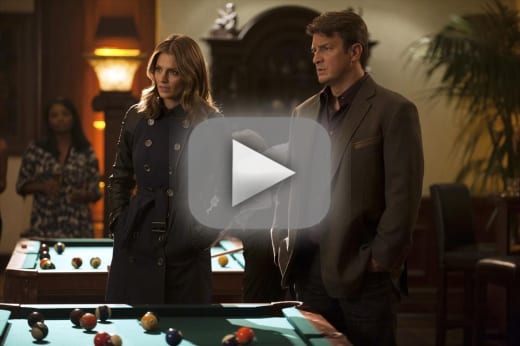 Who would you rather see in that Speedo, Esposito or Ryan?
Chandel: I am going to go ahead and say neither. Some things are better left to the imagine...or not pondered at all.
Stacy: Esposito. 
Robin: In the interest of comedy, I'm gonna go with Ryan. He'd probably be the most uncomfortable and hilarious in it. Esposito would probably just own it. 
Michelle: As a hard-core Seamus fan, I have to say Ryan. There's just something about an Irish man. I can't help myself. 
Jennifer:  Good question. I'll think I'll go with Esposito.
Christine:  Do I have to choose one? I want both of them. The very thought is somehow both sexy and hilarious. 
Were you surprised that Rick and Kate hadn't spent a romantic night together since his return?
Chandel: To be honest, I hadn't really thought about it.
Stacy: I hadn't really thought about it either, but not really. There's an adjustment period after what they went through, but it is a little surprising they were talking about rescheduling the wedding last week before they'd been intimate again. 
Robin: I wasn't surprised.  After what they had been through and the bit of distance that had come between them as a result, it seemed like a likely occurrence. 
Michelle: Completely! I mean I guess once they said it out loud it kind of made sense, but I sort of assumed that they had taken care of that off screen and gotten past the awkwardness after his disappearance. I'm kind of glad that we got to see that spark reignited on screen though. 
Jennifer:  In a way yes and, in a way no. Everyone handles different situations differently. And, while spending a romantic night together can be one way of re-connecting sometimes, a situation can warrant waiting until, emotionally both parties are on the same page. 
Christine:  Yes, a little but it's hard to estimate how much time has actually gone by. I thought it was kind of sweet that they were both waiting because they thought the other wasn't ready yet. 
What was the funniest moment of the episode?
Chandel: Watching Castle get smacked three times by the "invisible" figure. Props to Nathan Fillion on really selling that!
Stacy: I have to go with Martha running into all the pots and pans. I burst out laughing at that part. 
Robin: Absolutely Castle's sigh and lean when Beckett mentioned the Valentine's Day lingerie she was going to wear that night. Hilarious - I've missed that Castle.
Michelle: Oh wow, so many to choose from. I really think that moment with the Speedo between Ryan and Javi was hilarious. The way Javi's nose wrinkled when he asked. "Too big?" all innocent, that killed me. As did Ryan's deadpan request asking Javi to help him try it on. Classic. 
Jennifer:  Hands down, the whole scene with the pots and pans. Poor Martha. 
Christine:  I'm with your Robin. Castle leaning against the officer outside of the crime scene after hearing that Kate planned on wearing the outfit he'd bought her for Valentine's Day that night. So very funny. 
What was your favorite moment in Castle Season 7 Episode 3?
Chandel: I really didn't have a favorite part. The whole concept of an invisible suit made the episode a fun filler.
Stacy: Probably the same scene as above. The whole thing was hilarious with the two of them in bed but paranoid someone was watching, Rick hanging up the booby trap, and Martha falling right into it. 
Robin: I loved the scene where Castle and Beckett caught the killer, and Castle said "I've missed our mind melds." I love the opportunities they have to work as equals sometimes, I've missed their mind melds too!
Michelle: Castle and Beckett finding their mojo and having a mind-meld moment that helped them catch the invisible woman. That was perfect. 
Jennifer:  Loved the scene so much, have to pick it twice. The pots and pans scene as it had everything. Warm fuzzies as Castle and Kate attempt to have their moment and then, pure comedy gold as of course Castle sets up an alarm system of pots and pans which in turn accidentally catches his Mother.
Christine:  The gobsmacked look on Castle's face when Kate walked out in her invisible suit. Priceless.
You can watch Castle online any time right here at TV Fanatic. 
You can also get a look ahead to Castle Season 7 Episode 4:
C. Orlando is a TV Fanatic Staff Writer. Follow her on Twitter.