The murder of an ice cream truck driver sent Rick back to school to try and find a possible witness on Castle Season 7 Episode 4. 
Below, TV Fanatics, Robin Harry, Michlle Carlbert, Jim Garner, and Christine Orlando are joined by Mary Lou from The 12th a Castle Fan Forum to discuss the best classroom scenes, Alexis being overprotective, their favorite Castle costumes and who wants ice cream in this week's Castle round table...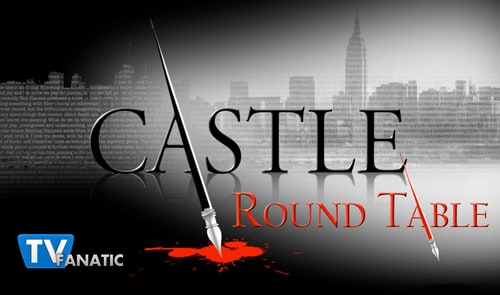 Were you surprised that it wasn't a child but an adult hiding in the ice cream truck?
Robin: I was quite surprised, actually. It was easy to imagine that a kid would sneak off in an ice-cream truck. That was an interesting twist.
Michelle: I really was. Seeing the size of that tiny cabinet, I never would have thought an adult would have fit in there, so I absolutely thought they were looking for a child the whole time. Nice twist. 
Jim: I was, mainly because it was such a tiny compartment. The connection from Jack to his sister was a nice twist, I will admit. 
Chandel: I was a little bit surprised. I wasn't sure we had done the child-witness angle yet, so I thought it was about time. Shame on me for thinking this show was predictable!
Mary Lou:  Yes, I was surprised. I can't imagine an adult fitting in that small space. I'm slightly claustrophobic and the thought of her hiding in there made me shudder.
Christine:  It's unanimous then. They got us all. The fact that Natalie was Jack's sister took me by complete surprise and I never would have guessed it was an adult hiding in that truck and not a kid. Although  a part of me wants to go back and see her actually fit in that compartment. It looked tiny!
Which was your favorite kid scene. Jack, Emily or Jason?
Robin: Absolutely Emily! She was adorable, and seeing Castle dressed up as a princess having a tea party and helping her with bullies - so precious.
Michelle: Princess Tea Party! It was a little hard to choose as all the kids were fantastic little actors in this episode, but I just loved seeing Castle interact with a little girl. I feel like it gave us a glimpse into what it must have been like to see him as a single dad when Alexis was younger. 
Jim: I'm with Robin and Michelle, the princess tea party was so very well done. From the low calorie fairy dust to him talking about how to deal with a bully, it was truly heartwarming. 
Chandel: His scene with Emily. I loved seeing him dressed up in that tutu, fairy wings and crown. He played as if it was the most natural thing in the world. I loved it.
Mary Lou:   Definitely Emily. The tea party scene reminded me so much of my husband playing like that with our girls when they were little. So sweet!
Christine: It's hard to forget Nathan Fillion in fairy wings and a tiara but I had to laugh when Beckett mentioned that Castle had only been in class a day and a half and he'd already found a worthy nemesis in Jason. It was fun seeing he and Castle both get chastised for making faces in class.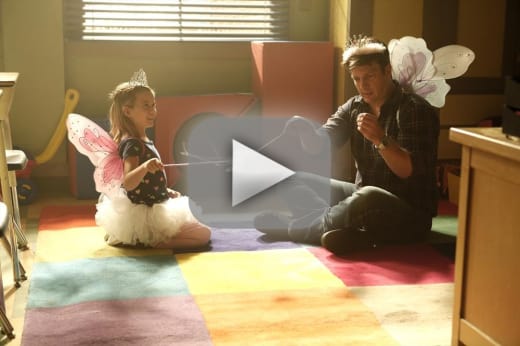 So far in the series, Castle has dressed up as Mal Reynolds (Firefly), Edgar Allen Poe, Elvis, a zombie and now a fairy princess. Which is your favorite? (And if I'm leaving anything out of that list feel free to add it in.)
Robin: My nostalgia and love for Firefly wants me to pick Captain Reynolds, but the fairy princess was just too hilarious and adorable for words. Complete with wings and a wand! 
Michelle: I'm a Browncoat through and through so even though I did enjoy the fairy princess, I will always have to vote for Captain Mal as my favorite. 
Jim: Browncoats Unite! I rewatched that scene on youtube last Friday, if that tells you how much I loved it. While I know it probably won't happen, I would love another cast member from Firefly to guest star and get some good nods to the show.
Chandel: Captain Reynolds was my favorite because it was a nod to hardcore fans without it being overly emphasized. It was not only cool, but clever, so it still stands out as my favorite costume.
Mary Lou:  My favorite is Mal Reynolds. There's just something about a cowboy, especially a space cowboy.
Christine: As much as I'll always be a fan of Captain Tightpants, it didn't make the top of my list. It's a tie between Castle as a fairy princess and Castle as a zombie. Seeing him in fairy wings, a tiara and a magic wand was beyond adorable but the zombie makeup was somehow both scary and sexy…which is odd because I kind of hate zombies.
Was Alexis overprotectiveness over the top or understandable?
Robin: Both. I can understand the need for her to know where he is all the time, not wanting to lose him again. He's her father and he was missing for months. However, putting a tracker on his phone and doting on him hand and foot was extreme. 
Michelle: I think it was a little of both. In the beginning it certainly was understandable for her to want to keep an extra eye on her father. I think if Castle had spotted what was going on sooner, he would have been able to stop her from taking it to the over-the-top level where it ended up.
Jim: As Robin and Michelle said - both! How could you not be over-protective when someone you love vanishes (with no memory) for two months. I don't blame her one bit. Now, the letting her wait on him hand and foot, that was over the top and did get weird. 
Chandel: Understandable. Her dad went AWOL for months. Wouldn't you also be concerned?
Mary Lou:  It was definitely over the top, but I understand her acting that way because she's afraid of something happening to her dad again. Alexis needs to realize that she's NOT the adult in her relationship with her dad and give him credit for growing up and maturing over the last 6 years.
Christine:  Both and I kind of loved that she put the GPS app on his phone considering how indignant she was when Castle had done that to her a few years back. Alexis may always say she's the adult in the family but her father has always been the one looking out for her. Unfortunately really being an adult means worrying constantly about those you love. 
Would you try potato chip fudge ripple ice cream?
Robin: Heck yeah, I would!  It sounds divine! A mixture of smooth and crunchy, salty and sweet...goodness, I'm actually salivating.
Michelle: As soon as they mentioned it I thought, "Ugh! No way!" But then Castle started talking about how yummy the sweet-and-salty aspect of it was and now I think I would at least give it a try. 
Jim: Given that I just had Sweet Corn with Black Raspberries ice cream along with Sweet Potato with Torched Marshmallows ice cream on Saturday from Jenis (https://jenis.com/) while visiting family in Columbus Ohio (and they were amazing!), the answer is a very big "YES"! Doesn't it just sound tasty? 
Chandel:  No---absolutely not. It sounds gross and I can't even begin to imagine how its manufacture would be possible in the real world!
Mary Lou:  Yes, I would. I like the salty/sweet flavors together, like dipping pretzel sticks in vanilla ice cream. Yum!
Christine:  The closest thing I can find to it is Ben & Jerry's Late Night Snack inspired by Late Nite with Jimmy Fallon. It's vanilla bean ice cream with a salty caramel swirl and fudge covered potato chip clusters. I'm hoping it's still in stores because I want some. 
What was your favorite scene of the episode?
Robin: I wish I could pick every single scene where Castle interacted with the kids and their teacher. If I had to pick one, I'd go with the first time he's telling the kids goodbye. I loved that he had learned all their names in two days, and they all grew comfortable with him, and him reassuring Emily it wasn't her fault...it was just so endearing.  
Michelle: Since I've already mentioned the Princess Tea Party, I'll go with Beckett and Castle interviewing Jason to find out who was really in the ice cream truck. I had a feeling he was the one holding onto a secret and it was amazing to see how that scene played out. That little actor was so talented. 
Jim: I'm a sucker for father/daughter time. Alexis and Rick at the end of the episode totally had my eyes puddling up. The scene was touching and funny and reminds me why I love this show so much. 
Chandel:  I'm gonna have to go back to Castle's scene with Emily. Too cute and adorable overall to not recognize for a second time!
Mary Lou:  It's a toss-up. I loved seeing the imaginative, child-like side of Castle when he played green army soldiers with Jack. But, because I'm a teacher and lover of words, I also enjoyed the scene where Castle told the kids they were all writers and encouraged them to write a story.
Christine:  I loved Castle's interaction with Mrs. Ruiz and how he explained that he was having the kids write their own stories because witnessing something that traumatic would inevitably influence what they wrote. It was a nice nod to the fact that 11-year-old Rick Rodgers saw something traumatic in the woods and ended up writing murder mysteries for a living. I know they'll make us wait for it but I'm really looking forward to hearing the rest of that story. 
Did you miss an episode? Just want to rewatch a favorite? Watch Castle online here at TV Fanatic. 
And here's your look at Castle Season 7 Episode 5, "Meme is Murder."
C. Orlando is a TV Fanatic Staff Writer. Follow her on Twitter.