"She can rest now. She's home."
Yes, Sara is home in Starling City to stay, in her original grave. It was a sad and touching moment, made better knowing her legacy would be carried on not only by Laurel and her friends but thanks to Diggle and Lyla, who named their daughter Sara.
Honestly, Arrow Season 3 Episode 2 was rather predictable, but that didn't matter. Sometimes it feels better to know what's coming rather than to find an arrow through the heart when it's least expected.
The series took a huge chance by switching things up in the beginning and adding Sara to the Lance family as the first Canary. It feels, finally, like it will pay off. 
It was difficult to understand why that particular route was chosen, but the hero reborn story is far more interesting than any other route I can conceive. We had an origin story for Oliver and to give Laurel a chance to claim her rightful place to avenge the death of her sister and, possibly, keep her father from believing his Sara is dead works.
Does anybody expect Lance to learn of Sara's death any time soon? It really felt like part of Laurel's thought process when she picked up the jacket after hearing from Oliver how well Sara was trained was to avenge and protect. I supposed that's what a good hero does.
Sara's death really hit Felicity hard. She's in love with a man in the same line of work and they both know he could go at any time. Felicity would rather he take a chance and stay above ground and fight for a future with her.
So that's it? You're just going to spend your life down here in this cave, waiting to die? I'm sorry, I'm not gonna wait with you because if there's one thing that today has taught me, it is that life is precious and I want so much more in mine than this.

Felicity
It's difficult to blame her for walking away before it got too deep. As a couple they had barely brushed the surface. It will be easier for her to move on if she walks now, rather than continue to hit her head against his abs only to find he won't budge.
Gosh it's difficult to dislike Ray Palmer. Whether he'll eventually cross over to The Flash or if he'll just be a metahuman Atom here in Starling City (or no Atom at all) we'll find out but. for now, it's nice that he went to so much trouble to get the talented Ms. Smoak under his employ.
Not only did Ray go to great lengths to woo her career-wise, but he also read the pain she was feeling wasn't directed at him. He's in tune with others and Felicity really needs that right now. 
Oliver: John, I don't want to die down here.
Diggle: So don't, Oliver.
Oliver needs to take stock of his life and what he wants out of it. Does he want to end up like Sara or does he want to make other plans? Felicity decided she wanted more out of life and I'm excited to see what it does to Oliver as she divides herself between her two jobs. 
Oliver has been known to find his way out of sticky situations before, as was shown with Tommy in Hong Kong. Amanda Waller was a witch for asking him to kill Tommy, but it proved how quick on his feet Oliver can be when it counts. He saved his friend, even if he did ultimately meet his final destination.
Komodo lived to come back another day. Was it me or did he look like a Teenage Mutant Ninja Turtle in his getup? I suppose a dragon and a turtle are at least in the same family. It was surprising that he didn't make a move on Oliver or Laurel as they argued over his fate, but he appears to be a target man. If either of them had been a target, they would have been taken down.
That it was a rather light villain trolling about town at the same time Sara was killed was for the best. But who killed Sara? I don't know where Corto Maltese is, but it did seem possible that dad just returned to Thea when he walked in on her training.
It's likely going to be Ra's Al Ghul. Not only is he the League of Assassins head honcho, he's Nyssa's daddy and it gives her a reason to come back into the fold and some meaty scenes if her father killed the woman she loved. 
What did you think of this installment? Was it good enough for Sara to wind up in her original, empty, grave? Did Tommy resurfacing in a flashback take away any of the pain of Sara's death? What are your hopes for Felicity now that she's walked away? 
Don't forget, you can watch Arrow online any time via TV Fanatic.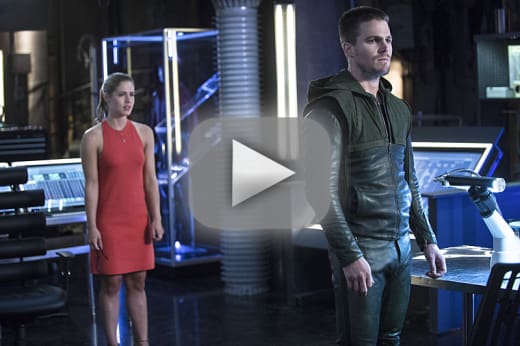 Here is your first look, meanwhile, at Arrow Season 3 Episode 3:
Carissa Pavlica is the managing editor and a staff writer and critic for TV Fanatic. She's a member of the Critic's Choice Association, enjoys mentoring writers, cats, and passionately discussing the nuances of television and film. Follow her on Twitter and email her here at TV Fanatic.