Admit it, Arrow Season 3 Episode 2 was a little emotional. There was the return of Tommy via flashback, the aftermath of the death of Sara and wondering what might be next for everyone involved.
Join TV Fanatics Allison Nichols, Hank Otero, Paul Dailly, Carla Day and Carissa Pavlica as they discuss these topics on the round table and then hop onto the comments with your thoughts...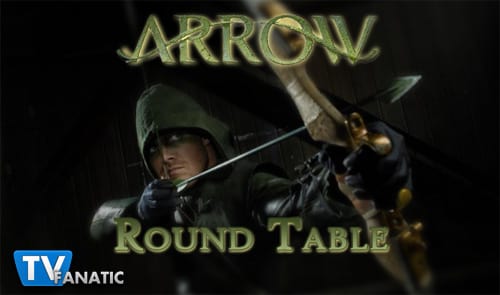 How well did the series handle the death of Sara and set up what might come next?
Allison: I felt like the writers did a good job of showing how Sara's death affected everyone. It hopefully will set up Oliver seeking for a life outside of his mask. I'm upset that Detective Lance doesn't know. I don't see the point in keeping it from him.
Hank: I thought it was handled really well, but I agree with Allison that Detective Lance should have been told. It's going to be much worse when he eventually finds out from someone other than Laurel. The burial scene made me tear up a bit. I'm going to miss "present day" Sara.
Paul: It was handled really well. I agree with both Alison and Henry, that Detective Lance should have been in the know. I think this is going to cause a lot of friction between himself and everyone who neglected to inform him of her death.
Carla: I thought it was handled well, though I'm surprised I didn't get more emotional over it. The burial scene was touching and Felicity's tribute to her was perfect.
Carissa: Unlike everyone else, I don't think Lance will hold it against Laurel. First, he kept Sara's life to himself for her own good and he'll understand how it might have affected his health. Otherwise, it was done well, especially taking her "home."
Did it seem fitting for Diggle to name his daughter after Sara?
Allison: Yes. This moment made me tear it. Diggle making this decision is a nice way to show just how much Sara meant to him. Diggle and Sara obviously worked together, but they never really had great one on one scenes. Diggle making this gesture hints that they had a deeper relationship.
Hank: I thought it was a nice gesture and unexpected. Hey at least Sara's a nice name. Imagine if she were Gertrude or Willhemina instead Ha!
Paul: It was a very nice way to celebrate such a well liked character. With this, the show will never forget her. Her name will always be brought up.
Carla: I disagree with the others here. It was so random. Diggle wasn't that close with Sara and neither was Layla. If they used Sara as a middle name it would have felt more realistic. I didn't care for the decision
Carissa: I'm not sure that it was the best decision. What I found really odd was he already had a little outfit with her name on it. It made sense in the scheme of things, but she wasn't a big part of his life (or more especially, Layla's).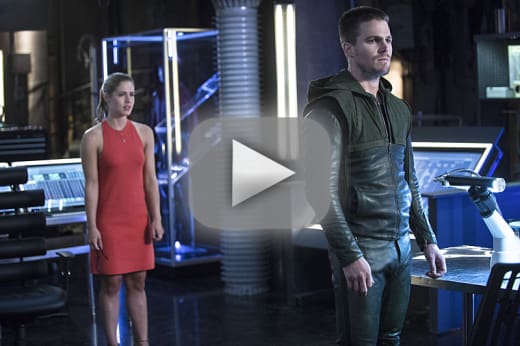 How did you feel about Felicity's decision to take the new day job and will it interfere with her other activities?
Allison: It will be a way to loop Ray into the loop a bit more. I'm not sure how it will work with her duties in Team Arrow. If Oliver goes after someone during the work day, it is hard to picture her keeping her Arrow connection a secret. People will start to get suspicious of her, especially Ray.
Hank: I think that's exactly why the writers have her working for Ray Palmer. The day job will inevitably interfere with her Arrow responsibilities. I'm not sure I like Ray Palmer anymore, he's one smooth dude. Felicity doesn't stand a chance... it's "Ralicity" time shippers ;)
Paul: I'm indecisive about this. She really does help Oliver a lot, and as the others said it's going to be difficult to help him when working a day job. This will further complicate her and Oliver's relationship.
Carla: Definitely! And it's going to be so delicious to watch. Ray is charming and sure to make Oliver a little jealous. Ray has Oliver's family company and his number one girl. Looking forward to seeing this unfold.
Carissa: I don't know how it will interfere, but it will have to in some way. She can't sprint out of the office, right? But then again, most of her work is done on a computer, so it may not be a problem. I do like the chemistry between her and Ray, so I hope she gets to have some fun.
Talk about the flashback with Tommy.
Allison: I loved seeing Tommy again. It's nice to see that Tommy never gave up on Oliver. He had faith even after years of silence. Tommy truly cared about Oliver. If you need me, I'll be over there mourning Tommy.
Hank: It's a nice surprise any time Colin Donnell pops back up on the show. The storyline felt a little random, but it was cool to see Oliver and Tommy on screen together again. More for nostalgia's sake than anything else.
Paul: I wasn't much a fan of Tommy before this. In season 1 he was annoying pretty much the whole time. I liked that the writers managed to include him in such an emotional episode. If we've seen Tommy after his death, we will most certainly see Sara again.
Carla: Oh Tommy.... I loved seeing him again and if The Flash time travel stuff hits Starling City, he is who I'd want back. Amanda Waller is brutal, but Oliver showed he's creative and resourceful. Tommy and Oliver in the same room again ... heartbreaking.
Carissa: I was kind of confused about what it meant. Then I realized his appearance was probably to help viewers get through Sara's death without forgetting she'll likely be on screen again. Did you know Colin Donnell is on The Affair now?
What are your expectations of the next phase of Laurel's journey?
Allison: I just hope that it makes Laurel interesting. I've been waiting for this to happen for seasons now. Laurel isn't my favorite character. I still have faith, but it's not that strong.
Hank: I'm happy because my expectations for this season were to not hate Laurel. She's still not a favorite, but Katie Cassidy has had some really solid moments in these first two episodes. I think I'll buy her as Black Canary before long.
Paul: I think Laurel will try to live the canary lifestyle. I think her relationship with her father is going to even more strained than it already is when he finds out about Sara.
Carla: She's going to do whatever she has to in order to find Sara's killer. It won't be pretty and we'll see her evolve into a strong self-sufficient woman.
Carissa: She's going to do what she has always wanted to do -- get in on the action. Being relegated to lawyer duties once she found out everyone else was heroic never seemed like her thing. Think about Arrow Season 2 Episode 1 when she took out the bad guys at a government function. People will be surprised at her transformation.
Don't forget, you can always watch Arrow online and now you can get a sneak peek at what's coming next on Arrow Season 3 Episode 3!
Carissa Pavlica is the managing editor and a staff writer and critic for TV Fanatic. She's a member of the Critic's Choice Association, enjoys mentoring writers, cats, and passionately discussing the nuances of television and film. Follow her on Twitter and email her here at TV Fanatic.