The Real Housewives of Orange County Review: Tamra Barney Doesn't Back Down
Miranda Wicker at . Updated at .
Tonight, on The Real Housewives of Orange County Season 9 Episode 20, Tamra Barney Judge will face the music. The music of her accusers, that is.
She'll be confronted by Vicki, Lizzie, and Shannon regarding the half-truths she told on Season 9. Will she stand her ground or walk away? As rumors that Tamra Barney was fired from RHOC circulate the Internet, will we understand why after tonight?
Let's find out now...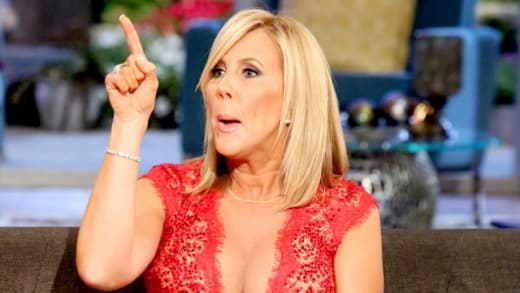 If the previews for Part 2 of this reunion are any indication, there will be MANY, MANY eyerolls tonight. Many.
I'm rolling mine right now as we learn all about Shannon Beador's holistic ways. 
When a viewer asks Shannon if Dr. Moon is taking her money, Shannon says she takes her kids to him when they aren't feeling well and he makes them better. That's completely not an answer to the question. Minus 9.
Shannon says she colors her hair with chemicals and she isn't worried about it because she does so many other green things. That's her balance.
Vicki says that feng shui-ing her Coto Insurance offices has made business skyrocket off the charts. She's a believer.
Lizzie said Christian's been throwing her over the countertop and filling up her love tank and I vomited and didn't hear anything else but I think they're having a baby next year.Trying for a baby next year. Still vomiting from the love tank talk and "filling it up" jokes. 
And now for the Lizzie portion of the show.
Lizzie says "disgenuine" and Heather crinkles her nose. "Disingenuous," Lizzie. Minus 8.
Lizzie still thinks Tamra should've told her earlier that she wasn't coming to the party and keeps apologizing and Lizzie just keeps saying all she wanted was an apology. Ummm, you got one, Lizzie. 
Shannon butts in and says Lizzie just wanted to know that Tamra wasn't coming before an hour into the party. Tamra flips it around and says "oh, but you did the same thing!" Shannon, however, says she did not. Cue up the video, Andy! Pretty sure she did!
To change it up, we'll switch over to the Baby Astro incident. Remember the Robot Baby Tamra and Eddie rented to see if Eddie wanted to be a daddy?
How could we forget?
Lizzie's comments that Tamra are nearly 50 and has 4 kids already come up and Lizzie says she never meant anything by them other than Tamra's beautiful and successful and has done everything she's wanted to do in life. Tamra fires back that Lizzie doesn't know anything about her situation.
Lizzie says "Well, I'm entitled to an opinion." Ugh. Lizzie. Shut up.
Shannon says the show saved her marriage and Tamra says that would be a first. Plus 12.
David and Shanno's "banter" from the season was a lot more antagonistic than happy, including the time she had to get drunk to sleep with him on their first night away at the St. Regis. 
Now, however, they've been on four trips together in three months and they're happy. Plus 10.
Andy asks if anyone thinks Shannon shares too much about her marriage. Tamra says yes, she does. Shannon came right into the spooky party and said she wished David spent more time with her. That, she says, was the only comment she made about her marriage and she didn't find it odd to share with a group of strangers. 
Strangers, apparently, are cheering Shannon and David on.
Heather's "fake" phone call gets brought up and Heather says if she'd handed Terry a phone call with no one on the other end, he would've outed her. Vicki still thinks the call was fake. 
Heather's intelligence and condescending nature is called out and Lizzie says she looks up to Heather's smarts. Both Vicki and Tamra apologize for being too tough on Heather. Plus 5.
And now it's time for the Tamra Tells All portion of the evening. 
Tamra really didn't come across well this season, and definitely got caught in some lies. 
Vicki to Tamra: "You're supposed to be getting better and better and better and you're getting bitter and bitter and bitter." Plus 4
Vicki continues to defend Brooks and says Tamra doesn't know him and she (Vicki) has options and choices. She's not going fast. That makes no sense, really, but it's coming from Vicki. 
Tamra's heated that Lizzie said Eddie wants to f*ck her and Lizzie keeps saying Tamra's lying. Andy interrupts them and then Lizzie says Heather's only taking up for Tamra because she's Tamra's friend.
Those two continue to cat fight about everything and honestly it's worth watching but so.many.words. So many. Lizzie calls Tamra old and bitter and doesn't make herself look great at all.
Tamra apologizes to Shannon, again, and says that she accepts Tamra's apology but doesn't trust her. Shannon forgives Lizzie because Lizzie came to her and said "here are the things I've heard about you and said about you." But that's what Tamra's doing. 
Ugh. Shannon. Minus 9.
Andy asks if Tamra starts flip-flopping when she's backed into a corner and Vicki says Tamra doesn't get backed into corners and instead does the backing. 
When Tamra and Vicki start having a conversation, Lizzie chimes in and says they're all hurt. Tamra tells her to go away and stop talking and Lizzie starts crying. Heather gives Lizzie a tissue and tells Tamra she should apologize. She does, but later tells Andy that the one thing she's learned is that some friendships are easy and some are never going to work.
True story, Tamra.
Andy would like each lady to say one thing they learned this season:
Shannon learned how to have a happy marriage and a strong family, thanks to the show. 
Vicki learned that she's always going to do what's right for her and be who she wants to be. 
Lizzie has learned not to be so trusting of people and that she's pretty strong and should believe in herself.
Heather has learned, in the words of Frozen, to "let it go."
Tamra has learned that she doesn't have to talk about everything. Especially to Heather. ELL OH ELL.
Andy learned that it took NINE SEASONS for Vicki to become the voice of reason.
And now Andy's asking them all to do tequila shots. Vicki makes the toast and says she forgives Tamra. Heather toasts to forgiving each other's weaknesses and celebrating each other's strengths. Plus 75.
 NOW EVERYBODY DRINK! 
SEASON TOTAL: -363
What did you think of The Real Housewives of Orange County Season 9 Episode 20? Is it time for Tamra Barney to leave RHOC?
Miranda Wicker is a Staff Writer for TV Fanatic. Follow her on Twitter.