The Real Housewives of New Jersey Season 6 Episode 11 Review: Gators and Haters

Christine Orlando at . Updated at .
Everything was bright and sunny for The Real Housewives of New Jersey Season 6 Episode 11 - until the black cloud of Jim and Amber Marchese descended in "Gators and Haters"
We recap who was the weaselly b*tch in our +/- review...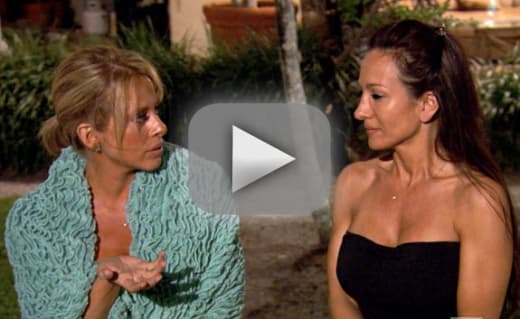 The Florida trip was going great. Dina, Melissa and the twins headed off to an Alligator reserve and a took an airboat tour. They definitely weren't in Jersey any more! Plus 33. 
I loved that Dina learned not to hate the gators. They are very cool creatures…but even tailless they should never be kept as pets. 
And the upside was that perhaps they've found the perfect place to dump Jim Marchese's body once their done with the trip. Plus 22.
Back home Teresa and Joe spent time with his family and it was great seeing all of the cousins together. There were 11 grandchildren, all girls. Plus 10. And even with all of those girls I'm pretty sure you could still make out Milaina's voice above the rest. 
Chris Laurita texted Joe about the couples getting together for dinner. I'm with Teresa on this one. Once a friend has called out your husband as a cheater on live TV (even if it could be true), I'm pretty sure that friendship is over. At the least it will never be the same no matter what apologies are made. Minus 15. Perhaps it's just time to move on. 
Kathy and Richie enlisted Rosie's help to build their two-story closet in their new home. Kathy jokes that she pulled Rosie out of the closet only to put her back in one. Unfortunately Rosie's not feeling the jokes as she and Ellen have called it quits.
Back to Florida…
It started out OK. Everyone was making an effort to get along. When Jim wondered if he should be concerned that Amber and Dina have gone off together, Joe Gorga responded with "sexual concern?" Plus 27. You always know what's on Joe's mind. 
But Jim was obviously trying to provoke Bobby when he started in on how he proposed to Amber after a month and a real man knows when to make a decision. That it shouldn't take the 11 months that Bobby and Nicole have been dating. Unfortunately, Nicole bought into it which only made Bobby angry and he stormed off.  Minus 18. 
Admittedly, Bobby hiding out in the bathroom did make him seem like a teenaged girl but perhaps that was the only way to get away from the cameras and cool off. 
Jim's far from done and Amber was devastated. She wanted this trip to smooth things over between the former friends. She wanted to get back into everyone's good graces. Jim knew that but he seems determined to blow it up. 
As Dina says, "I don't think Amber's bad. I just think she's got a little devil on her shoulder, his name is Jim."
Minus 43 to Jim as he kept implying that Bobby had told him horrible things about their family. He wouldn't say exactly what but he wouldn't shut up about it either and that's just weaselly. 
Jim kept calling Bobby names while he was a floor away. "He's like a chick. Tell him to come down and man up." Is there anyone who doesn't think that Bobby would knock Jim on his ass? Jim seems like more of a hair puller to me. 
When Teresa went after Jim for hurting her sister, Jim responded with, "You know, I'm going to laugh my balls off is when she finds out he's f**king some girl in the condo he's been keeping the whole time he's been dating her sister."
As Joe Gorga put it, "In a man's world, Jim is considered a bitch." In any world. Plus 50. 
But Jim's not done. He's still got one big bombshell left to drop…
Episode total = +66! Season total = -632!
Missed anything? Fear not! You can watch The Real Housewives of New Jersey online via TV Fanatic anytime.
C. Orlando is a TV Fanatic Staff Writer. Follow her on Twitter.