Forever Season 1 Episode 2 Review: Look Before You Leap
Paul Dailly at . Updated at .
Now that's how you follow a series premiere!
After just two episodes, Forever is beginning to cement itself as one of the best new series of the fall season.
Henry. You can learn a lot from a body. How a life was lived. What was their pain. Suffering Life experiences. Even i they were loved. But what a body can't tell you is why and for those left behind that seems to be the only question that matters,
Tonight on Forever Season 1 Episode 2 it looked like we were being treated to a two for one murder case. Upon witnessing a young woman falling to her death from a bridge we see another victim with an ax embedded in his head.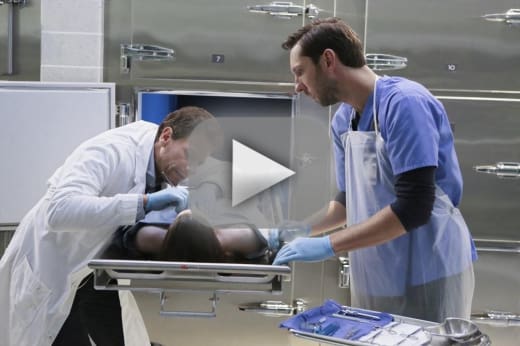 I was about to praise how unique it would be to have two big cases in one episode. However, Henry had to be the smart one and solve the case in a matter of minutes but I wouldn't have expected anything less from him.
Hanson: Well doc cause of death seems a bit obvious.
Henry: I couldn't agree more. Manner of death accidental.
Hanson: What? The guy has an axe sticking out of his head.
The opening to the episode was terrific. The actress who played Vicki was really believable in her role. As she bolted from the cab I immediately knew what was coming next.
The editing of the scene was particularly good, especially when Henry began his voiceover. The series has a really unique style and that is in part due to Henry being around for so long. Contrary to what others are saying I'm really digging the narration from Henry.
The case in this episode improved leaps and bounds from the premiere. There was a good amount of twists and turns and I genuinely did not guess the killer would be Vicki's classmate.
I really didn't guess that there was foul play in between Vicki climbing up and falling to her death. After the evidence pointing towards her sleeping with her professor I thought that it was his wife that done the evil deed. How wrong I was!
Henry and Jo have become really close already. The lines the two characters are given are full of wit and actors share a lot of chemistry. I loved when they both interviewed the professors wife, Henry observed every object in the room and tore her down a few pegs by making her admit her marriage wasn't as healthy as she led them to believe.
Jo: You climbed on to the bridge?
Henry: I've never really bothered about heights.
Jo: And what about death?
Did anyone else find it funny when Henry went down the bridge to check for evidence and narrowly escape the same death as Vicki but was killed when he least expected it? 
We lay witness to some more flashbacks, as well. It was exciting to see how Abigail and Henry became close while Henry mulled over the idea of watching Abe full time. It's little scenes like this that help illustrate to us viewers how good these characters really are. I felt really bad when Henry wrote the letter to Abigail and got ready to run away. It was evident how much she loved him and accepted him for what he is.
The addition of Lorraine Toussaint tonight as Lieutenant Joanna Reece was a welcome one. I first witnessed this fine actress this summer on Orange Is The New Black and believe she'll bring a lot to the table.
She quickly butted heads with Jo over not believing Henry that this was a suicide. She clearly seemed more concerned with letting this case close as there was enough evidence to support that it was a suicide.
The funniest moment of the episode was Abe on the dating website and looking nothing like his picture. I would have liked if they would have shown us the date just to see the woman's reaction upon seeing his picture is twenty plus years old.
The stalker was showcased again and we found out he has been around for around 2000 years. I was expecting him to be a similar age to Henry, not 10 times his age! 
All things considered this was an excellent installment. It was a real rollercoaster from start to finish and I'm even more excited now about what awaits us as the series progresses. Don't forget you can watch Forever online right here on TV Fanatic. 
What did you think of the case? Did you like the developments with the stalker? Sound off below.
Paul Dailly is the Associate Editor for TV Fanatic. Follow him on Twitter.