Forever Season 1 Episode 1 Review: Pilot
Paul Dailly at .
I had no idea what to expect when I watched Forever Season 1 Episode 1.
ABC has been promoting the series heavily for the past three months and I'm hoping it will pay off. The promo spots on TV don't do the show justice. There is room for improvement though.
I've never been much of a fan of procedural series which makes this all the more enjoyable to watch. It puts a fresh and exciting spin on the genre by making the lead character immortal.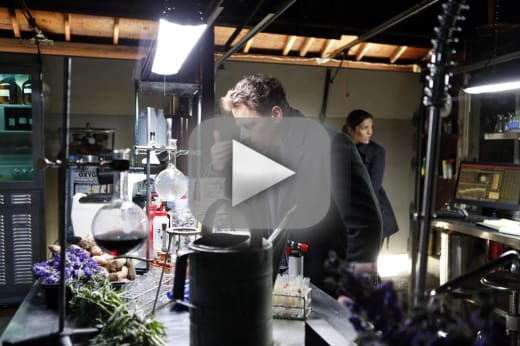 Upon being introduced to Doctor Henry Morgan, I felt like his story was really emotional to him. He can't die and has no reason why. His deceased true love Abigail has little presence in the pilot but I'm sure through even more flashbacks we will see a lot more layers to their relationship. 
Ioan Gruffudd's performance really tugs at the heart strings. He just wants to die. I've been a fan of his since The CW's Ringer so his TV return was a welcome one.
The scene in which Henry takes us to a ship during the slave trade and explains his story was beautifully shot. I was immediately pulled in and intrigued. You don't often see a scene these days on broadcast TV with these production values. The same cannot be said of the train after it crashed. The bashed in front looked kind of like a videogame. I am looking forward to the series showing different time periods in future episodes. The show has over 200 years worth of story to cover!
Henry's only confidante is Abe - a thrilling and colorful character. The fact that Henry first met Abigail whilst she was holding Abe as a baby during the war makes for great drama. Abe is now grown up whilst Henry hasn't aged. Their relationship is really intriguing. I like how Abe appears as a father figure to Henry; I'm guessing the roles were reversed not so long ago.
Detective Jo Martinez is as exciting as Abe. It is obvious she is putting up a wall and is intrigued by how fast Henry figured out that her husband had passed away. Her introduction was one the best to a character in recent memory. It was really awkward; I felt for her. She only wanted to make a quick escape from her one night stand. Maybe she should buy a case for her phone to avoid confusion in future.
It's very common in new shows that characters appear one dimensional until a few episodes have passed to flesh them out. I'm happy to say Forever manages to flesh them out so well that I really care for them already.
The first case was intricate but also appeared forced. The conclusion that the driver died of a heart attack was plausible, but I and everyone else knew there was more. When we found out that the fingerprint on the driver's neck belonged to a character we hadn't even met yet further annoyed me.
Maybe I'm just a sucker for a good whodunnit. When the story went to Grand Central station it felt even more forced, and the man's motive was as absurd as his plan to poison innocent civilians through the air vents.
I like that the show has an overarching plot with the mystery of what is preventing Henry from dying. I understand his status will most likely be a storyline saved for the series finale. I hope that isn't soon! It's also very good to know that someone else is in the same predicament as Henry. Whether he knows the stalker remains to be seen, but the stalker certainly knows Henry. This seems like a story ripe with possibility.
Based on the premiere alone, this show has a lot of life in it. We're in for a thrilling ride to find out the truth, while solving murder cases in the process. Henry is a medical examiner after all. I just hope that the cases of the week improve to be more believable.
As stated above the show excels with the in depth characters introduced to us and their back stories. So far, this is a keeper! If you want to relive the pilot and see if there are any clues you missed you can watch Forever online right here via TV Fanatic!
What did you think of the premiere? Do you agree that the case could have been more realistic? Do you think we met the stalker in this episode? Sound off below.
Paul Dailly is the Associate Editor for TV Fanatic. Follow him on Twitter.