On Dancing With the Stars Season 19 Episode 3, celebrities performed to their favorite dances as part of the "My Jam Monday" theme. But just how well did they do?
I'll get to the contestants in a second, but I have to comment first on the opening performance. It included songs chosen by each of the judges and brief introductory dances from each couple. Fun? You bet. But where the heck is the theme song? Maybe this is an unpopular opinion, but I miss it. And I really do miss the announcer, too.
But you don't care about that. You want to know about the stars and their dances.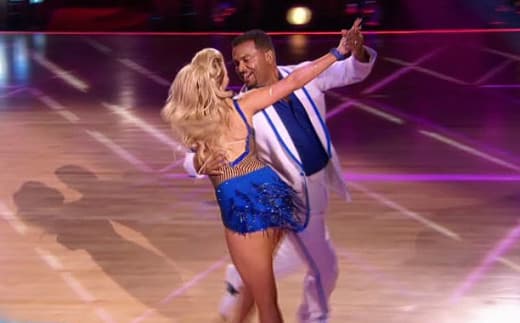 In the behind the scenes footage, Randy Couture called the Cha-Cha "kinda naughty" compared to the dance he performed last week. He danced to "(I Can't Get No) Satisfaction," which was a fun choice despite the not-so-fantastic version of the song we were offered.
Carrie Ann called the dance "under-whelming," disappointed that she didn't get to see a sexier side of Randy tonight. After all, last week, he made her fall out of her seat. This week, no so much.
And thanks to Janel Parrish, Ill have "Call Me Maybe" stuck in my head for the next week. Her Foxtrot was full of energy, and Val's smile lit up the ballroom. They earned a score of 34, meaning the hard work paid off.
Lea Thompson offered one of the most surprising dances of the night, with her Jive to "The Land of 1000 Dances." Even though in the behind-the-scenes footage she admitted to being worried, Lea killed it on the dance floor in a bright red skirt.
The judges liked it too, awarding Lea and Artem the highest scores of the night. Carrie Ann even fell out of her chair (again)!
Sometimes, the judges seem like they have *too* much fun on this show. And Tom Bergeron's witty comebacks are priceless. After Carrie Ann fell, Len said, "She kicked me in the lower portion." Tom's reply? "Isn't it great to get feeling back there again?"
Michael Waltrip is a real character, and though his Samba to "Girls in Bikinis" didn't earn high scores, he shook his hips like there was no tomorrow. I hope he sticks around for a while.
I didn't care for Tavis' dance at all. It could have been fun, but I didn't get the since that he was happy to be there. In the behind-the-scenes footage, we learned all about his busy week and how little time he had for rehearsal, but a smile on his face would have made a big difference.
Alfonso Ribiero, on the other hand, gave yet another crowd-pleasing performance this week. He got jiggy with his Samba and totally owned the dance floor. His scores were good, but not at the top this time. Regardless, I imagine he's sticking around for a while.
Despite Bethany's hurt ankle, she climbed on top of a bass during her Foxtrot, for what we later learned was actually a pretty dangerous idea. Leave it to Derek Hough to throw in some crazy prop to make things more challenging.
Another surprising routine this week came from Betsey Johnson, who redeemed herself in her Foxtrot to "Girls Just Wanna Have Fun." She was truly transformed from last week, and it was beautiful to watch. Carrie Ann called her, "exquisite" and Bruno compared her to Norma Desmond.
But more important was her partner's reaction-- Tony exclaimed that he was proud of her and the dance was "fantastic." Betsey has a great partner in Tony, and she knows it. Her praise of him even made me a little teary eyed: "He said that he loves me, and that he wants me to once feel -- on stage-- like I'm pretty. And I've never felt pretty."
Antonio Saboto, Jr. was another crowd pleaser tonight, with a smooth, sexy Rumba. And how about those dimples? The judges were impressed with the dance too, commenting on how much he had improved from the first week.
And oh, how I love to watch Tommy Chong dance. He did a Salsa that Julianne said she could only describe with "a bunch of "f" words: fun, fast, awesome footwork, funny."
Jonathan's dance was entertaining-- he's got so much energy and he's so happy to be there. Unfortunately, the judges were not impressed, because of the lack of "content." Still, he got decent scores.  And Sadie and Mark finished off the night with a fun Jazz dance. She's so darn cute I can't help but want her to do well.
What did you think? Who should go home, and who should stay?
Here are the scores from tonight! But remember, that's just half the story. We'll have to wait to see what the voters have to say.
Lea Thompson and Artem Chigvintsev (Jive): 35
Janel Parrish and Val Chmerkobskiy (Foxtrot): 34
Bethany Mota and Derek Hough (Foxtrot): 33
Alfonso Ribeiro and Witney Carson (Samba): 32
Antonio Sabato, Jr. and Cheryl Burke (Rumba): 31
Sadie Robertson and Mark Ballas (Jazz): 31
Jonathan Bennett and Allison Holker (Cha-Cha ):30
Randy Couture and Karina Smirnoff (Cha-Cha): 28
Tavis Smiley and Sharna Burgess (Cha-Cha): 28
Betsey Johnson and Tony Dovolani (Foxtrot): 28
Tommy Chong and Peta Murgatroyd (Salsa): 28
Michael Waltrip and Emma Slater (Samba): 24
Ashley Bissette Sumerel was a staff writer for TV Fanatic. She retired in September 2017. Follow her on Twitter and on Google+.