The Real Housewives of New Jersey: He Slept With Her Mom!?!

Christine Orlando at . Updated at .
Victoria Gotti visited The Real Housewives of New Jersey Season 6 Episode 7 to spread some salacious gossip about a House husband and someone's mom!
We recap the rumors in our +/- review.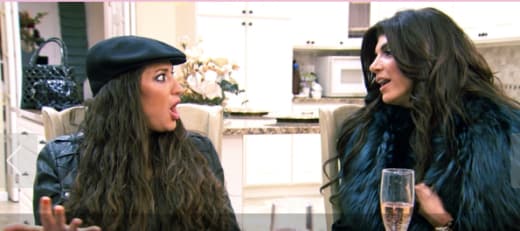 But let's start from the beginning:
Despite their differences, Amber came by to visit Melissa when her Aunt lost her battle with cancer. Plus 20 but it's unfortunate that it took cancer to put things in perspective. 
Joe did his part to boost the family's spirits by bringing home a puppy. Plus 13. Obviously Melissa was happy but if my husband ever brought a pet home without talking to me first….let's just say that would be a definite minus!
Being Valentine's Day, Melissa gifted her hubby with a book full of sexy photos of her. Who wants to bet that all of the waiters perused that book before it was presented as dessert? 
Dina spent Valentine's Day moping in her pajamas while eating her daughter's box of chocolates. Minus 15 but I think we've all been there at some point.  
Dina and her hubby have been separated for a year and she's waffling over what to do next. She says she's happy and I'll bet he is too since he's allowed to sleep with whomever he wants and come back home to Dina. But she'll have to figure out her finances during the divorce because her money was only ever their play money and then it will have to pay the bills.
Seriously, I'm pretty sure I could live on the "play money" that buys Bentleys and thousands of dollars in shoes. Plus 10.
The worst Valentine's Day celebration may have gone to Nicole and Bobby who had dinner with her family. Nicole's mom and sis wanted to know what Bobby's intentions were and if he's a confirmed bachelor. Minus 25. Nothing like putting the guy on the spot. 
Plus 33 to Bobby who managed to diffuse the situation by coming up with a cute story about Nicole never having to kiss another frog again. 
Beforehand Bobby texted Nicole a "hot photo" of himself. He was in his fireman's gear. Plus 17. That was kind of cute. Nicole managed to get her personal "first responder" to come running by sending him a sexy selfie in her Valentine's Day red dress. He said he'd be home in five.
Leaving the cute factor far behind, Nicole's sister, Ter-eh-sa talked about her and Rino's divorce…"I'm not saying he didn't screw everything that walked while we were divorced." Charming. Minus 23.
But it actually gets worse…"He screwed every stripper possible. I don't care. He's a guy. Let him do it. I love him." We just wonder if she still abides by that mantra now that they're remarried.
You'd think it couldn't get worse…but you'd be wrong.
Teresa Guidice and Amber (there's an odd pairing) paid a visit to Victoria Gotti who apparently just turned up on the show to drop her own piece of dirty laundry. 
Victoria said that she's good friends with Rino and he hit on her while he was divorced. He also claimed that the real reason he and Ter-eh-sa divorced was because he slept with someone else…Ter-eh-sa's mother, Santa! 
Minus 50. Either this is a really bad joke or it's true and the mind just reels. Yikes!
If it is true it makes Teresa Guidice's life look downright normal. And we kind of wish she and Juicy Joe had taken the time to celebrate Valentine's Day. It may be their last one together for a while. 
At least Joe took his girls out on a Daddy/daughters date. That was really sweet. Plus 43.
Episode total = +23! Season total = -564!
So what do you think, TV Fanatics…did Rino sleep with Santa?
C. Orlando is a TV Fanatic Staff Writer. Follow her on Twitter.