The kiss at the end of Reckless Season 1 Episode 6 had me thinking that Jamie and Roy were diving in…until the case got in the way once again.
Roy looked so disappointed when Jamie dropped that particular bombshell on him. The level of attraction between these two steams up the screen. What are the odds that they will get Reckless enough to throw their ethics out the window and dive in?
Probably not good.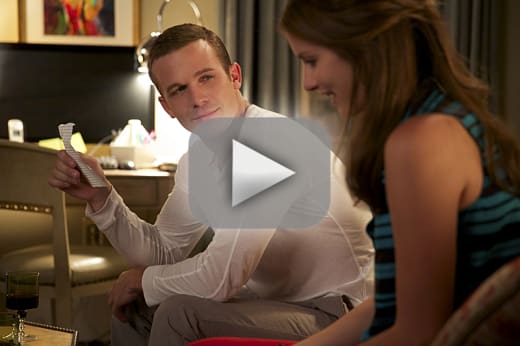 What's great is that in the middle of everything, Jamie and Roy have become friends. It looked like he was the one she called when her brother took off and he opened up about his marriage and his kids. 
So when Jamie suggested that they get drunk and dive in the ocean, I thought that was a really good plan. Unfortunately with Lee Anne's case reinstated I don't think they're going to take that swim (Skinny dipping anyone?) any time soon.
Poor Roy certainly had his hands full. His ex-wife certainly knows how to get things her way. She gets him to take her fiance's case by telling Roy that if he wins the kids will move back the Charleston. It was both low and very effective. 
I didn't hate Shelby in the end. I may dislike how she calls the restroom "the little girls room" and I didn't like her tactics for getting Roy to take the case but she did remind me that there are always two sides to every break up. Her points about wanting someone who would fight for her were valid.
I also just love the name Shelby.  
Back in court, when Lee Anne's drug test came back negative I really began to wonder about her story. I've always had my doubts about how much of the truth she's told Jamie. Even if she's not out and out lying, it feels as though she's holding something back. 
The case being dismissed was devastating but leave it to Jamie not to give up. Of course blackmailing a corrupt judge is definitely Reckless and could come back to bite her at any time. 
But some of my favorite scenes of the night went to Terry as he gave us this Reckless quote as Arliss held the shotgun to his head…
I tried to steal your wife. That's true, but I couldn't because she's yours and that is what it is. But I'd never hurt her.

Terry
As Terry stood there with Lee Anne's angry husband holding that gun at point blank range I wondered if he truly meant it or if it was just the best line he could come up with in the moment. It appears that with his life on the line, Terry went with the truth.
I couldn't believe that Arliss used that gun to get his DNA. It's both brilliant and completely reckless. 
As I spoke with Terry's portrayer (Shawn Hatosy) last week, one of the things we discussed were the complexities of Terry's character and those were certainly on display in tonight's episode as Terry saved Arliss life and then told Lee Anne…
Lee Anne, I don't want you to choose me because you've got nothing else. I want you to choose me because I'm the one you want.

Terry
. 
Then Terry had his father arrested for firebombing Lee Anne's home. Well, that's one way to get his dad out of the house.
So what do you think, TV Fanatics, will Jamie and Roy put the brakes on their relationship now that the case is back on?
C. Orlando is a TV Fanatic Staff Writer. Follow her on Twitter.