True Blood at Comic-Con: More Tara, More Romance, More Bill and Sookie
Matt Richenthal at .
Attention, True Blood Fanatics:
You have not seen the last of Bill and Sookie as a couple. Or of Tara.
Executive Producer Brian Buckner offered up a number of teases regarding True Blood Season 7 during the show's Comic-Con panel in San Diego on Saturday.
For starters, come on: Bill and Sookie will end up together... right?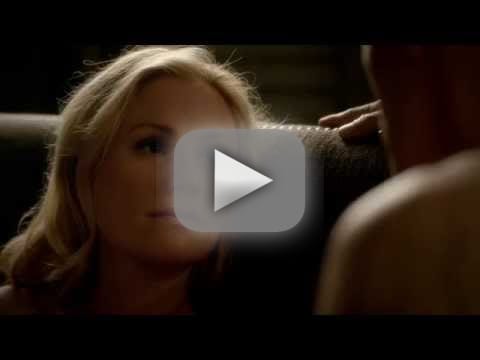 "They might," said Buckner. "They're in each other's spheres, for sure. At the end of the day, it's a television show, right? This show worked because of the chemistry they shared... I certainly felt, going into [the final season], that we had to come back to Bill and Sookie."
Viewers have been treated to a number of final season flashbacks, with Bucker explaining their purposes serves to help the characters find each other again.
"With Bill, we got a character who we turned into a vampire god, and he wasn't that nice," he explained. "The thinking there was, as Bill tries to find his way back to himself, let's give him a little help by flashing back to his human life."
Other key notes, tidbits and True Blood spoilers from the panel:
The James-Lafayette relationship is "not done evolving," Buckner promises. There is A LOT more on tap.
We "haven't seen [Tara's] last day," Buckner teased, implying that her story is set to take a crazy turn.
Sam Trammell said "we'll see how committed I am to her and how committed she is to staying" when asked about his character's future with Nicole.
Arlene is totally about to get it on with new vampire Keith. "I don't think you introduce a hot vampire on True Blood without doing something with them," Carrie Preston said. "This season, I feel like I really arrived on True Blood because I got a vampire exploding in my crotch... and maybe there's some stuff coming up between Arlene and Keith that I've never had to do on camera before."
Matt Richenthal is the Editor in Chief of TV Fanatic. Follow him on Twitter and on Google+.