The Real Housewives of Orange County Review: Pity Party, Table For One
Miranda Wicker at . Updated at .
Will The Real Housewives of Orange County ever be able to get along? Hahahahaha. What fun would that be?
That doesn't mean they won't try. On The Real Housewives of Orange County Season 9 Episode 15 Heather and Tamra decide whether or not to make peace with Shannon and the women plan a trip to Bali. 
Because nothing says "let's be friends" like an exotic vacation. Let's break it all down in TVF fashion...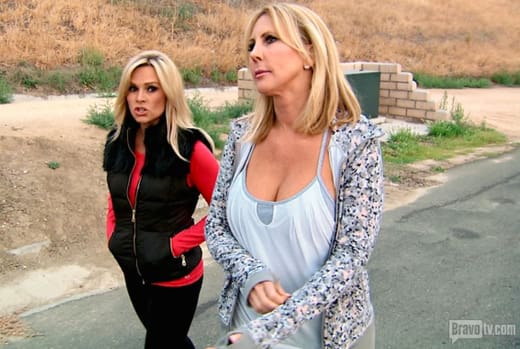 Tamra and Vicki are going for a walk around Tamra's neighborhood. Tamra's still shaken up about Ryan's engagement and wedding. There are lots of parallels in Tamra and Vicki's life so if there's anyone who'll understand where Tamra's at right now, it's Vicki. Plus 4.
Vicki thinks that Tamra owes Shannon an apology and thinks Heather's been mean to Shannon. Heather, Vicki feels, isn't really acting human.
Lizzie's turning 34 and she's hopeful that there won't be any drama at her birthday party since Heather will be in Vegas. Shannon, however, will be attending. 
Lizzie's extending an olive branch to Shannon to try and be someone she can trust. That's probably going to come back to bite Lizzie in the assets.
Heather's going to Vegas to see Britney for her own birthday. But she's also going to throw a Valentine's party, sans Shannon and David and Vicki and Brooks. She wants to play Truth or Dare without getting raunchy.
Christian and Lizzie board the party bus for Lizzie's birthday, but no one shows. And none of them called to cancel either. Bad form, ladies. Bad form. Minus 15.
Finally Vicki and Brooks show up, so Lizzie and Christian aren't alone. Vicki says Shannon doesn't need help, she's a solid girl. Then she tells Lizzie to watch out for Tamra.
That makes another person who's warned Lizzie about Tamra.
Lizzie's another one who trusts Brooks and thinks he's a really nice guy and good for Vicki. So Vicki talks about Tamra and Briana's hatred of Brooks in front of Brooks because THAT'S not awkward at all.
"I don't want to throw Tamra under the bus, but I want you to know what she's done to us." Oh, okay, then Vicki. Minus 8.
Tamra and Heather get together to talk about Heather's Valentine's party and trips they want to take with their spouses and then decide to go together and leave the guys at home.
They call Vicki and she says that if they're going to invite Lizzie and Danielle they need to invite Shannon, too. Heather doesn't want to get halfway around the world and then get yelled at.
Can't blame her for that.
Lizzie and Danielle are pumped for the trip to Bali, but neither of them want drama. Prior to getting on the party bus, Lizzie heard Vicki say "I can't believe I have to hang out with dumb and dumber..."
WHOA, Vicki. Whoa. Minus 19.
Lizzie's better than me, that's for sure.
Shannon's helping her daughter Sophie plan for a trip to Italy with her Latin class at school. She packs the poor girl: compression socks, a neck pillow, an eye mask, a bag of vitamins, probiotics, Umcka, Tunka, Muellen garlic, and colloidal silver.
The very first thing that girl is doing in the airport is hitting up a snack stand to buy every piece of candy she can fit in her hands.
It's the night of Heather's Valentine's party at the St. Regis, and before the party can even get started, Lizzie brings up the fact that she heard Tamra just didn't want to come to her birthday party.
It's someone else's party, Lizzie. Tone down the pity. Minus 8.
Heather directs everyone to sit for dinner and Terry begins annoying her by popping rose petals. Oh, Terry. Plus 10.
Eddie has flowers delivered to Tamra and she nearly cries reading the card. Plus 30.
Danielle's husband does not look happy to have her read the question "What's your freak factor?" Heather's party looks really fun. 
Shannon mortifies her daughter forever and ever by saying she might "become a woman" on her Europe trip with her father. On television. Nice one, mom. Minus 4.
Heather, Tamra, Vicki, and Shannon get together for dinner and drinks to see if Shannon and Heather can move on. Doubtful, but that doesn't mean they won't try.
Heather wants to invite Shannon to Bali, but she starts talking about the Hindu belief in reincarnation and whether or not they can all find their salvation. 
Judging by the previews for the trip to Bali, that's definitely not what's going to happen. Oooh boy.
EPISODE TOTAL: -10 SEASON TOTAL: -410
What did you think of The Real Housewives of Orange County Season 9 Episode 15? Will Shannon and Heather ever be able to be friends?
Miranda Wicker is a Staff Writer for TV Fanatic. Follow her on Twitter.